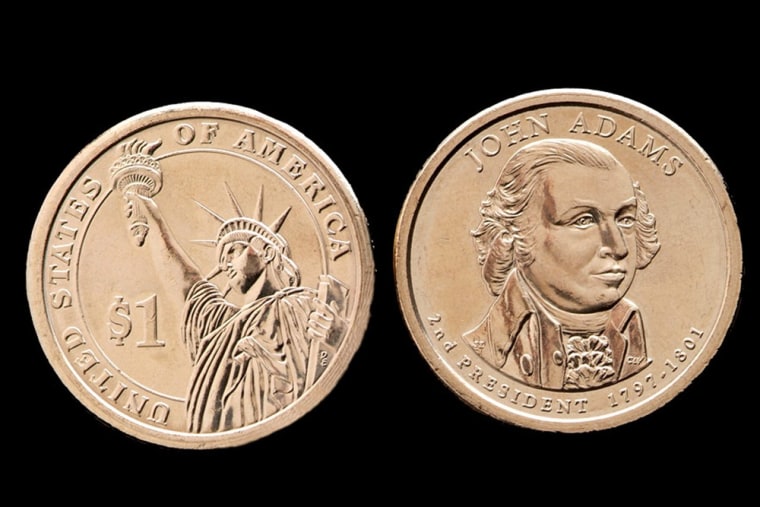 Congress has gone back and forth so many times about the fate of the $1 coin, it might as well just flip one to decide. 
At a hearing of a House Financial Services subcommittee Thursday, lawmakers again pondered the question of phasing out the greenback and replacing it with a dollar coin — even though $1.4 billion one-dollar coins are now piled up in Federal Reserve vaults because no one likes using them.
In its testimony, the Government Accountability Office estimated that the federal government would save about $4.4 billion over 30 years by switching to dollar coins. It reiterated an earlier recommendation that the United States phase out the dollar bill over a four-year transition period.
The underwater economics of minting pennies is well-known: It costs about two and a half cents to mint a cent, primarily due to the cost of the copper and zinc that go into each coin. But dollar coins don't cost more to produce than they're worth, and they last about 30 years, versus less than five years for a dollar bill.
In somewhat of an understatement, the GAO acknowledged that its proposal was "controversial" and suggested the government spend nearly $8 million convincing people to embrace the change. A 2006 poll found that roughly two-thirds of Americans panned the idea of a dollar coin — and this was after they were told coins could save the government half a billion dollars a year.
This might be why: The billions in savings are due to the fact that the U.S. Mint would have to produce more coins than we actually use. Unlike bills, coins have a habit of collecting in cupholders, hunkering down between couch cushions and otherwise slipping out of circulation. The government reaps a profit when money is issued but not used, and the GAO assumes that every two dollar bills would have to be replaced with three coins.
The fate of the greenback is far from decided; both pro-bill and pro-coin factions are arguing their positions, and the GAO points out that if we all start using our cell phones to buy things, the issue could be moot. But it's possible that the 21st century version of "under the mattress" will become "the bottom of the junk drawer."