Last Christmas was one farmer Greg Lear would rather forget.
"Yeah, some merry Christmas," he said of the December 19th call from his farm manager with news that all the sows, or breeding females, were throwing up and many had diarrhea. The sows survived, but within 96 hours "we probably had 500 little pigs that were dead," said Lear.
As fate would have it, the Spencer, Iowa, farm he helps run was next in line to be hit by a virus that's killed several million piglets across the country in the last 12 months. Rising pork prices have more than offset the financial damage, but the unknowns about the disease have farmers fretting that the worst is yet to come.
What killed Lear's piglets was the Porcine Epidemic Diarrhea virus (PEDv), a disease first reported in 1971 in Britain but never identified in the U.S. until April 2013. Officials believe this strain came from China and, by within 12 months, PEDv cases were reported in 30 states.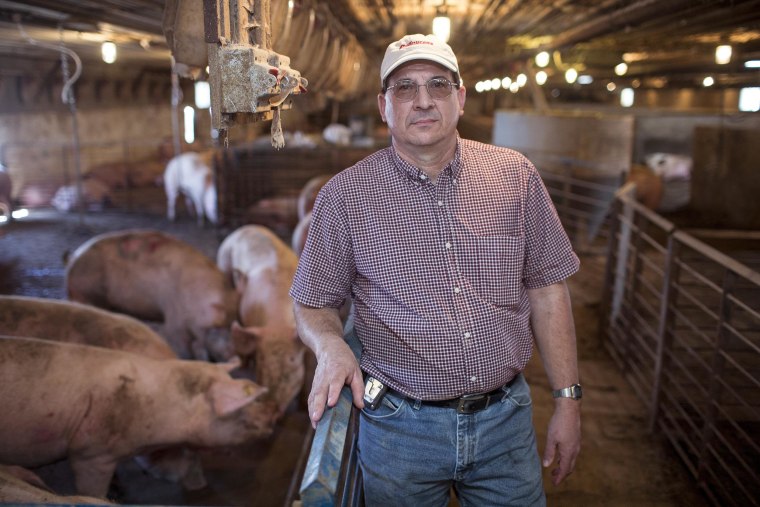 The virus is not a food safety issue since it cannot be passed on to humans, but it has become a factor in pork prices. It's also taken an emotional toll on farmers and their workers.
"How do you keep up employee morale when you're asking, 'How many are dead today?'," Lear said. "Those pigs should have been walking out of the barn, and we were carrying them out. Mentally it just hammers you."
"How do you keep up employee morale when you're asking, 'How many are dead today?' Those pigs should have been walking out of the barn, and we were carrying them out. Mentally it just hammers you."
The virus causes intense diarrhea, which the youngest piglets, typically those less than a week old, can't survive once it's passed to them through their moms. "They're not able to absorb any of mom's milk," Lear said.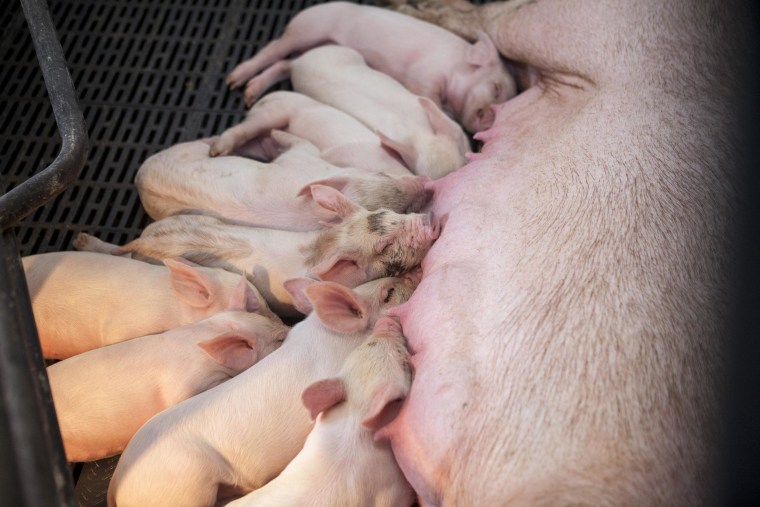 Those piglets that haven't died from dehydration are euthanized with carbon monoxide, and then the carcasses are trucked to rendering plants to be recycled as animal feed.
The National Renderers Association says the carcasses are heated to a minimum of 240 degrees for 40 minutes -- much higher than what's been proven to kill the virus.
But it also notes that researchers are studying the possibility that blood plasma added to animal feed to help piglets battle diseases might be a way the virus spreads. A "feed risk assessment" is being undertaken with the rest of the pig industry "to determine if there are gaps in our knowledge of the virus in feed," says David Meeker, an association vice president.
The industry is backing further research "to determine whether such a connection exists," the group says in a position statement about the virus.
For all the lingering questions about the virus – including "How does it spread?" and "Can a vaccine be developed?" – the stark certainty is that it kills quickly.
"The swine industry has never seen anything like this," said Lear, a past president of the Iowa Pork Producers Association.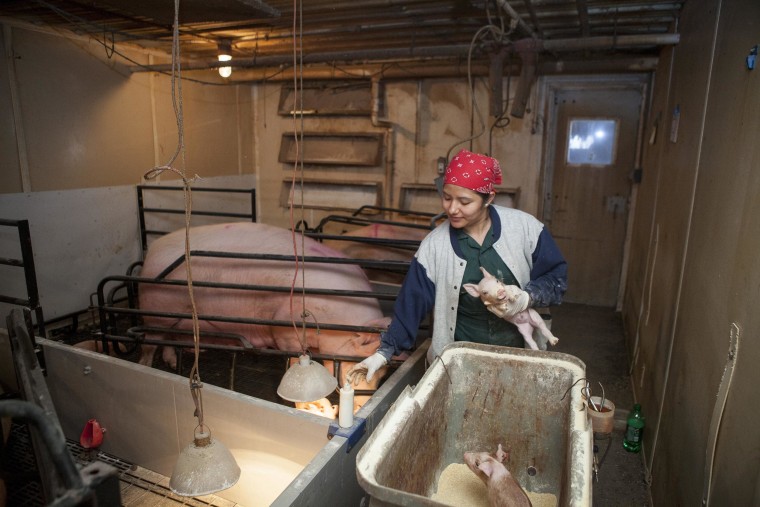 The virus also appears indiscriminate: Farms large and small, organic and non-organic, have been hit.
"The spread seems equally likely regardless of herd size or production type," said Harry Snelson, spokesman for the American Association of Swine Veterinarians. "Our best guess is that approximately 50 percent of the sow herds in the U.S. have become infected."
Snelson said even that is a guess because, up to now, farmers have not been required to provide a tally of cases. The USDA on April 18 ordered that all farms report cases, but Snelson isn't optimistic it will change much. "We'll have to see," he says. "It may be too late with this disease but it may help with understanding the epidemiology of future diseases."
Chuck Wirtz's 700-sow unit in Iowa sells pigs to a company that supplies the Chipotle fast-food chain. He too got hit, losing about 1,000 piglets. "We had pigs dying all over the place," he said of the outbreak last November.
In Lear's case, 850 pigs worth $48,000 were dead by the time the outbreak was contained – that's about three and a half weeks of annual production on the farm.
And extra virus-protection measures have added some $75,000 to operating costs, he estimated. Those "biosecurity" steps include restricting who has access to barns – a bit of outside manure on a shoe could be enough to trigger an outbreak.
"Our best guess is that approximately 50 percent of the sow herds in the U.S. have become infected."
Containment typically means exposing all sows to the virus so that they build immunity to it. "We add diarrhea to the sows' feed, the sows get sick and then on the fourth day they dry up and now they have immunity that they can pass on to their piglets," said Wirtz.
"But the worst part is that it doesn't end there," added Lear, since the exposure opens the door to other bugs like E. coli and salmonella that "challenges little pigs' intestines."
Lear called these the "backside PEDv pigs" and has stepped up medication to battle those bugs.
An argument can be made that the virus, by reducing supply, has been a key factor in recent record pork prices.
"The net cost has not been negative. We've actually benefited, as sad as that sounds," said Wirtz, citing an analysis estimating that while the virus has killed $567 million worth of pigs, the reduced supply is responsible for a $5 billion increase in the value of the 105 million pigs marketed annually across the nation.
Still, farmers are concerned about what might be around the corner.
"We don't know if the PED is going to mutate and change," said Lear.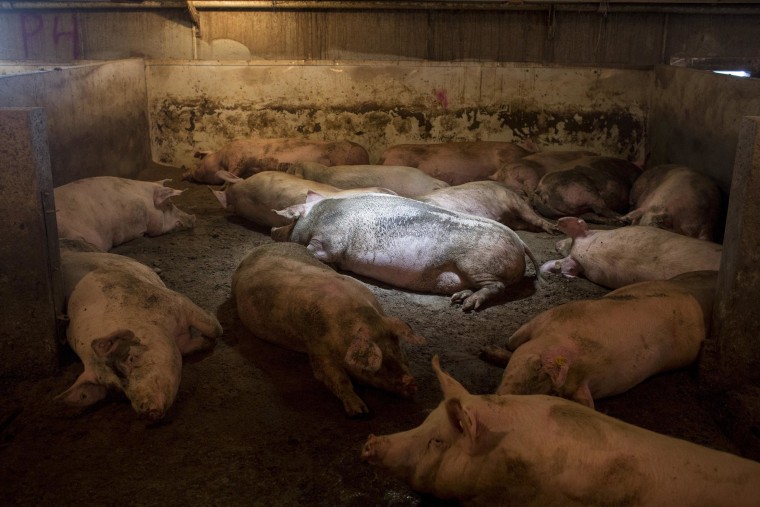 Wirtz noted that larger sow units seem to have more trouble containing the virus since it's hard to make sure all sows are exposed. He quickly contained the outbreak at his 700-sow unit, but a 2,400-sow unit in Illinois has lost 4,000 pigs "and they're still dying," he said.
Moreover, some farmers have seen the virus come back. "We seem to lose the immunity response over time," said Wirtz. "That would be devastating if it were to break again."
The number of PEDv cases reported nationwide has dropped to around 250 a week from a peak of more than 300 in late February, but even that's misleading.
"This is to be expected as the weather warms," said Snelson. Viruses like this one "tend to prefer colder temperatures and do not survive as well in the warmer months."
That could also mean another jump in cases when the cold comes back.
"The biggest fear is that we're going to have déjà vu all over again next winter," said Wirtz.