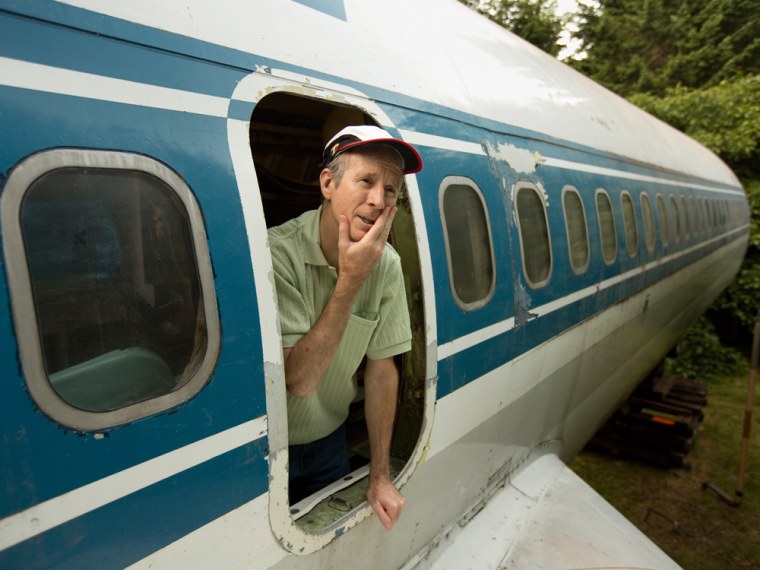 His vision is best imagined from above -- where the old birds once flew: a metallically gleaming neighborhood with homes tucked into precise rows, wingtips aligned, near the landing strip where each touched down one last time.
Picture a packed tarmac at any municipal airport then add grass, trees, streets, cars and pedestrians. Now, you're basically catching the breeze of Bruce Campbell's ultimate recycling concept: a full subdivision of retired and refurbished commercial jets, looking exactly as they did when they soared seven miles high.
An electrical engineer who adores aeronautics and abhors the waste of scrapped planes, Campbell can see a slice of that dream from his own kitchen, an original galley inside the former Olympic Airways 727 where he's living and remodeling, not far from Portland, Oregon.
To see a panoramic view of this home, click here.
"Aircraft are flying homes for people," Campbell said. "They stay in the sky sometimes for 12 to 14 hours at a time and people have to eat and use the toilet and do almost everything else we normally do -- and all of those facilities are in there. They're built along with lighting and climate control, everything.
"What I'm trying to demonstrate is that the conversion process can be really very simple and straightforward. If people want something different (inside), they can always redecorate."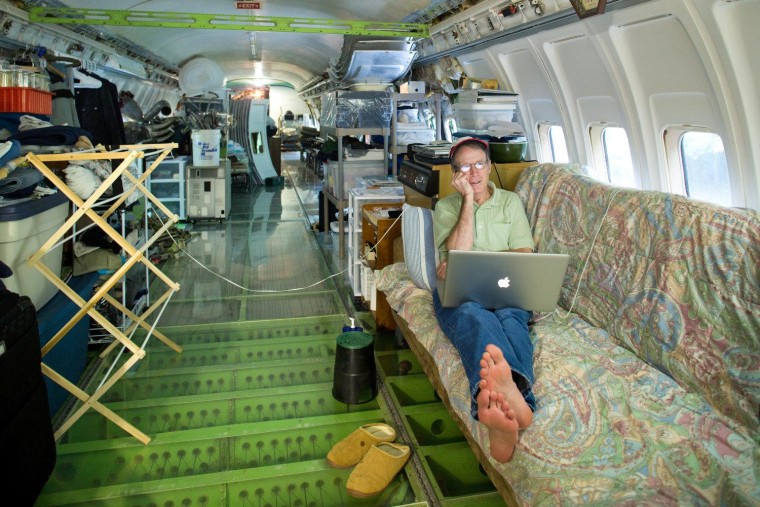 And there's a ready supply of aging, soon-to-be retired jets, both midsize and jumbo, that could be revamped into homes -- if you have the proper space (Campbell lives on 10 acres) and the available cash (he paid $100,000 for his 727). About 20,000 commercial jets currently are in service globally. "We do estimate that every year over the next 20 years, between 2 and 2.5 percent of the world's fleet will need to be replaced," said Randy Tinseth, vice president of marketing for Boeing Commercial Airplanes in Seattle. That equates to 500 jets being grounded for good yearly, or about one every 17 hours.
"Humanity is not yet discovering how to use these glorious birds," Campbell said.
But he is trying to figure it out, bolt by bolt, on his rural lot where the jet was towed -- at an additional cost of $12,500 -- soon after its final landing at Portland-Hillsboro Airport in 1999.
Long before its seats were pulled and Campbell transformed one of the lavatories into a working bathroom linked by hose to an underground tank, the Boeing-made craft flew for 32 years. According to the aircraft's records, the jet carried Jacqueline Kennedy Onassis and Sen. Ted Kennedy in 1975 as they accompanied the body of Greek shipping magnate Aristotle Onassis for burial on a private island off the coast of Greece.
Inside the stripped-down cabin, short-sleeve shirts are neatly stored on hangers above a three-foot jumble of wires. Not far from the cockpit, which is intended to become a computer room, there's a couch draped by a blanket and adorned with one pillow. Outside, the 727 remains painted with a horizontal, blue Olympic Airways stripe that runs the length of passenger windows. The wings, tail assembly and engine casings all have stayed.
Amid a thicket of Douglas Firs he planted, Campbell's next tasks include swapping out the left landing gear and nose gear for pillars to add stability as well as installing new faucets in two lavs. The forward galley will be upgraded into modest kitchen, a space simply to open cans, store potato chips and make sandwiches: "I'm a nerd, I don't cook."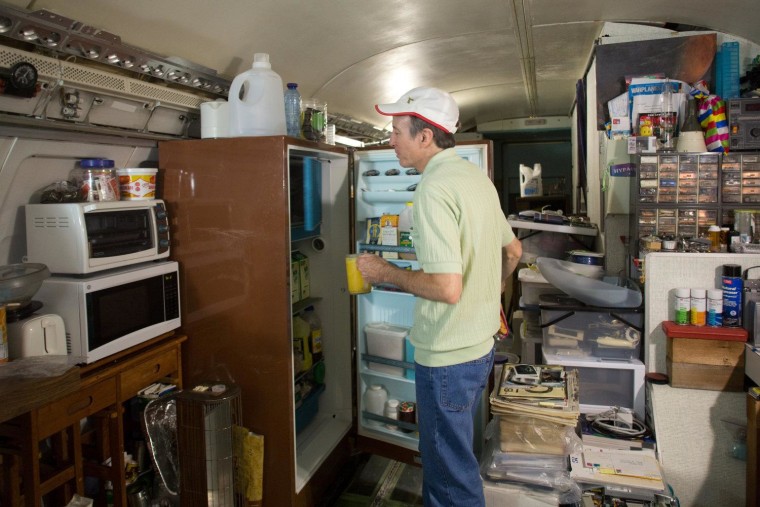 Campbell's fellow visionaries are few when it comes to the art of turning old flying machines into Earth-bound houses.
In Smyrna, Tenn., former Eastern Air Lines pilot Tom Bennington has patented an idea to place a 727 onto a fixed, 15-foot-tall, steel column and bearing. After being re-fashioned into a home, the structure would be free to rotate 360 degrees, always pointing into the wind, "like a weather vane," said Bennington, who adds that he has completed and sold one prototype via his business, Max Power Aerospace, Inc. (Ongoing land-use and zoning issues must be resolved before that former plane is shipped to its final destination). He contends that hurricane-prone areas are ideal spots for his invention.
The engines, landing gears and flight controls "that would flutter in the wind" all are removed from Bennington's models. Standard cockpit glass is replaced with windows that open outward. The 727's wings -- originally constructed to support 172,000-pounds of aircraft plus 12,500 pounds of fuel -- are reborn as sturdy decks with handrails.
While the exterior look is generally preserved, Bennington breaks from Campbell's purist-preservation philosophy when it comes to his interiors.
"A typical home would probably have a bedroom and a bath in each end and the common rooms in the middle," Bennington said. "All the airplanes are built with an entry that comes up through the left wheel well.  We plan on making the inside as livable and comfortable as we can with all the comforts of home."
If recycling jets appeals to your green side yet you've seen (and squirmed within) enough 727s and 747s to last a lifetime, consider the "Wing House," in Malibu, Calif.
On a 55-acre, hilly swath overlooking the Pacific, the female owner of a Mercedes dealership asked architect David Hertz to a design a home with curvy "feminine shapes." That led to an inspiration that played off both wispy, womanly lines and ocean breezes: a roof constructed from the wings of a 747.
In looking for his mammoth materials (747s are more than 230 feet long with a wingspan of 195 feet), Hertz said: "We began to realize that there are hundreds of airplanes that have been retired to sit in the deserts of California."
While parts were relatively easy to locate, the architect discovered after the project's completion last year that the home had to be registered with the Federal Aviation Administration. The reason: to prevent pilots zooming above from mistaking the dwelling as a crashed aircraft.
Purchasing an entire 747 also proved more cost efficient than simply buying two wings. The tail section of the old jet was slated to become a roof for the master bedroom. An art studio will incorporate a 50-foot section of the upper fuselage for its roof. The guesthouse will be comprised, in large part, by the first-class cabin deck. The former cargo hold will help form the roof of an animal barn.
While Campbell and Bennington keep their chosen aircrafts essentially intact, Hertz explained, "I am more interested in the transformation of these objects into more abstract sculptural and sublime works of architecture."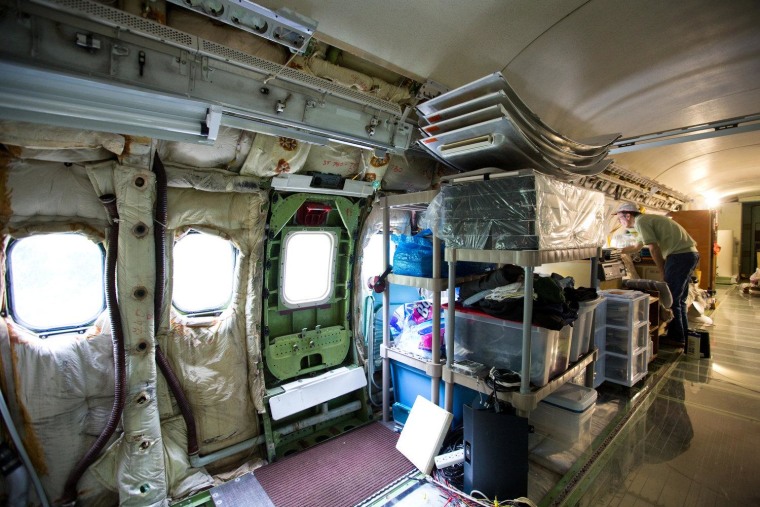 Back in the woods near Portland, Campbell refuses to even subdivide his long, seat-less cabin into individual rooms. He'll retain the tube look. He even pulled up the old carpet to expose wiring that runs up and down the jet's opaque sub floor. 
"I'm an engineer and I love this stuff. I am more personally fulfilled and entertained with aerospace technology front and center than I would be with nice soft accoutrements," Campbell said.
"The problem we face in developing a (popular) vision for this is our common human experience being crammed into an aircraft, in very tight quarters, with the aircraft itself being crammed with seats," he added. "That's just universal (among travelers). So I understand: it's very difficult to make that leap to be able to see an empty aircraft serving as a home."