Seniors are paying more for name-brand drugs, while getting fewer of them, according to a new government report.
The Inspector General's Office of the Health and Human Services Department found that reimbursement costs for name-brand drugs obtained by patients through Medicare Part D plans jumped by 77 percent between 2011 and 2015, even though there was a drop of 17 percent in the number of prescriptions written for these drugs over that time period. The percentage of Medicare beneficiaries who have to pay more than $2,000 a year for name-brand drugs doubled over those years.
Even when taking into account the rebates that pharmaceutical manufacturers offer, the OIG found that prices rose by 62 percent. "That's a very meaningful result," said Paul Ginsburg, director of the center for health policy at the Brookings Institution and professor of health policy at the University of Southern California. "Often, when the pharmaceutical industry responds to data on price increases, they say, 'Oh, that's before rebates,' but this study actually adjusted for rebates and still found very substantial price increases," he said.
Health policy and market experts say pharmacy benefit managers, or PBMs for short, bear part of the blame. PBMs act as middlemen between insurance company plan administrators and drug companies. They negotiate for lower prices and rebates on drug costs, but it's not clear how much of those savings are ultimately passed on to patients.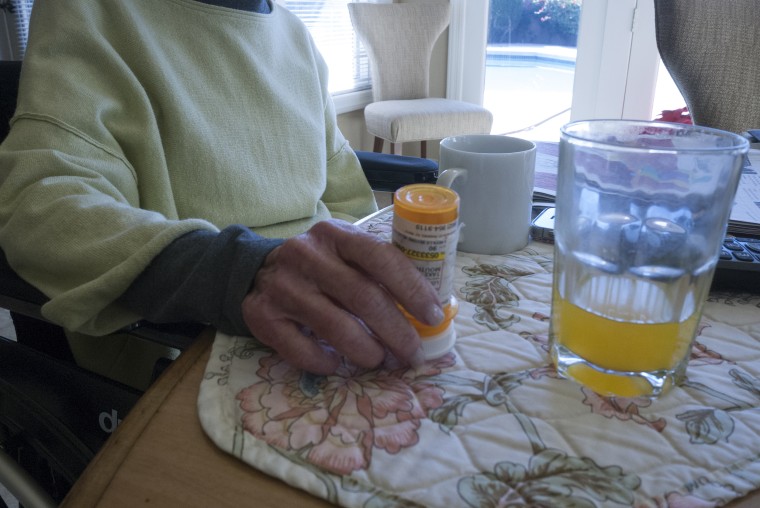 "It's a big black box," said Melissa Thomasson, a professor of economics at Miami University and a research associate at the National Bureau of Economic Research. "The whole problem with the pharmaceutical industry right now is there's not a lot of competition between the PBMs, and no transparency," she said.
In fact, pharmaceutical industry experts say the incentive structure under which PBMs operate is flawed, since it rewards higher-than-expected rebates, without tying that to the underlying drug price.
"The CMS [Centers for Medicare & Medicaid Services] has pointed out they may have an incentive to prefer drugs whose list prices are increasing more," said Adam Fein, CEO of Drug Channels Institute, a subsidiary of Pembroke Consulting.
Although new and pricey "blockbuster" drugs often are blamed for skyrocketing prescription costs, the OIG noted that costs climbed even for older drugs; when researchers looked at nearly 3,600 name-brand drugs that were available between 2011 and 2015, almost 90 percent got more expensive, with an average unit cost increase of 29 percent. The cost of one rheumatoid arthritis medication soared from $6 per pill in 2011 to $135 in 2015.
The OIG noted that the highest out-of-pocket costs for Medicare patients were on brand-name insulin, cholesterol medication, and inhalers. All three of these are maintenance drugs for chronic conditions — a finding that has implications for the government's ongoing role in subsidizing these costs, which are likely to continue increasing.
Manufacturers have become increasingly aggressive in setting price increases," Ginsburg said. "When we don't have generics, the market tools to constrain drug pricing have not been hugely effective," he said.
Sometimes, even the presence of generics doesn't bring down prices very effectively. The OIG also found that drug prices went up more when utilization fell, which experts say could indicate that drug companies raised prices following the availability of cheaper generic alternatives.
"We know that when a brand name drug comes off patent, that is when a generic enters the market. Then, the price of the brand name goes up," said Sam Richardson, a health economist at Boston College.
Experts say there's no miracle cure: Although a vast majority of Americans support the idea of Medicare negotiating drug prices directly, an outcome that limited treatment options or medication choices — which experts say would be inevitable — would be politically untenable.
"It's not a slam dunk like most people think it is," Richardson said. Although many lawmakers concede that Part D, which was implemented 15 years ago and relies on a complex system of private plan sponsors that offer prescription benefits on the government's behalf, could stand to be modernized, they disagree about how to do so, and the pharmaceutical industry has vigorously resisted price controls or any other kind of regulatory influence.
Medicare's Part D has fewer tools available to control cost and utilization — unlike the private market, which has much more control over prescription spending.
"There's very little price pressure in this system, particularly for drugs that don't have a lot of alternatives available," Richardson said, since Part D prescription plans are required to have at least two options for each class of drug. Although the plans can encourage the use of preferred drugs by putting them in different pricing tiers, even the greater out-of-pocket costs incurred by patients is unlikely to cover the difference.
Unlike the health insurance most Americans get through their employers, Medicare's Part D has fewer tools available to control cost and utilization. For instance, some employer plans might not cover certain pharmacies, or might require patients to obtain medications for chronic conditions via mail order. "You see much more control over prescription spending in the private market," Fein said.
In the meantime, as prices continue to climb, Thomasson said one thing seniors paying more for their medications can do is ask their pharmacist if medications would be cheaper to buy strictly out-of-pocket, without going through their Part D plan. Although it sounds counterintuitive, she said sometimes an in-plan negotiated price can be higher than what a customer would pay without insurance.
And it does pay to ask, she added. "There are contracts with PBMs that prohibit pharmacies from telling people they can get it cheaper" as a matter of course, she said, but they can tell customers who ask directly.