Coach is going First Class.
The leather-goods maker will no longer sell its handbags and purses at some "lower volume" department stores, the company announced Tuesday. The move comes in response to the brand's perceived diluted appeal to wealthier shoppers amid mass market access.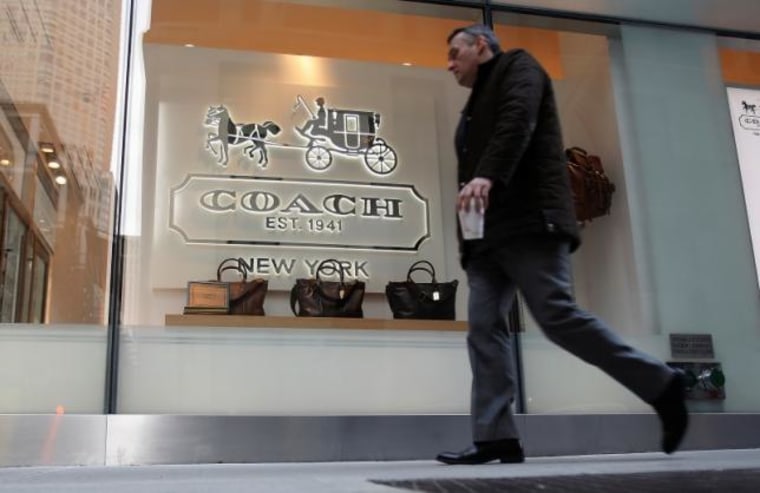 According to Tuesday's announcement, Coach will stop selling to around 250 locations in North America as of 2017, and also strictly control any discounts that department stores can offer.
"While we understand that customers may use department stores for trial and shopping across brands, the high level of promotional impressions created negatively impacts our long-term brand health," said Chief Executive Victor Luis during a conference call with analysts this week.
Once a category crusher, the 75-year-old company was forced to rethink its strategy in 2014 after reporting four straight quarterly losses, with shares falling a total of 39 percent that year.
Those losses were partially attributed to the fact that Coach's loyal clientele had increasingly turned up its nose at the once-prestigious brand, whose less pricey CC line has been purchased in droves by younger consumers at steep discounts in malls and outlets.
After the appointment of Stuart Vevers as executive creative director in 2013, Coach started a "re-platforming" of its brand. The company closed down one-fifth of its North American retail stores and renovated high-traffic, high-value stores (such as Rodeo Drive) to exude "warmth" and "modern luxury," while returning to the company's original horse and coach logo — along with its upper crust equestrian connotations.
The company also cut 150 jobs and started to phase out its lower-priced purses and handbag lines.
The strategy seems to be working. Business has picked up,with sales soaring by 15 percent this quarter — demonstrating that consumers are buying in to the renewed cachet.