Going into the winter holidays, cider sales have lost their zest.
Big hard cider brands such as Boston Beer's Angry Orchard and Woodchuck Cider have been affected in the past few months by growing competition and a slowdown in the sector as drinkers show a greater willingness to experiment and switch to other categories such as hard sodas. There is hope that the November and December holidays may rekindle cider sales growth, but industry experts say recent trends are not encouraging and believe the winning strategy maybe more seasonal offerings and new flavors.
Boston Beer CEO Martin Roper told analysts on Oct. 29, during the company's third-quarter earnings conference call, that he remains "positive about the long-term cider category potential, but short-term growth is less certain."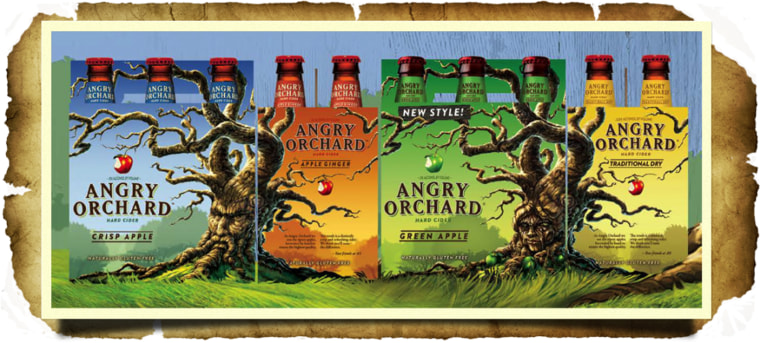 "When we do drink research, we get very positive feedback on the aggregates of cider, the refreshment of the sort of all-natural element of it, the gluten-free element of it, and sort of associations with the farm or orchard that cider brings," Roper told analysts on the call.
As of Thursday, shares of Boston Beer — the maker of Sam Adams — were down more than 26 percent for the year.
All the Beer You Drink Is Owned by One Company
Total U.S. cider sales were down 3.4 percent in the 13 weeks ended Nov. 7, and the rate of decline accelerated to about 7 percent over the past four weeks, according to Nielsen. Four and five years ago, the rate of growth was in the heady triple-digits. Even a year back, the pace of growth was nearly 50 percent.
"It's been getting a lot of attention, because of all the huge growth rates in the past three to five years," said Danelle Kosmal, vice president of the beverage alcohol practice at Nielsen. "It's obviously difficult to sustain those triple-digit growth rates."
Three cider lines — Woodchuck Cider, owned by Ireland's C&C Group PLC; SABMiller's Smith & Forge Hard Cider; and Anheuser-Busch InBev's Johnny Appleseed — have all suffered double-digit sales drops in the latest four-week sales data. In the same period, Angry Orchard's decline was single-digit.
Angry Orchard was credited with igniting the U.S. cider category when it was introduced in 2012. Cowen & Co. estimates Boston Beer's Angry Orchard has roughly a 60 percent share of the hard cider category and that cider on average contributed to about 65 percent of the company's sales growth from 2012 through 2014.
Out of Beer? This Fridge Will Tell You, Order More
"Boston Beer has guided down three times on the top line, in part reflecting the deceleration on cider," said Vivien Azer, a beverage analyst at Cowen. "What really caught people off guard was that the deceleration got worse with the introduction of (Coney Island) Hard Root Beer." Coney Island Brewing is a unit of Boston Beer.
Azer has a "neutral" rating on Boston Beer's stock. "At this point, we're watching for and hoping for stabilization, because right now every single month the rate of growth we're seeing in the syndicated data is continuing to decelerate."
There's been more competition from sodalike beers such as Small Town Brewery's "Not Your Father's Root Beer" (distributed by Pabst Brewing). Additionally, the category is about to get more crowded with MillerCoors introducing Henry's Hard Soda nationwide in January and Anheuser-Busch InBev launching a similar alcoholic soda product called "Best Damned Root Beer."
While some bigger cider brands are feeling the slowdown, it doesn't mean all cider producers are hurting. Regional and craft ciders are thriving on both coasts of the United States.
Scottish Craft Beer Maker BrewDog Expands Into U.S.
Far From The Tree Craft Hard Cider, based in Salem, Massachusetts, was launched about two years ago and is expanding distribution in the state and eyeing new markets such as Connecticut, Vermont, New Hampshire and Maine.
In Sacramento, California, Two Rivers Cider — a brand sold in Northern California and Oregon — has seen sales soar "at least 500 percent" in the past eight years and "about 50 percent" in the last two, according to head cider maker Nick Vellanoweth, who added that there's "no sign of things slowing down. We're seeing bigger growth … and looking at expanding to Southern California."