Grab a glass of milk. You're going to need it for Burger King's newest menu item.
The burger giant created a sequel to its widely popular Angry Whopper, and it's got a red bun.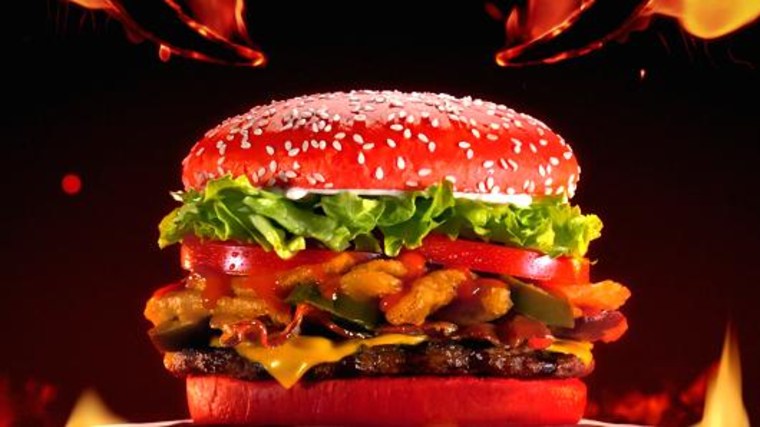 The Angriest Burger is a flame-grilled beef patty topped with bacon, American cheese, lettuce, tomato, crispy onions, jalapenos, mayonnaise and "spicy angry sauce." The signature red bun has hot sauce baked in for a little extra kick.
"The black bun of our A.1. Halloween Whopper created a lot of conversation, and our previous limited time Angry Whopper sandwich was a hit with guests," said Axel Schwan, global chief marketing officer for Burger King, in a statement. "So, we're combining the power of these past hits into a star-studded sandwich we think our guests will unanimously agree is the next must-eat burger."
Limited-time-only menu items like the Angriest Burger do tend to boost restaurant chains' same-store sales. Last year, in the quarter following the re-release of BK's Chicken Fries, sales at the restaurant rose 7.9 percent in the U.S. and Canada.
Restaurant Brands CEO Daniel Schwartz said Chicken Fries are profitable because they have a high gross margin and restaurants sell a lot of them. They are positioned as a snack or meal and cost around $3. Schwartz declined to say whether an uptick in customer traffic played a role in driving up sales.
Back in January, YouGov BrandIndex found that special combo deals do not significantly impact immediate sales for the major burger chains; Burger King, McDonald's and Wendy's only saw a little bump in consumer interest about a month after their special combination deals rolled out.
Burger King's Angriest Whopper will be available for a limited time in participating restaurants and is slated to retail for $5.49 each or $7.49 as part of a combo meal.
The Associated Press contributed to this report.