Investors will get a peek behind the curtain Wednesday at a Federal Reserve suddenly divided and closer to an interest rate hike than it has been all year.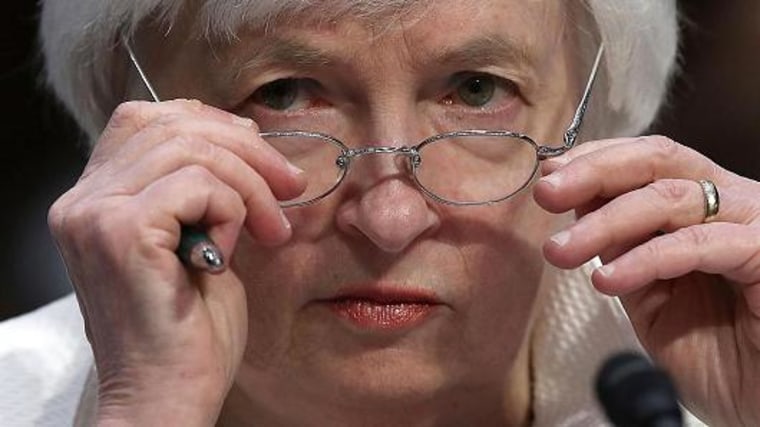 September's Federal Open Market Committee meeting featured something not often seen since Janet Yellen took over as chair: honest-to-goodness dissent. Three of the FOMC's 10 voting members opposed the final statement, which noted that central bank officials still felt it prudent to keep its interest rate target anchored at 0.25 percent to 0.5 percent. The three dissenters — Esther George, Loretta Mester and Eric Rosengren — wanted to hike rates a quarter point.
When the committee releases the summary of discussions from that meeting, it will give the market a better gauge of just where Fed sentiment stands and what the landscape will look like going forward. Current projections are for two rate hikes in 2017, but that could change.
"The fact that we had three dissenting members as well as commentary from those who have not dissented that they are not opposed to interest rate (increases) suggests that there is a very good chance that interest rates are going to go up this year," said Michael Yoshikami, founder and CEO of Destination Wealth Management. "There's a very good chance they go up in December, barring some disastrous jobs report."
A market jolt
Fed meeting minutes only occasionally move markets, but the September release might give the market a jolt, considering growing divergence of opinion.
Yellen has shown a deft hand at the Fed, charting a dovish course that remains even though the last recession ended more than seven years ago. She has managed to avoid rate hikes in 2016, despite projections released at the end of last year indicated four moves were in the pipeline.
The last time the Fed hiked was in December of last year. Even though it was well-telegraphed, it still led to two months of heightened market volatility that saw the S&P 500 tumble 13 percent before recovering. If the minutes reveal a divided Fed that might try to accelerate the course of rate hikes in the year ahead, that likely would move markets.
The current projection is for the funds rate to rise to 1.1 percent in 2017, which would translate to two hikes assuming the Fed moves before the end of this year. However, nearly half the total members (including seven nonvoters) indicated the rate should be higher, with one as high as 2.25 percent.
"I do think you're going to see volatility over the course of the next three months," Yoshikami said.
Chances of a hike
While the market is pricing in a 56 percent chance of a December move, it's unlikely to go off without a hitch. The market has come to depend on a Fed that's only raised rates once since June 2006 and expanded its balance sheet by $3.7 trillion during three rounds of quantitative easing.
"The experiment does not come for free," said Peter Boockvar, chief market analyst at The Lindsey Group. "If they raise in November or December, the market's going to have another hissy fit."
Most Fed watchers believe a November hike is unlikely if for no other reason than the presidential election taking place a week after the next FOMC meeting. But not raising rates for reasons linked to the election makes the central bank still seem political, Boockvar said.
"Yellen's in a tough spot. She's probably glad she's got a month to think about it," he said. "If they don't raise in November, that could be considered political. What are they waiting for if they are so convinced it's time to raise?"