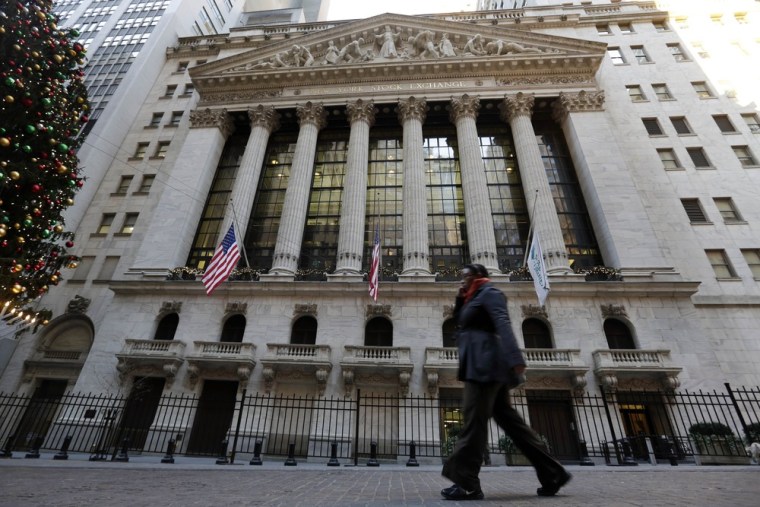 The NYSE, the public face of the U.S. capitalism for almost two centuries, will be bought by much-younger rival IntercontinentalExchange in a $8.2 billion dollar deal that would create a stock and commodities trading behemoth.
The deal, announced Thursday by ICE,  values the NYSE at $33.12 a share in stock and cash. Once the deal is closed, NYSE shareholders would own approximately 36 percent of ICE shares.
 Analysts said a deal would give Atlanta-based ICE a strategic boost with control of Liffe, Europe's second-largest derivatives market, helping it compete against U.S.-based CME Group Inc , owner of the Chicago Board of Trade.
An ICE-NYSE Euronext tie-up would leap-frog Deutsche Boerse to become the world's third-largest exchange group with a combined market value of $15.2 billion. CME Group, ICE's largest U.S.-based rival, has a market value of $17.5 billion, Thomson Reuters data shows.
Hong Kong Exchanges and Clearing  is the world's largest exchange group with a market capitalization of $19.5 billion.
ICE's main operations are in energy futures trading and unlike NYSE Euronext, it has steered clear of stocks and stock-options trading, so there is not much business overlap between the two groups, making it more likely competition authorities would approve a tie-up.
Last year, the U.S. Justice Department blocked a $11 billion joint hostile bid by ICE and Nasdaq OMX Group for NYSE Euronext on concerns the tie-up would dominate U.S. stock listings.
If that bid had succeeded, ICE planned to buy NYSE Euronext derivatives business while Nasdaq would have taken control of the stock exchanges.
A rival $9.3 billion bid by German exchange operator Deutsche Boerse also ran afoul of regulators.
"I doubt the competition authorities will have a problem with it, there's only a modest overlap between the businesses," said Richard Perrott, an analyst at Berenberg Bank.
"The rationale for the deal will be the same as that with Deutsche Boerse - migrate the clearing of Liffe derivatives to ICE's services in London and scale up to attract OTC (Over The Counter) derivatives clearing. There could be more than $300 million in cost savings in the deal."
Before the latest ICE offer emerged, NYSE Euronext's shares had fallen by nearly a third since ICE and Nasdaq launched their thwarted joint bid.
The New York Stock Exchange, known as the Big Board and the symbol of U.S. capitalism, has seen its clout fade as new technology and the rise of private trading venues run by Wall Street banks and brokers cut its margins.
Founded in 2000 as a U.S. electricity trading platform backed by Wall Street banks and energy traders, ICE is the product of a string of acquisitions, from the London-based International Petroleum Exchange in 2001 through the New York Board of Trade and, most recently, a handful of smaller deals, including a climate exchange and a stake in a Brazilian clearing house.
The Associated Press and Reuters contributed to this report.