This summer, employees may not have to worry about sneaking away from their desks to start the weekend early, as more companies are offering summer Friday perks.
Companies are getting more creative about boosting employee morale and productivity by offering perks during the summer. Just over 40 percent of firms let down their hair a little during the hotter months, allowing employees to work a half day on Fridays, or even take the day off completely.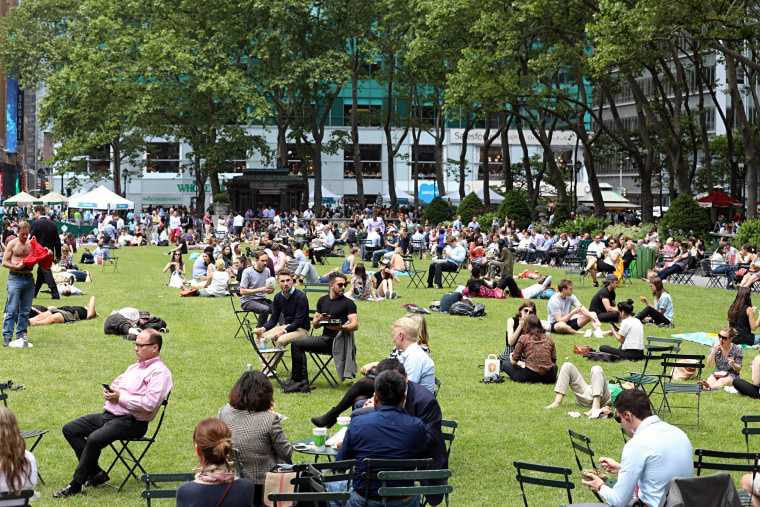 A study by business advisory company CEB, now known as Gartner, found that 42 percent of the 220 companies interviewed let employees take time off on summer Fridays. That number has doubled since the same survey was conducted in 2015.
Human Resources Practice Leader Brian Kropp, author of the study, said even though summer Fridays mean fewer hours at work, the time off can actually increase productivity. When employees know they're leaving early on Friday, they'll finish their most important work earlier in the week, he said.
"When you look across the week, (Friday afternoon) is the time where productivity is the lowest overall anyway," he said.
Kropp also found that summer Fridays increase how engaged employees are at work by improving work-life balance. Engaged employees are more likely to go above and beyond for their company, and view their work as more than just a job.
Which Industry Offers the Best Perks?
For both surveys, Kropp asked Fortune 1000 companies around the world whether they offer summer perks. The professional and financial services and technology industries were more likely to give employees summer Fridays, Kropp said.
"When you look across the week, Friday afternoon is the time where productivity is the lowest overall anyway."
A 2012 survey commissioned by Patron Spirit Company's Ultimat Vodka credits the rise of summer Fridays to New York advertising agencies that realized employee productivity tanked on Friday afternoons. The practice began in the 1960s, and is still going strong.
In the survey, 87 percent of respondents with summer Fridays agreed the extra hours off contributed to a healthier work-life balance. However, 41 percent of workers who did get Friday afternoons off forfeited them to handle their busy workloads.
Shelley Zajic, human resources vice president at Patron, said that summer Fridays have been offered there for over 10 years to thank employees for their work. She credits the company's growing sales to employees' healthy work-life balance, to which summer Fridays contribute. She said that on some busy weeks, employees choose to stay behind and finish their work.
"If it makes sense, I think everybody takes advantage of it," Zajic said. "If it doesn't make sense, they don't. I don't think anybody takes advantage of it the wrong way."
Brand consulting company Wolff Olins has solved that problem by making summer Fridays a group decision.
Summer afternoons off are available during weeks with a lighter workload. On Mondays, the company's San Francisco office collectively decides whether employees should work a little extra for four days a week in order to leave at 2 p.m. on Friday.
"We all kind of look at each other, and it's a one-for-all and all-for-one kind of mentality," said Managing Principal Helen Jones. "It means that everybody just kind of mucks in and gets stuff done."
After work, the 12-person office spends a few hours relaxing together at a bar or restaurant. Helen said this is good bonding for the group and lets employees with children, who don't usually have time for after-work drinks, be social.
Most importantly, for employees to feel comfortable playing hooky, Kropp said senior leaders have to go home early, too.
"You physically need to leave the office to send the signal that it's okay for other people to leave the office," he told NBC News.