Want to practice yoga but don't know a Camel from a Downward-Facing Dog? A new pair of "smart" yoga pants that tell you whether you're holding a Yoga pose correctly may be just the ticket.
The Nadi Smart Fitness Pants vibrate if you're doing a pose wrong. They'll also vibrate when you find the proper alignment, but more peacefully – generating an "om" sound.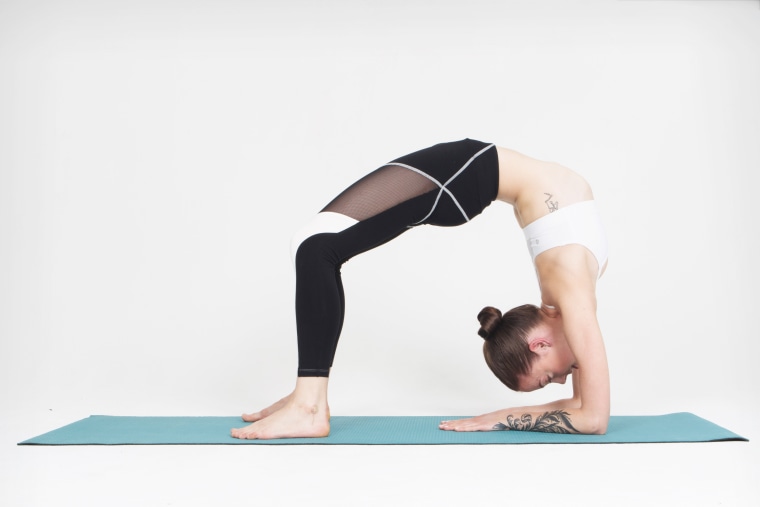 The pants, developed by Wearable Experiments of Sydney, Australia, have gotten a lot of buzz since being showcased at CES 2016, even though they're not yet available.
"We have been inundated with calls to try these pants," Billie Whitehouse, CEO and creative designer at Wearable Experiments, told NBC News.
Whitehouse declined to say how they will be sold or how much they will cost.
The idea for the Nadi pants actually stemmed from a previous product Whitehouse developed with Ben Moira, co-founder, engineer, and CTO of Wearable Experiments, which is headquartered in Sydney, Australia. That product was called Fundawear.
Natural next step from vibrating underwear
"This is the part where everyone laughs," Whitehouse said of the vibrating underwear designed to help lovers in long-distance relationships stay intimately connected by allowing one user to virtually touch their partner through a smartphone app, stimulating a section of the pants.
Durex picked up Fundawear in 2013, and launched a viral campaign, but it appears that the product never hit the marketplace.
Sex Wearables Go Where Fitbit Dares Not Tread
"We earned royalties on that product and then I moved to the U.S. and have been doing experiments," Whitehouse said, adding that her next goal was to expand on the concept of sensory communications in intimate clothing.
Yoga pants felt like the natural next step. "People are wearing yoga pants all the time," said Whitehouse. "So we thought, well this is what people are wearing, now how do we help them they know more about themselves than they did before?"
Wearable Experiments wanted to make a pair of pants that were "personal, soft, and un-intrusive," and also helpful.
The Nadi pants are lined with electronic sensors at various points along the leg, allowing them to track the body's movements and, by using "haptic feedback" – or sensory signals -- to direct you into the proper alignment.
Whitehouse said the "om" that the pants emit when you've stretched into the ideal form, "isn't really a sound, it's more a synchronized pulse — subtle communication on the skin that says this is correct."
The pants turn on and off — so you can wear them simply as lounging pants, sans vibrations — and are operated by a Bluetooth-enabled app.
"There are a selection of four Yoga poses you can have help with: Warrior One, Warrior Two, Warrior Three, and Pigeon," said Whitehouse, noting that while these are classic yoga poses that are not very complicated, they tend to be the ones people have the most trouble with, according to Wearable Experiments' research and feedback from focus groups that have been testing the garment.
The pants will come with a charging station that resembles a laundry basket, and can be washed up to 25 times, Whitehouse said.
The very idea of a pair of pants ostensibly replacing a yoga teacher doesn't sit well with Gillian Russell, a 40-year old Brooklyn resident who has been practicing the discipline daily in a professional studio for 10 years.
"In yoga, you often have to adjust poses for injuries, body type, etc.," Russell told NBC News. "I don't trust that a pair of pants would 'understand' those modifications."
Russell added that unless a credible Yoga teacher endorses the pants, she's not interested. Nor would she invest in exercise apparel that only lasts up to 25 washes.
"These pants don't address at all the foundation — and often the misalignment — of all standing poses: the feet."
Mandy Roberts, a Yoga teacher and retreat leader based in Atlanta, Georgia, also said she didn't think the pants would be useful because the sensors are limited to just a few points on the lower body.
"If I were to speak only on the functionality of what the pants are supposed to do I would have to disagree that they would be at all useful for a practice," Roberts said. "In an asana (yoga) practice we use our whole body, not just the area between the hips and the ankles. In fact, these pants don't address at all the foundation — and often the misalignment — of all standing poses: the feet."
Bikram Yoga Founder Can't Copyright Ancient Poses, Court Rules
Lauren Hanna, a Yoga teacher and the director of SonicYoga in New York City, is intrigued by the concept.
"As a teacher my nature is to be very open, and to explore possibility so I think I would have to try the pants to see if they are helpful," she said.
While the pants "can't replace the live transmission from a teacher to a student," she said, adding that the vibration and sound could help a struggling poser.
"Sound is vibration and a big part of yoga," Hanna said. "It can be helpful."
Whether they take off or flop, the Nadi pants are certainly positioned to grab attention from consumers, as interest in both Yoga and wearable tech grows.
A 2015 study by the National Institutes of Health and the Centers for Disease Control and Prevention showed that the percentage of U.S. adults who practiced Yoga rose from 5.1 percent in 2002 to 9.5 percent in 2012.