Alexander Klöpping wants to change journalism.
The 29-year-old journalist-turned-entrepreneur believes readers are willing to pay for quality journalism so long as you remove the hassle of paywalls and bring down costs to a minimum.
That's the idea behind the Dutch media startup Blendle, a news app that allows users to pay on a per-article basis. The app had a limited launch in the U.S. on Wednesday after finding success in Holland and Germany.
Nearly 20 of the nation's largest newspaper and magazine publishers, including The New York Times, Wall Street Journal and Condé Nast, have partnered with Blendle for its initial launch, which will be available to a select group of 10,000 users.
The app, which runs ad-free, is aimed at publishers eager to reach a younger generation of readers used to paying for music and movie subscriptions on Spotify and Netflix. Users can buy articles from a curated list picked by Blendle's editors.
Read More: Nintendo Shares Spike as First App Racks Up 1M Users in Three Days
The prices per article are dictated by publishers, but Klöpping says that for the U.S. version, newspaper stories will cost on average between $0.19 and $0.39 per article, while magazine stories will run between $0.09 and $0.49. The app also doubles as a social network where readers can recommend articles to friends.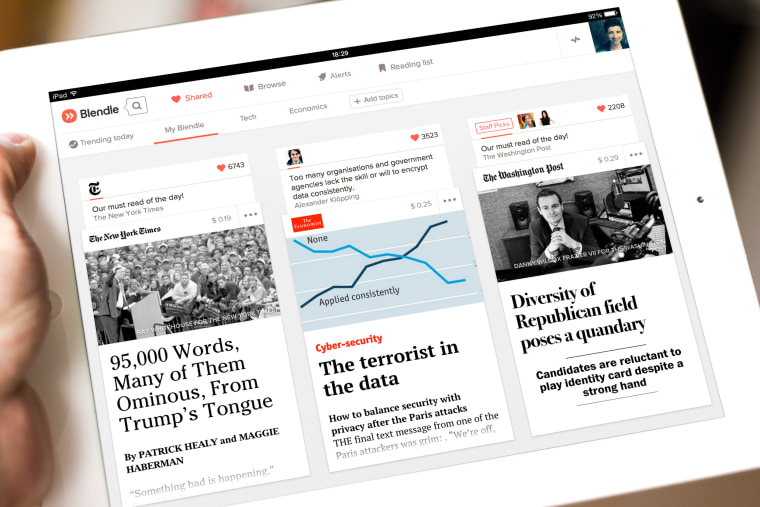 "What Spotify became for music, what Netflix became for movies, we try to be for journalism," Klöpping told NBC News. "Our success in Holland and in Germany shows that people will pay for quality journalism if you take out the hassle and give them the best selection of articles in one place."
Since its debut in April 2014, Blendle has amassed 650,000 users — half of them below the age of 35 — in Holland, a country of just 17 million people. Blendle has not yet released user numbers for Germany, but Klöpping says users have joined by the "tens of thousands" per month.
While the company's had success in Europe, testing the American market may really show if the app is a viable model for publishers, says Rick Edmonds, media business analyst at the Poynter Institute.
Read More: Forget Romance. These Apps Want to Find You a Best Friend
"Newspapers have tried for a few years now to get the paywall right," said Edmonds. "It's tricky and a hassle, while Blendle is simple to use and reaches that core millennial audience that every publisher desperately wants to reach."
Publishers, Edmonds says, may even see Blendle as a potential platform to reach these younger readers and get them to buy subscriptions to their print publications. But Klöpping sees Blendle as "a laboratory for journalism" where long-form work can live without pressure to please Facebook's algorithms.
"There's a lot of articles that people will never pay for just because they're commoditized," said Klöpping. "Funny cat pictures and click-bait stuff. But long-form investigations and features, analysis, those should be worth money and we think people will pay for them."