The PGA Tour and Saudi-backed LIV Golf announced a merger Tuesday in a stunning end to their bitter rivalry on the fairways, in the courts and on the geopolitical stage.
PGA Tour Commissioner Jay Monahan, who once said playing in LIV events would warrant an apology, said the deal would benefit the sport.
"After two years of disruption and distraction, this is a historic day for the game we all know and love," Monahan said in a statement. "Going forward, fans can be confident that we will, collectively, deliver on the promise we've always made — to promote competition of the best in professional golf and that we are committed to securing and driving the game's future."
Monahan told CNBC the move was necessary to grow the sport.
"There's been a lot of tension in our sport for the last couple of years. But what we're talking about today is coming together to unify the game of golf and to do so under one umbrella," he said.
"Together, we're going to move forward, and we're going to take efforts to grow and expand this great game and take it to new heights."
Golf legend Phil Mickelson, who had led prominent players away from the PGA Tour to help form LIV, tweeted his approval of the news Tuesday morning.
And former President Donald Trump, a backer of LIV, took a victory lap Tuesday, declaring he had predicted that the PGA Tour would have to come to an agreement with the Saudi-backed golf operation.
Loved ones of 9/11 victims have protested outside of LIV events, drawing attention to Saudi connections to the 2001 terrorist attacks.
"PGA Tour leaders should be ashamed of their hypocrisy and greed," 9/11 Families United Chair Terry Strada said in a statement Tuesday.
"Our entire 9/11 community has been betrayed by Commissioner Monahan and the PGA as it appears their concern for our loved ones was merely window-dressing in their quest for money — it was never to honor the great game of golf," Strada said. 
While the deal carries some risk for the PGA Tour, George Washington University sports marketing professor Lisa Delpy Neirotti said players, consumers and golf sponsors ultimately have short memories and just want to see the world's best tee off every weekend.
"Players just want to get paid, and they want to play against their top competitors — and fans want it, too," she said. "They don't want to not have the top players playing in the PGA." 
The agreement will also end all litigation prompted by the PGA Tour's suspension of players who had ignored its threats and played in LIV events.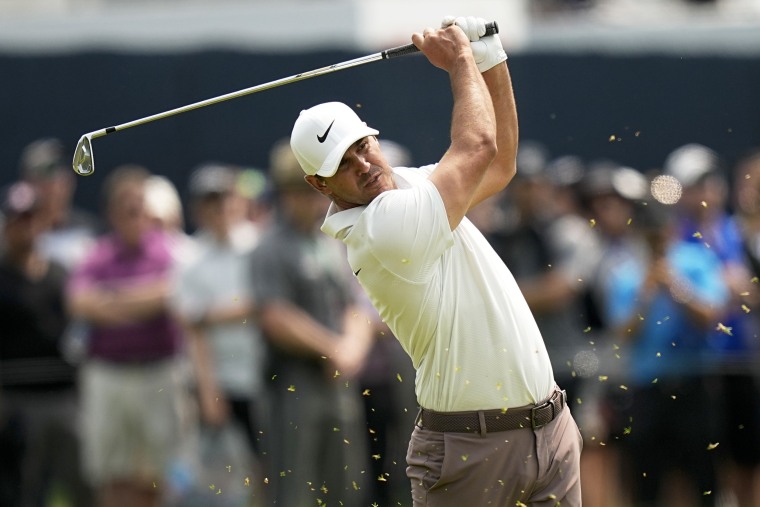 The desire to end lawsuits was most likely a key factor in the unusual union, though University of Buffalo sports law professor Hellen "Nellie" Drew said new lawsuits could come into play from sponsors unhappy with Saudi involvement.
"Typically these agreements have some kind of good faith morals clause," Drew said. "You [a sponsor] want the goodwill associated with the PGA Tour. Now that PGA Tour's goodwill is substantially connected to human rights issues, that's a whole different animal. That's not what you're paying for."
LIV was formed in 2022 with 48 players led by Mickelson, along with Dustin Johnson, Bryson DeChambeau and Brooks Koepka, with a prize fund of $405 million; they and other high-profile players reportedly got deals of at least $100 million to leave the PGA Tour.
Tuesday's announcement came nearly a year after Monahan blasted players for signing up for LIV events, saying association with the Saudi fund would leave a moral stain.
A dramatic and stern-faced Monahan said last year he knows families who lost loved ones in the 9/11 attacks and told LIV golfers to take a long look in the mirror before they accepted Saudi government money.
"I would ask any player that has left or any player that would ever consider leaving, 'Have you ever had to apologize for being a member of the PGA Tour?'" Monahan said from Toronto on the CBS telecast of the RBC Canadian Open.
The merger didn't come as a complete surprise to veteran U.S. diplomat Richard N. Haass.
"I thought it was near-inevitable, as LIV was not going away, given Saudi financial support and strength of several LIV golfers," said Haass, the president of the Council on Foreign Relations.
"Plus, efforts to isolate the Kingdom of Saudi Arabia were fading in the wake of the president's visit to and subsequent developments," he said.
Sports has been an increasingly important tool of the Saudi government's efforts to ingratiate itself on the world stage and gloss over the kingdom's human rights record. Critics of the kingdom have called the practice "sportswashing."
"PGA Commissioner Jay Monahan co-opted the 9/11 community last year in the PGA's unequivocal agreement that the Saudi LIV project was nothing more than sportswashing of Saudi Arabia's reputation," said Strada, whose husband, Tom, an avid golfer, was killed in the North Tower nearly 21 years ago.
"But now the PGA and Monahan appear to have become just more paid Saudi shills, taking billions of dollars to cleanse the Saudi reputation so that Americans and the world will forget how the Kingdom spent their billions of dollars before 9/11 to fund terrorism, spread their vitriolic hatred, and finance al Qaeda and the murder of our loved ones. Make no mistake — we will never forget." 
Neirotti, of George Washington University, said she doesn't expect Saudi money to go away any time soon.
"I mean, the EPL sold out, they took blood money," she said, referring to the English Premier League. "And trust me, many American companies are doing work in Saudi Arabia. Deloitte, name every big consulting company, you don't think they don't have their hands in Saudi Arabia?"
CORRECTION (June 6, 2023, 7:30 p.m. ET): A previous version of this article misstated the organization that merged with LIV Golf. It is the PGA Tour, not the PGA, which is a separate organization.