/ Source: Associated Press
It could be called "The Little Stamp That Could."
Three times in its long history, the 1-cent postage stamp from a 19th century British colony in South America has broken the auction record for a single stamp. Now, it's poised to become the world's most valuable stamp again.
Sotheby's predicts the 1856 British Guiana One-Cent Magenta will sell for between $10 million and $20 million when it's offered in New York on June 17.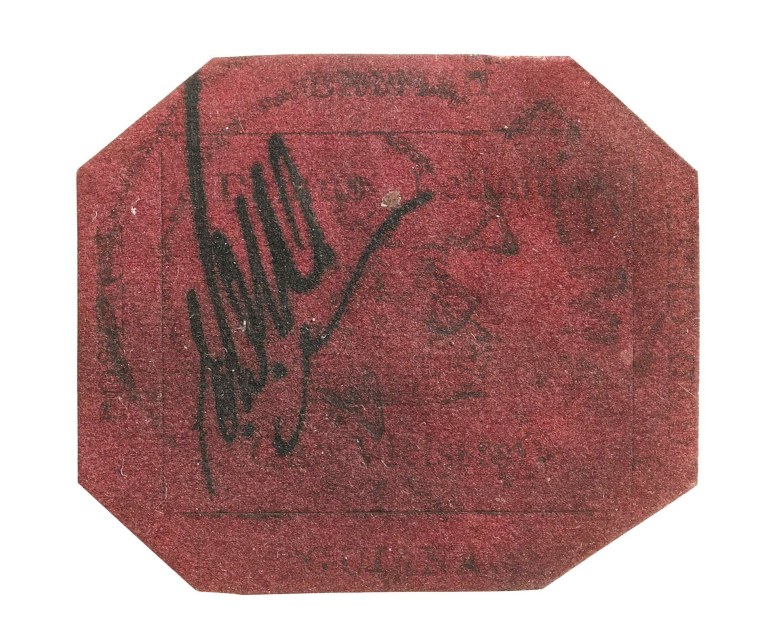 "You're not going to find anything rarer than this," said Allen Kane, director of the Smithsonian National Postal Museum. "It's a stamp the world of collectors has been dying to see for a long time."
Measuring 1 inch-by-1 1/4 inches, the feather-light One-Cent Magenta hasn't been on public view since 1986. It is the only major stamp absent from the British Royal Family's private Royal Philatelic Collection.
An 1855 Swedish stamp, which sold for $2.3 million in 1996, currently holds the auction record for a single.
"This is the superstar of the stamp world," said David Redden, Sotheby's worldwide chairman of books and manuscripts, adding that the stamp will travel to London and Hong Kong before being sold.
The last owner was John E. du Pont, an heir to the du Pont chemical fortune who was convicted of fatally shooting a 1984 Olympics champion wrestler. He bought it in 1980 for $935,000. It's being sold by his estate, which will designate part of the proceeds to the Eurasian Pacific Wildlife Conservation Foundation that du Pont championed during his lifetime.
Printed in black on magenta paper, it bears the image of a three-masted ship and the colony's motto, in Latin, "we give and expect in return." The stamp went into circulation after a shipment of stamps was delayed from London and the postmaster asked printers for the Royal Gazette newspaper in Georgetown in British Guiana ─ the present day Guyana ─ to produce three stamps until the shipment arrived: A 1-cent magenta, a 4-cent magenta and a 4-cent blue.
To safeguard against forgery, the postmaster ordered that the stamps be initialed by a post office employee.