NEW YORK -- More than 800 items owned by Ringo Starr and his wife, Barbara Bach, are going to auction, including rare Beatles memorabilia like his three-piece drum kit used in over 200 performances and a Rickenbacker guitar known as the "Beatle-Backer" that John Lennon owned and later gave to Ringo.
The unprecedented number of Beatles-owned objects will be offered Dec. 4-5 at Julien's Auctions in Beverly Hills, California.
"We have so much stuff and a lot of it we haven't seen in 20 to 30 years," Starr, 75, said in a phone interview with Bach from London.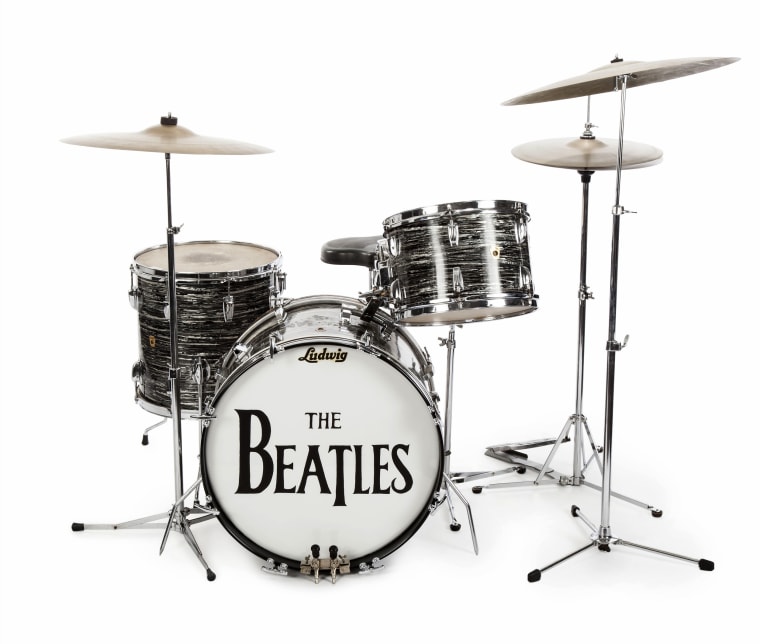 He said the idea for the auction came after The Grammy Museum in Los Angeles asked to do an exhibition about his life and music in 2013-2014.
"It started with me looking at storage units we have all around the world it seems ... we found we had so much stuff," he said.
Then another project — an upcoming book and an exhibition currently at London's National Portrait Gallery of photographs Starr took of his former bandmates — turned up "boxes of negatives from the '60s onward," he said.
On top of that, the couple sold their country house in England and closed down their apartment in Monte Carlo.
"We thought, 'What are we going to do with all this?'" he said. So they turned to Julien's Auctions.
50 Years Later: A Look Back at The Beatles' Shea Stadium Performance
"Beside the dinner services and glasses, I thought I will make it very special. ... I'm also putting in 'The White Album No. 1' which I had in a bank vault for the last 35 years" and several guitars, including a Gretsch that was a gift from George Harrison and the Lennon Rickenbacker, he said.
"And besides that you have furniture, artwork and cups and saucers" from their homes in London, Beverly Hills and Monaco, said Starr, who soon heads off on a month-long tour of North America with his All-Starr Band.
Like his book "Photograph by Ringo Starr," coming out later this month, a portion of the proceeds will benefit the couple's Lotus Children Foundation, which focuses on social welfare issues around the world.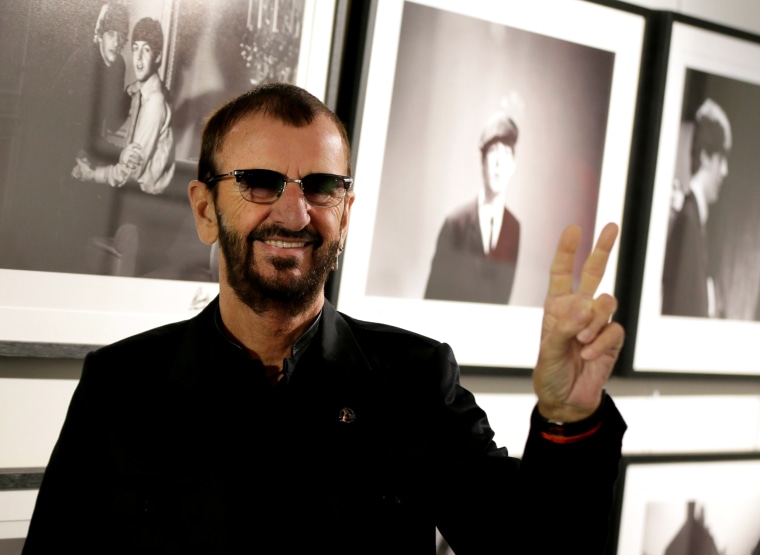 The couple, who have been married for 34 years, said they decided together what items to auction, an effort that was wrought with emotion and nostalgia.
After deciding to let go of certain items "we'd take them back," said Bach, 69, a former model and actress. "But then we'd say, 'Where are we going to put it' and realized it would have to go back in storage, so we said, 'OK, let's put it back in the auction.'"
Highlights and their pre-sale estimates:
Ringo's first 1963 Ludwig Oyster black pearl three-piece drum kit that he used in over 200 performances and recordings between May 1963 and February 1964, including for hits such as "Can't Buy Me Love" and "All My Loving." Paul McCartney also used the set on his first solo album, "McCartney." $300,000-$500,000.
Lennon's 1964 Rose-Morris Rickenbacker with a fire-glow sunburst finish that he played during The Beatles' 1964-1965 Christmas shows. He made a gift of the guitar, known as the "Beatle-Backer," to Starr in 1968. $600,000-$800,000.
A 2000 Mercedes Coupe, first owned by Harrison and acquired by Starr after the Beatles' lead guitarist died in 2001. $60,000-$80,000.
A seven-tom drum kit inspired by drummer Hal Blaine and commissioned for Ringo by Harrison in 1968. Only five of the custom kits are known to exist. $10,000-$20,000.
Highlights will be on display for a week at The Hard Rock Cafe New York in Times Square starting Nov. 16. They also will be shown at the Museum of Style Icons in Ireland and at Julien's prior to the sale.
Julien's anticipates the sale could top $10 million.
"It's really a once in a lifetime opportunity. Ringo will never do this again. They are the only items he's letting go," said auctioneer Darren Julien.