Planning a final summer road trip? You may want to set aside some extra time for your drive — and practice some deep breathing techniques: You'll likely encounter some aggressive behavior, aka, road rage.
A new report by Auto Insurance Center analyzed over 100,000 posts on Instagram tagged with #RoadRage to pinpoint when it most commonly occurs and while March saw the most posts this year so far, summer months see #roadrage posts peak, with AIC noting August, a popular time for road trips, as the angriest month in the calendar year.
The AIC also found that #roadrage posts spike on Fridays, and are least popular on Sundays and Mondays, and that users post most about road rage between 9 and 10 PM, a finding that surprised the AIC.
"We expected rush hour to be the most common time, but it's actually much later at night," said Justin Loera, senior insurance market analyst for AIC. The AIC didn't look into why this time pattern has emerged, but it could have a lot to do with the age group that is most commonly posting on Instagram: millennials.
"Millennials are the largest demographic using Instagram and the ones most likely to include hashtags in their posts including #roadrage," said Andrew Selepak, a professor in the department of telecommunication at the University of Florida, and director of the graduate program in social media."Millennials often take summer jobs and internships that don't include normal 8 to 5 work hours. Instead, they are working internships or waiting tables that gives them irregular hours including later in the morning and later in the evening."
So, are millennials just angrier than everybody else? Probably not; but they are generally more tuned in with social media as a platform to make their upsets known.
Nebraska Beats Out D.C and NYC — But Road Rage Is Everywhere
Thanks to geotagging, the AIC could also identify where some #roadrage posts are coming from, and discovered yet another surprise: Nebraska drivers seem to have the worst tempers (or at least, theirs are the most documented on Instagram this year so far).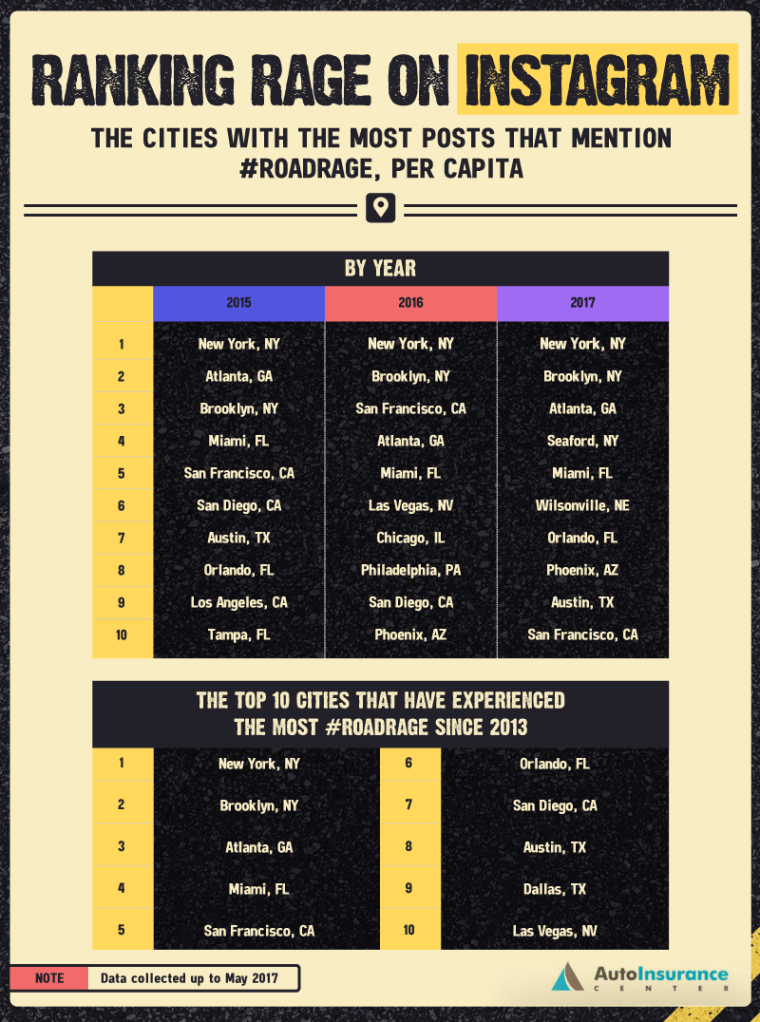 "New York and Washington D.C have historically been at top, but this year Nebraska came it at number one for #roadrage posts," said Loera. "I can't say why Nebraska has surpassed these other places, but this year we did have a much larger portion of geotagged posts." In other words, Nebraska's road rage problem may not be new — we just may be only now able to better measure it because more people are using location tags.
But here's the bigger takeaway about road rage: it's a problem throughout the U.S and it seems to be getting worse. Loera says that 2017 is on track to greatly surpass 2016 in terms of road rage related posts.
Tamra Johnson, a spokesperson for AAA National, said that in an AAA Foundation for Traffic Safety survey last year (its most recent on the topic of road rage), nearly two in three drivers stated that they felt aggressive driving was a bigger problem then than it was three years prior, and nine out of 10 said they perceived aggressive drivers as a serious threat to their own safety.
We're Part Of The Problem
Who are these aggressive drivers bullying us on the road? Sadly, a lot of the time, it's us.
"We found that 80 percent of drivers admitted to some form of aggression, and even more alarmingly, eight million drivers admitted to more extreme cases [of road rage] — like actually getting out of their vehicle to confront another driver, or using their car to ram another vehicle," said Johnson. "Those instances can be extremely dangerous and even deadly."
So, why are we so prone to losing our tempers on the road, and how can we keep our cool — even when we absolutely know another driver has done us wrong?
Patti Sabla, a licensed clinical social worker who specializes in anger management, finds that road rage often happens because we take the actions of other drivers really personally — rather than just letting it go.
Don't Take It Personally — And Lower Your Expectations
"We don't get angry because that blue truck cut off my white car. Instead we get angry because that person cut me off," said Sabla. "Once we personalize what we perceive as bad behavior aimed towards us, it isn't hard for road rage to kick in."
We also expect that other drivers will follow the rules of the road to a T, and be totally civil. That's fair enough — but if we lower our expectations of others, we could find ourselves pleasantly surprised, or at least, not laying on the horn.
"Unfortunately, there are people out there who just don't care about civility," said Sabla. "So once we lower our expectations about these people, we are triggered less easily."
Keeping your cool can be difficult for even those who consider themselves fairly chill.
"I'm generally a very calm person but for whatever reason when I'm driving I ought to be censored," said Angela Smith, a 28-year-old in Boston. "Driving — not to mention finding parking — can be extremely frustrating especially when it seems like people are not paying attention — or worse — on their phones."
It's tempting to call others out and let them know that you saw what they did there, and no, it's not okay. But what good can come out of that? At some point, you've just got to resolve to stay in your own lane — literally and figuratively. And if it's getting to your destination on time that you're worried about, giving yourself extra time to arrive can help.
"I used to get upset and anxious [because of other drivers], but I decided I didn't want to go through that anymore," said Terry Bolo, a long-time Los Angeles resident. "So I just leave plenty of extra time and sit patiently in traffic. I am in no hurry, and I will get there eventually — calm and in one piece."