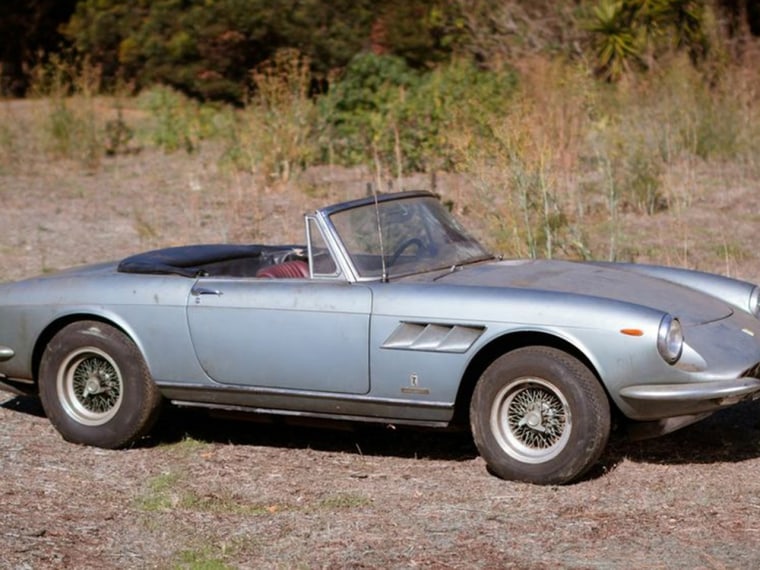 Coming up at auction: A rusty, 47-year-old Italian sports car. Asking price: $2 million.
This one is a rare 1967 Ferrari 330 GTS. It's rusted out. The engine won't start. Parts of the car are charred from a fire. And the interior looks like it wouldn't even qualify for most junkyards.
Yet despite its rough condition, it is estimated to sell at Gooding & Co.'s upcoming Scottsdale, Ariz., auction for more than $2 million.

"There is a premium right now on cars that are in original condition," said David Gooding, CEO of the automotive auction house. "For some people, this car, with its original paint and materials, is more attractive than a shiny restored car where the chrome is shining and everything is perfect."
It remains to be seen how much collectors are willing to pay for the Ferrari that had gone missing for decades. But its story shows just how high vintage Ferrari prices are soaring, and why today's rich car collectors are increasingly valuing authenticity in cars by paying as much or more for a rusty original than one that's been rebuilt with almost entirely new parts.
The story of the 330 GTS starts in Italy, where it was sent from the Ferrari factory to Carrozzeria Pininfarina, where it was finished with polished wire wheels, a "Celeste Blu" paint job with red and blue pinstripes and special leather upholstery.
The car was the fifth in a series of 99 GTS cars that Ferrari built. It cost around $15,000—a fortune for a car at the time.
The car was shipped in 1967 to an importer in Greenwich, Conn., and sold to Dr. Samuel Scher, a New York City plastic surgeon. He loved the car and drove it 20,000 miles in less than two years. But in 1969, it caught fire and was sold at auction in New Jersey.
For the next 44 years, it sat in a Pennsylvania garage. Gooding said the current owner is an unidentified private collector who had heard about the car and spent years securing it from the owner.
Gooding said that if he were the buyer, he would do "minimal" work on the car—replace the wheels, get it running again—and preserve it in its current condition.
"There just aren't many of these old Ferraris that are in truly original condition," he said. "It's pretty special."