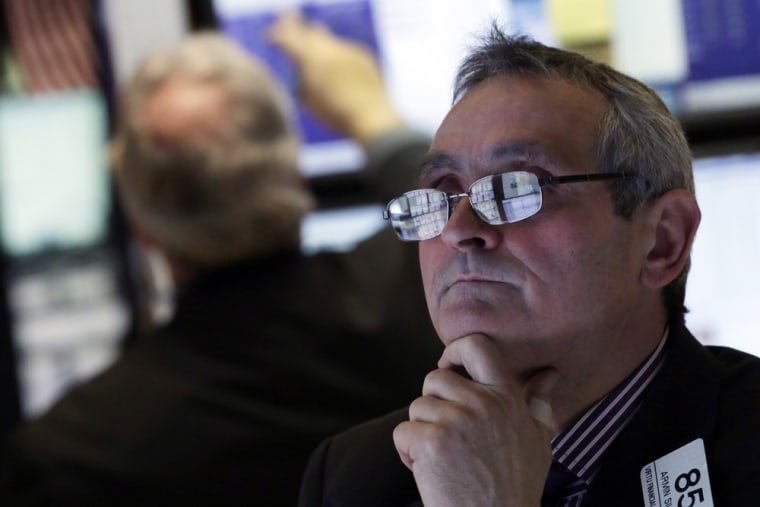 The Standard & Poor's 500 index traded above 1,500 for the first time since December 12, 2007 following a sudden drop in claims for unemployment benefits, another sign that the labor market is healing.   
The index has not closed at 1,500 since Dec. 10, 2007, just months before the implosion of big Wall Street banks would send the major averages crashing to decade lows.

While many traders usually dismiss the big, round market numbers as having little meaning from a fundamental or technical standpoint, eclipsing this mark could be different. 
"It's psychological more than anything," said Justin Wiggs, vice president of trading at Stifel Nicolaus. "If we stay above 1,500 it could bring some incremental dollars off the sidelines."
The move past 1,500 comes as investors have been showing more confidence in stocks, finally taking some of the $2.7 trillion lying dormant in low-yielding money market funds and pumping it into equities.
"To the degree that those are sticky investments and those dollars stay in equities, that will be a trend we'll be watching here in the first quarter," Wiggs said.
Market veteran Art Cashin, the floor operations manager for UBS, said the mark could be significant as the "bulls need a breakout punch like S&P through 1500." 
The market's stubborn march higher despite the array of factors against it - weak earnings, political tensions in Washington and a European recession to name three - have market bears feeling fairly helpless.
"This is a very frustrating market," said Kathy Boyle, president of Chapin Hill Advisors. "It's times like this when I feel like throwing in the towel. That's when I feel like I should stick to my guns." 
The Nasdaq fell about two points to 3,151.75. A 10 percent drop in Apple, the country's most valuable company, was enough to pull the technology-heavy index lower. Apple is the largest component of the Nasdaq, making up 9.9 percent of the index. 

The Dow Jones industrial average was up 97.93 points at 13,877.26 just before midday. 
The Labor Department reported that the number of Americans applying for unemployment aid fell last week to the lowest since January 2008. Applications dropped 5,000 to 330,000. The four-week average also hit a five-year low. 
Microsoft and Starbucks are scheduled to report after the closing bell. 
CNBC and the Associated Press contributed to this report.