It's official. Major League Baseball has suspended New York Yankees slugger Alex Rodriguez through the 2014 season and branded several other players with the steroid stamp.
Sports fans, meanwhile, are reflexively reacting in two ways: a wide yawn and a quick flash of their credit card to gobble up more games and more gear.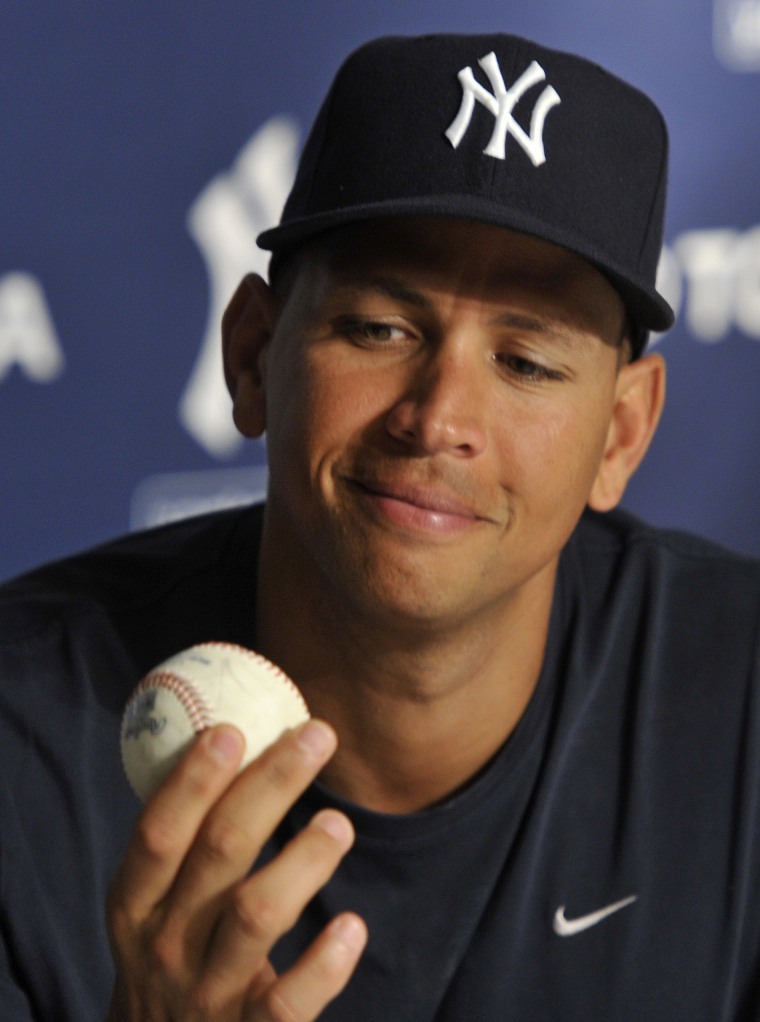 Yep, the steroid era is over on one level: PEDs have officially become passé. 

That's not to say baseball, football, basketball or hockey lovers want dirty players. They've just become bored by them. Who's doing it? Who cares? (Well, beyond the hardcore, hall-of-fame-denying purists).

"Fans have become accustomed to — if not seemingly tolerant of — the wide-ranging problems throughout sports on a global basis," said David M. Carter, a Los Angeles-based sports business consultant and executive director of the University of Southern California's Sports Business Institute.
"Once shocked after hearing about the likes of (Canadian Olympic sprinter) Ben Johnson and (big league ballplayer) Jose Canseco, fans have yet to change their spending or consumption patterns. Maybe this is because sports is larger than any individual athlete and sports serves as a critical part of fans' lives," Carter said. "The entire sports industry knows this. Until fans and athletes change their perspective, there is little disincentive for athletes to change their behavior."
Case in point: Major League Baseball slapped a season-ending suspension on former MVP Ryan Braun on July 22 for a performance-enhancing drug violation, but three days later sales of Braun-branded merchandise had increased at stores inside Milwaukee's Miller Park, said Rick Schlesinger, the team's chief operating officer.
Like Braun, A-Rod has been tied to anti-aging drug dealer Anthony Bosch, owner of the now-closed Biogenesis clinic in Florida. Some 15 to 20 other Major Leaguers have similarly been linked to the clinic as the latest PED scandal has simmered beneath the entire 2013 season.
Has there been any sign of a fan revolt? The MLB All-Star Game on July 16 gave the FOX network its heftiest viewer numbers of the summer, according to TV ratings counters. Meanwhile, at the ballparks, folks are packing in at the same healthy pace they did in 2012. This year, the L.A. Dodgers are the top draw, averaging 45,060 paid patrons per game. Last year, the Philadelphia Phillies led in attendance with an average of 44,021 people per game. As of late July, 17 ball clubs were averaging more than 30,000 fans for each game. Last season, 14 teams surpassed that threshold.
"At one point we believed in the sanctity of sportsmanship, even if some athletes didn't — but apparently as the money has flowed, so to have the PEDs," Carter said.
The three other largest pro sports leagues are thriving as well — including the National Football League, which has suspended 16 players just during the 2013 preseason for violating drug policies, reports Spotrac.com. And, of course, those cases all pale to the first-degree murder charge leveled June 26 against former New England Patriots tight end Aaron Hernandez for the shooting death of a semi-pro football player.
"There's a guy being held for murder. How does that rate to a guy taking steroids who was just trying to improve his body?" asked Larry Mann, executive vice president of business development at rEvolution, a Chicago-based sports marketing firm. "I think fans are pretty ambivalent (about PEDs). And in our country, it's always been like this. We're the most forgiving culture in the world."
As always, however, football roars forward — a titanic Teflon tank busting through any and all bad acts by its players to consistently hit financial pay dirt. In June, Verizon agreed to pay the NFL $1 billion for the rights to offer league games on its customers' smartphones. 
That's relative chump change in comparison to the $27.9 billion agreement the NFL recently reached with FOX, CBS and NBC, allowing the networks to air pro football games through 2022. In a separate pact, ESPN is paying $15.2 billion to the NFL to broadcast games through 2021.
The money is massive because the NFL's TV audience has spread to record proportions, allowing the networks to charge steeper advertising fees during stops in on-field action. Among all of the highest-rated TV shows since 2010, NFL games have accounted for 55 percent of that popular programming. 
Times are bright at the NBA and NHL as well. The final game of the 2013 NBA finals between Miami and San Antonio pulled a 17.7 overnight rating, peaking to as high as 22.6 before the final buzzer, making it the second-highest rated NBA game ever to be broadcast by ABC, according to Nielsen. And the NHL's Stanley Cup playoffs — 86 games aired on NBC, NBCSN and CNBC — averaged 1.467 million viewers per showdown, a TV-ratings record for hockey's post season.
The NBA has been linked to the Biogensis PED scandal, ESPN reported. And in a 2011 book by ex-hockey enforcer Georges Laraque, the retired player said he knew of many players, including some NHL stars, who used steroids while Laraque was in the league from 1997 to 2010. 
"Sports is hot right now, especially on the media side. There's so many ways to buy media," said sports marketer Mann. "On PEDs, a lot of people seem to say: 'Oh, I just don't want to hear about it anymore.' "