SeaWorld announced Thursday it will end its killer whale breeding programs and take a "new direction" amid changing social attitudes.
The company said the 24 orcas it currently has in three parks would be SeaWorld's last generation, a long awaited move following intense criticism from animal-rights campaigners over keeping the whales in captivity.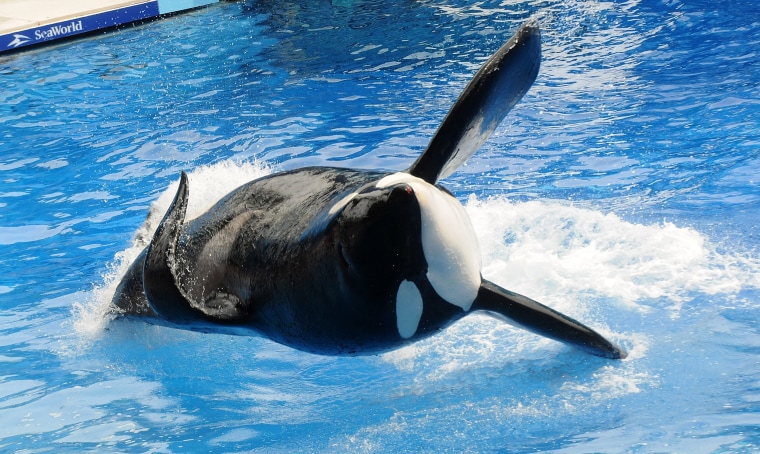 "SeaWorld has been listening and we're changing," the company said in a statement. "Society is changing and we're changing with it. SeaWorld is finding new ways to continue to deliver on our purpose to inspire all our guests to take action to protect wild animals and wild places."
Joel Manby, president and CEO of SeaWorld, wrote in an op-ed article in the Los Angeles Times that its existing whales would remain in captivity because setting them free in the wild was "not a wise option."
"Most of our orcas were born at SeaWorld, and those that were born in the wild have been in our parks for the majority of their lives," he wrote. "If we release them into the ocean, they will likely die."
Manby said the SeaWorld hasn't collected an orca from the wild in almost four decades and that this would be "the last generation of orcas in SeaWorld's care."
The 24 orcas SeaWorld currently has are at parks in California, Texas and Florida.
Last year, SeaWorld announced it was ending its orca shows — a move which drew muted praise from lawmakers and activists.
The company has been under pressure about its orcas since the 2013 release of the documentary "Blackfish," which argued that placing the whales in captivity made them violent, neurotic and decreased their life span.
Naomi Rose, marine mammal scientist at the Animal Welfare Institute said SeaWorld's decision was "a monumental and important first step forward in achieving a more humane business model."
SeaWorld San Diego President John Reilly acknowledged that changing public attitudes about orcas led to the decision, and said SeaWorld needs to change as well.
"We love our whales, and so do many of our visitors at SeaWorld," Reilly said. "But we also know that whales have become a growing concern for many people."
The theme park was also feeling pressure from authorities. California's Coastal Commission last year approved a $100 million expansion at SeaWorld San Diego but only on the condition that it ended captive breeding at that facility — a ruling that CEO Manby at the time described as "inhumane."
Not everyone was pleased. Malena Marshall, a mother of six, said in San Diego Thursday that she was sad to hear orcas would no longer be a part of SeaWorld.
"I grew up in Ohio and there was a SeaWorld there when I was younger, and I have all these memories of going there and learning about the animals and kind of understanding how they affect people's lives and bring joy to people," Marshall said.
Wendy Ross also remembers seeing orcas at SeaWorld when she was younger and being "in awe" — but she now feels differently. Ross said she was thrilled to hear the shows and captivity would end.
"I've been to Alaska twice. I've seen them in the wild and it's fabulous to see them in their natural habitat, and they're just you know of these big large animals that should be free and be able to do what they do," Ross said.
Animal rights group People for the Ethical Treatment of Animals (PETA) described Thursday's announcement as a "payoff" from its campaigns to change SeaWorld's policies.
However, it said: "Today is the day to stop breeding, not sometime later this year. SeaWorld must open its tanks to the oceans to allow the orcas it now holds captive to have some semblance of a life outside these prison tanks."