Crowds recently poured into Michigan Stadium in Ann Arbor, with nearly 110,000 people taking "The Big House" to near-capacity levels. But the fans weren't filling the country's largest American football stadium to cheer on a game of pigskin, they were there for a much different variety of sport.
Soccer is having a moment in the U.S.
As anyone who attended (or watched on TV) last Saturday's record-setting Manchester United versus Real Madrid match in Michigan could attest, the so-called beautiful game is looking better to an increasing number of Americans. And with World Cup fervor still lingering, Major League Soccer is continuing with an aggressive expansion that will see five new teams in five years.
Success is not assured, however, and past failures may not bode well for both new MLS clubs and the league as a whole.
Expansion costs are also potential minefields. "The costs of expansion are usually the extra demand placed on increasingly diluted talent supply," Vanderbilt sports economist John Vrooman wrote in an email to CNBC. "When the NHL (National Hockey League) added 9 teams in 9 years player salaries went from 50 percent of revenues to over 70 percent just before the lockout of 2004-05 because they had expanded too rapidly."
MLS currently has 19 teams after adding nine since 2005, and league officials have said they plan to increase the number to 24 by 2020. In the 2015 season, the league will see two new teams in contention — New York City Football Club and Orlando City Soccer Club.
For his part, Orlando City club owner, president and founder Phil Rawlins said he is not worried about the financial viability of his team. Rawlins said he expects to break even financially on the team's first season, and then to operate at a slight profit in the future.
Create a valuable team
The overall strategy, of course, is to create a valuable team. It's "all about asset appreciation," he said.
But value growth is not a guarantee, and Rawlins — who founded Orlando City as a minor league team seven years ago — is not the first owner to see potential soccer success in heavily Hispanic Florida. Since MLS's unveiling in 1993, a team launched in Miami and Tampa Bay. However, those teams have since folded.
"This is a very different time in the history of the game in this country."
"This is a very different time in the history of the game in this country," Rawlins said, citing Americans' recent engagement with the World Cup. "You have to look at the timing of all of this relative to the explosion in popularity of soccer. We're riding an unprecedented wave of popularity with the sport."
But riding the much-reported national World Cup excitement may not be a sustainable long-term strategy. Vanderbilt's Vrooman said the buzz around the sport has historically died within two to three years after each World Cup.
There are favorable forces now at work for soccer's popularity. More U.S. cities beyond the coasts are increasingly diverse — a key source of potential new fans. And more Americans are getting used to soccer as a professional sport as it is celebrated across the Atlantic.
"The population demographics are changing and merging and along with them will come the acceptance of 'European football' and at about the same pace," Vrooman said. "The fits and starts of the World Cup and friendly matches with the touring European champions like [Manchester City] and Bayern Munich are the nudging forces behind the continental drift."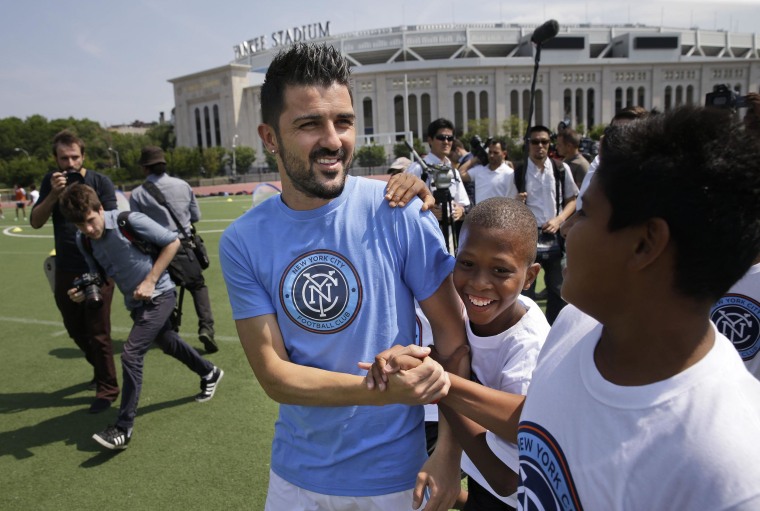 Rawlins himself is emblematic of this continental drift. Hailing from the United Kingdom, he's also an owner of England-based Stoke City Football Club, which he helped take from a lower tier to the Premier League. Despite the global popularity of the British league, Rawlins said the MLS is a "very, very good model," and that "it's the right model for this country and this time."
But one part of the MLS model may also be hurting its plans for team expansion. Annual television revenues for the league have recently tripled in value from roughly $30 million to $90 million, after a deal with ESPN/Univision and FOX. But the MLS's revenue sharing model means that each new team will pocket smaller slices of those funds for each organization, Vrooman said.
Pitfalls of expansion
MLS has said it recognizes the potential pitfalls of expansion. "When we started the league, we did a lot to study all the other professional sports leagues, and we studied the (original) North American Soccer League, specifically," MLS Deputy Commissioner Mark Abbott told reporters earlier this week. "We were concerned not about the ultimate size but the rapidness of the expansion. When we think about expansion, we try to think about it strategically. What's the right rate of growth for us?
"We've determined that the right rate of growth for us is to get to 24 teams by 2020," Abbott continued. "We think that's the right balance for a variety of reasons — the player pool that we have, the way our television contracts work."
A league spokesman was not available to elaborate on its expansion strategy.
Regardless of television contracts, Orlando City expects to hit the ground running with its stadium attendance. Rawlins said he hopes to fill the Florida Citrus Bowl Stadium — the more than 65,000-capacity arena where Orlando City will play its first season — for the team's opening game. The team expects to average about 20,000 on a regular basis, Rawlins said.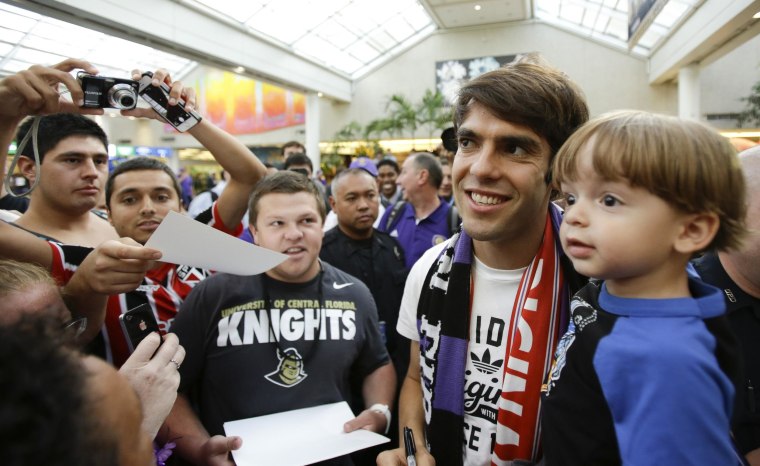 The team is already off to a reasonable start in recruiting fans. Lenny Santiago, a spokesman for the team, said Orlando City recently sold 7,500 MLS season tickets in one month of sales. He added the New York City Football Club announced they'd sold 3,000 season ticket accounts (which include several tickets each) in a similar time frame.The current minor league version of Orlando City averages about 8,000 attendees per game, Rawlins said.
Whatever the numbers, Santiago insisted Orlando is the "soccer capital of the South." The city, he said, averaged stronger World Cup viewership numbers than New York and Miami, and the team drew more than 30,000 people to watch parties for the tournament.
Orlando City will play in a new home stadium by the 2016 season, the team announced earlier this week. The team is breaking ground on the facility this fall about a block from the Orlando Magic's basketball stadium, Amway Center.
The stadium's capacity will be about 19,500, with the opportunity to expand it in the future, Rawlins said.