Fans aren't the only ones lining up for the new "Star Wars: The Force Awakens" movie, which opens in selected theaters on Thursday.
Brands have queued up too, jumping on the publicity and merchandising bandwagon with ancillary Disney-approved tie-ins that may seem either wildly creative or a bit forced.
Here are a few of the crazier ones we found: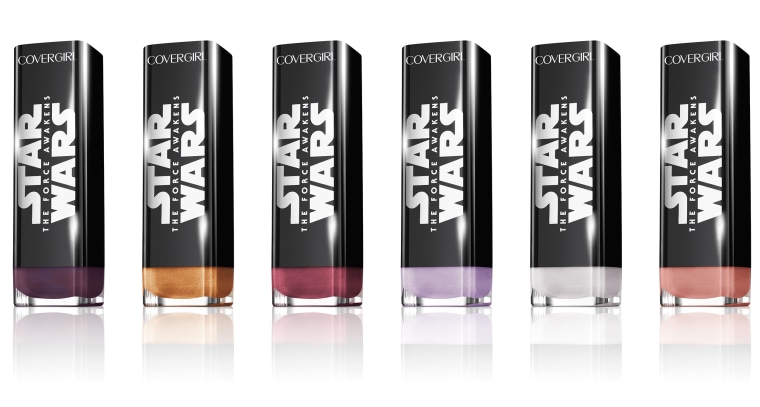 The new movie will certainly feature gorgeous and strange looks from the makeup department, and CoverGirl is attempting to tap into that magic. The line is actually receiving positive interest from makeup lovers on social media, but also a fair amount of criticism. Star Wars inspired makeup has long been the province of Cosplay, a more niche and nerdy market, and watching it go commercial with CoverGirl's feels somewhat sacrilegious from a diehard fan's perspective.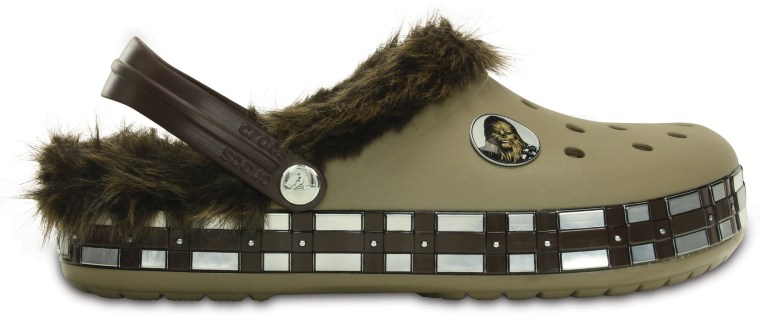 Kids' Star Wars crocs run between $29.99 to $49.99 a pair, while those for adults retail for up to $54.99 a pair. If you're not a Crocs person, but want "Star Wars" kicks, fear not; Adidas has a new line of "Star Wars"-themed footwear, as does Vans. And fashionistas, don't forget about these Skywalker Lightsaber Lace Up Heels by Irregular Choice — for $322.99 a pair. How many types of "Star Wars" shoes do we need? Disney and its marketing partners might reply with, "All of them."
Apparently Chewbacca is a spiced latte kinda guy — at that's the flavor he's representing in Nestle's line of Coffee-mate "Star Wars"-themed coffee creamers. R2-D2 is French vanilla. This tie-in feels somewhat lazy because the creamers aren't made in the shape of the characters; instead, there's just plastic packaging distinguishing each product.
Taking us to the dark side of technology is HP, with its new "Star Wars"-themed laptop. The 15.6" laptop which comes in "Darkside black" and features an image of a storm trooper on the cover, has all the ingredients of a superficial tie-in. But this model actually redeems itself by featuring some cool features, like a Death Star recycle bin and a red back-lit keyboard. Also, "Star Wars" and computers go hand in hand — another reason this feels more on point than out of line.
Why 'Star Wars' Fans Are the Jedis for Brands
One of the tie-ins getting the most heat from critics is "Star Wars"-themed bagged fruit. Among the offerings are apples by Sage, oranges by Dayka Hackett, carrots by Kern Ridge and grapes from Four Star. The grapes are the only ones that sort of make sense, since they feature Yoda, who is also green, but the idea of wrinkly grapes isn't exactly appealing.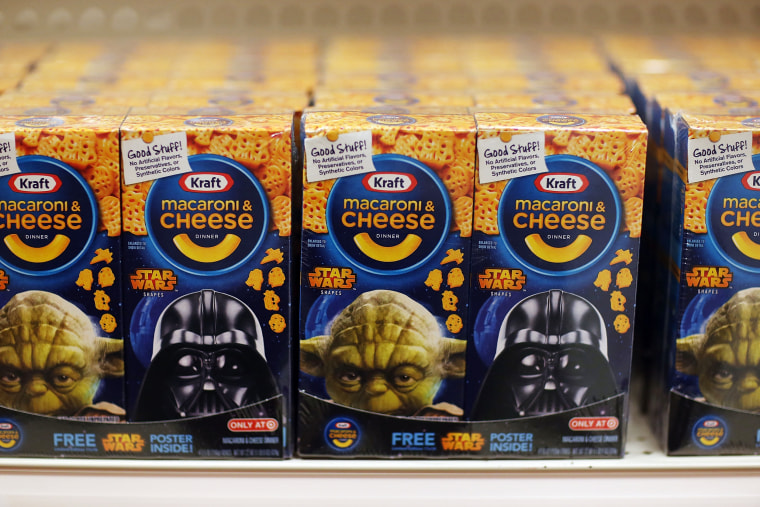 Little macaroni in the shape of "Star Wars" characters is actually kind of cool. What makes it feel like overkill is the fact that there is so much "Star Wars" stuff going on in the consumer product aisles. You've got Campbell's channeling the force with "Star Wars"-themed condensed soup and SpaghettiOs. Then you've got all the "Star Wars"-themed cereals to munch on thanks to General Mills' makeover of Honey Nut Cheerios, Trix, Cinnamon Toast Crunch, Cookie Crisp, and Reese's Puffs. At least the cereals come with assorted "droid" prizes.
There are plenty more ancillary tie-ins where the above came from, and it's overwhelmingly clear that Disney — who did not respond to NBC News' request for comment — isn't holding back on licensing.
'Star Wars'-Themed Church Service to Highlight 'Parallels'
It appears that Disney is "trying to wring every cent they can from their $4 billion acquisition (of LucasFilm, which created the "Star Wars" franchise) and so are licensing their asset to anyone with money to spend," Philip Ryan, director at the brand strategy consulting firm Vivaldi Partners Group told NBC News.
This is a potentially risky move on Disney's part, some experts say.
"One would think any exposure is good exposure, but what Disney and others might worry about is over saturation," said Dan Hill, president of Ervin Hill Strategy, a communications and public affairs firm based in Washington, D.C. "At some point when there are so many tie-ins, they all start to look like passive marketing for the movie; consequently, the brands become lost in the background."
Still, it's a tough opportunity to turn down for brands that are eager to associate themselves with an historical pop culture moment.
"If you're a (consumer) product, and you have an opportunity to license 'Star Wars' and possibly get incremental sales, you will take it," Rebecca Brooks, co-founder and partner at marketing research firm Alter Agent, told NBC News.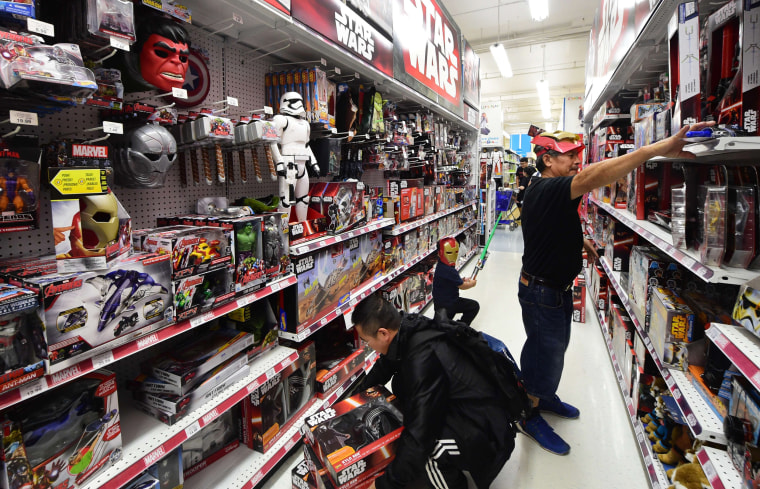 Brooks said that the irony lies in the fact that brands that are trying to stand out with "Star Wars" are blending in with all the other brands looking to do the same.
"What Disney maybe should have done is made licensing opportunities harder to come by," she said. "If every third item on the shelf is 'Star Wars' branded, how much is it worth?"
How much the connection is worth depends on the consumer, but one thing's for sure: This wasn't a cheap buy-in for any brand.
"The licensing fee can be up to 15 percent of whatever you're product costs," said Hill. "I'm not sure how much Disney would charge — probably the only one who could give you that information is Disney — but it's expensive."