Starbucks is changing the way it gives you gold stars in its loyalty program — moving from a system that rewards customers based on the number of visits to one that's based on how much you spend.
Currently, the "My Starbucks Rewards" program gives customers one "star" per visit, regardless of how much java they buy.
That means the guy who gets a Tall Freshly Brewed Coffee for $2.42 gets just as many stars as the person behind him who orders a Venti White Chocolate Mocha and a Ham & Cheese Croissant for $12.44.
Related: 1 Million People Now Ordering Starbucks On Mobile Every Month
But under the new program, which is being renamed "Starbucks Rewards" and takes effect in April, customers will earn two stars for every $1 they spend and the stars they earn can be redeemed for anything on the menu in Starbucks stores.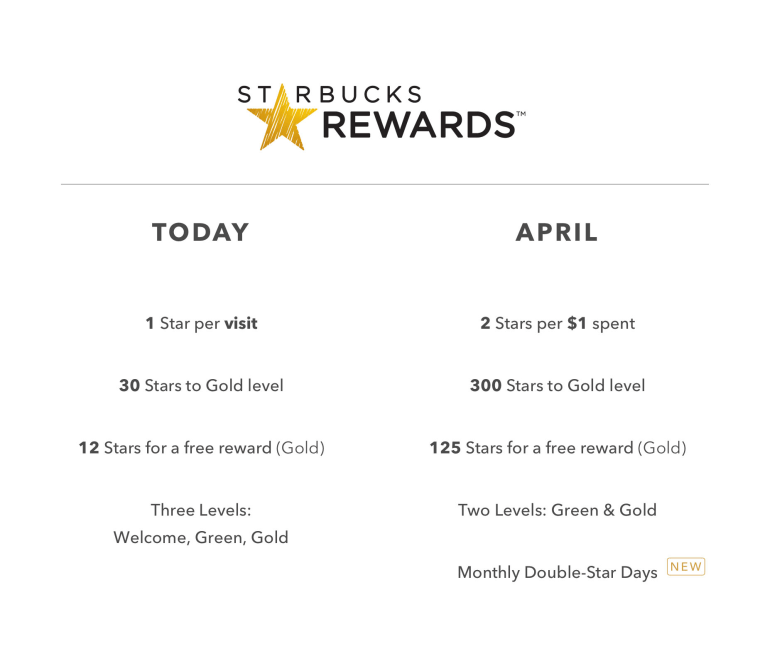 The changes are based on "the number one customer requested — more stars awarded based on what customers buy at Starbucks no matter how often they visit," Scott Maw, chief financial officer, said in a conference call with analysts on Monday morning.
"That means giving stars for every dollar spent on everything — coffee, mugs, drinks, food and more,"
The move is in line with changes airlines have made in recent months, rewarding customers based on the fares they pay rather than the distance they fly or the number of flights they take.
Some My Starbucks Rewards members have long criticized the current program because there is a way to "maximize" the one star for every transaction system. For example, if you buy three items in one transaction, you get one star. But if you break it up into three transactions, you get three stars. Starbucks was finding that was creating delays at check out.
"That is challenging for customers who are forced to wait, and to our baristas who have to perform extra work," chief strategy officer Matthew Ryan said on the call.
Ryan said that extending transaction times that way also adds costs for Starbucks. The company estimates that 1 percent of total Starbucks transactions are from customers "splitting" transactions to get two or three stars for a transaction, rather than one.
"This new program will remove this distraction from our store operations," he said.
Starbucks' rewards program, which launched in 2009, is one of the most successful loyalty programs in the world of restaurants and retail with more than 11 million active members. The company says it increased the number of members by more than 50 percent over the last two years, and that those 11 million members spend three times as much as nonmembers.
Fewer than one in six of the estimated 75 million customers who visit Starbucks in the U.S. each month are members of the rewards program, Starbucks' chief strategy officer, Matt Ryan said on the call. Ryan said he believes the changes will motivate "more customers to join our loyalty program."
Company executives said they believe the new structure should drive up sales.
"We believe customers, because they earn more, will spend more," Maw said during the call.