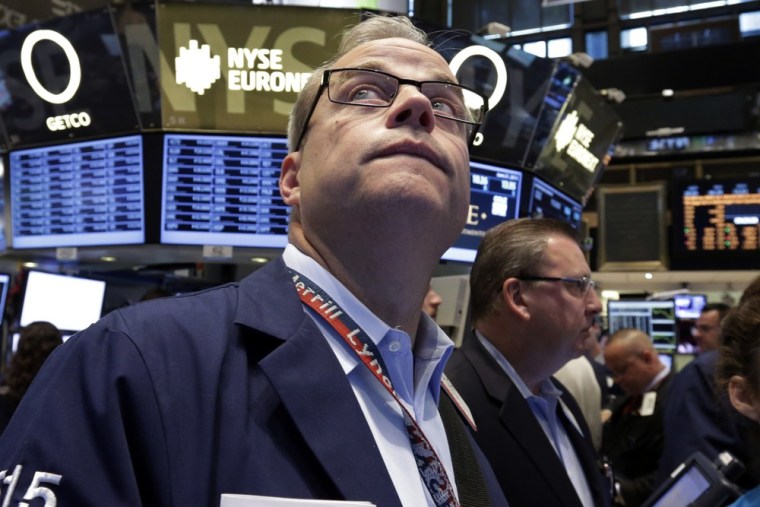 Stocks took a roller-coaster ride in the red on Monday, at one point dropping to two-month lows, before recovering, but the Dow still finished the day nearly 1 percent down on concerns about Fed policy and a possible cash crunch in China.
Treasury prices rose in choppy trading following comments from some Fed policymakers that downplayed market worries over the end to the central bank's bond-buying program.

"This is a pretty amazing snap back, but what we're going to have to get used to for the rest of the summer would be volatility," said Art Hogan, managing director of Lazard Capital Markets.
Treasury prices gained in choppy trading. The benchmark 10-year note yield were just below 2.53 percent after earlier pushing around 2.66 percent.
The Dow Jones Industrial Average, which lost more than 2 percent last week, closed 139 points lower at 14,659.56 after being down nearly 250 points in the morning.

The S&P 500 and the Nasdaq were both more than 1 percent in the red, as investors' fears that the Federal Reserve will ease off its stimulus to the markets was compounded by concerns of a possible cash crunch in China. The CBOE Volatility Index (VIX), widely considered the best gauge of fear in the market, ended above 20.
Among key S&P sectors, defensive areas such as utilities and consumer staples erased their losses, while materials and financials remained in the red.
Stocks were sharply lower for most of the session amid worries the Federal Reserve's stimulus measures may be winding down and a possible cash crunch in China. The Shanghai Composite suffered its worst one-day selloff in nearly four years. And Goldman Sachs became the latest bank to downgrade China's growth outlook, saying tighter financial conditions are a downside risk for the world's second largest economy.
(Read More:China's Credit Squeeze Deals Fresh Blow to Stocks)
"We're currently in a risk off environment that has built up over the recent days," said Michael Sheldon, chief market strategist at RDM Financial Group. "Here in the U.S., it will be important to watch the economic data over the next few months—if the economy can be supported with higher interest rates, investors should return to equities. But if the economy is unable to stand on its own and the Fed still wants to take away the punch bowl, that could spell more difficulty for the equity markets."
(Read More: Buy Treasurys, as Bernanke Is All Talk: Bond Pros)
The U.S. dollar rallied against a basket of currencies, trading near its highest level in almost three weeks.The dollar index extended its sharp gains from last week's 2 percent rally, its biggest weekly rally since November 2011.
"We could see a bit more downside as the market comes to grips that the end of the Fed stimulus program is in sight," said Sheldon. "Also, the key is to watch the bond market—the rates have increased rapidly and we need to see that settle down."
The Bank for International Settlements (BIS) waved a red flag for central banks over the weekend, saying it was time to end ultra-lose monetary policy. BIS—known as the central bank for central banks—said in its annual report that current monetary policy in the U.S., euro zone, U.K. and Japan will not bring about much-needed labor and product market reforms, and is a recipe for failure.
Dallas Fed President Richard Fisher said he advocates a reduction of the central bank's stimulus program but stressed this should be done gradually.
"I'm not in favor of going from wild turkey to cold turkey over night," Fisher, a voting member of the Federal Open Market Committee next year, said in a speech.
Meanwhile, Minneapolis Fed President Narayana Kocherlakota said markets are wrong to view the Fed as having become more hawkish in its views on the need to tighten monetary policy.
No major economic reports were scheduled for release Monday.
More business news: