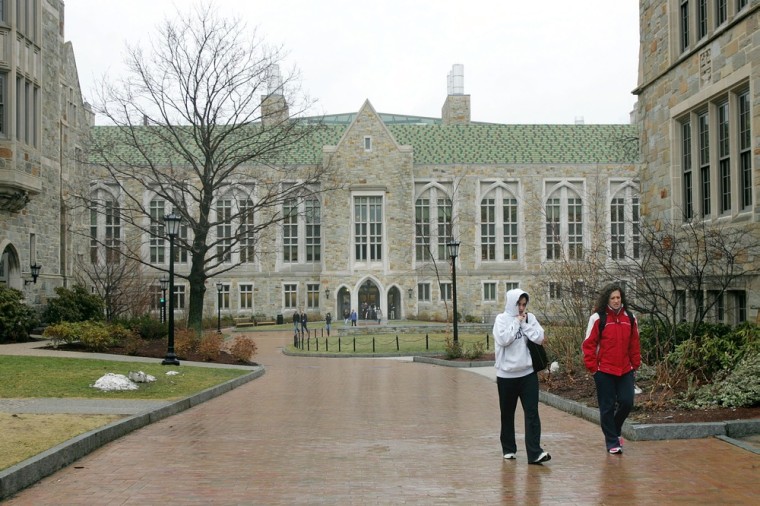 Time is running out for Congress to act. And low-income college students will pay a high price if a deal can't be reached by Monday's deadline.

Interest rates on many new subsidized Stafford loans will skyrocket—from 3.4 percent to 6.8 percent—on Monday, unless the Senate reaches a compromise.
The likelihood of that happening dimmed Friday as Congress recessed for the Independence Day holiday week.
Read More: Senate Can't Save Student Loan Rates
Most in Congress agree loan rates should to stay lower than 6.8 percent, at least for the subsidized Stafford loans used by the country's lowest-income students. But they're stuck on how to get there.
Republicans want to let the rates fluctuate with the markets every year and use the proceeds for deficit reduction. Democrats say that's unreasonable and want to cap how fast rates can rise.
Existing loan rates will not change and rates on new unsubsidized Stafford and PLUS loans also will remain the same.
Congress could come to an agreement later this summer to lower rates, but that may be unlikely.
"It is possible for them to make a retroactive change, but only if the loans have not yet been disbursed," says Mark Kantrowitz, senior vice president and publisher of Edvisors.com. "So they could make a retroactive change if the US Department of Education delays the disbursement. But I doubt Congress will reach an agreement after July 1, as they are still too far apart."
More than 7 million undergraduates receive subsidized Stafford loans, for which the federal government pays the interest while the students are enrolled in school.
But the nation's student debt crisis affects so many more.
More than 38 million Americans have student loan debt, totaling nearly $1 trillion, a staggering number that has quadrupled in 10 years and keeps rising. Student loan debt now surpasses credit card and auto loan debt in this country—and it's only expected to get worse before it gets better.
"I see the debate about interest rates as a distraction from the real problem, which is the amount of debt," said Kantrowitz, who is also founder of FinAid.org, a leading website on financial aid for college and graduate students and their families.

"Each year the average cost of graduation goes up by about $1,000 or more. And having less expensive debt is going not going to make much of a difference if the total amount owed keeps on going up."

A study done this spring by economists at the Federal Reserve Bank of New York found that the share of 25-year-olds with student debt has increased from just 25 percent in 2003 to 43 percent in 2012. The average student loan balance among those 25-year-olds with student debt grew by 91 percent over that time, from $10,649 in 2003 to $20,326 in 2012.
The amount of debt has risen as tuition, room, board, fees and other college expenses have soared. The cost of attending college has risen about 4 percent in the past year alone—and has far outpaced the rate of inflation in recent years.
Total charges for a full-time undergraduate at an in-state public college rose from $17,136 in 2011-2012 to $17,860 in 2012-2013, according to the College Board. Private college costs for one year totaled $39,518 in the past year, up from $37,971 the previous academic year.
"Grants are not keeping pace with the increases in college costs," Kantrowitz said. "When grants are relatively stagnant or even going down that causes students to borrow more."
But many families don't plan or try to calculate the total cost of attendance for a student's college and graduate studies—and that may be at the crux of the student debt crisis.
Sallie Mae CEO Jack Remondi said poor planning exacerbates a borrower's burden, regardless of the rate on the loan. Sallie Mae is the largest provider of private student loans.
"If you overborrow, whether the rate is 4 percent or 7 percent, you're still going to encounter difficulties," Remondi said. "A plan that takes into consideration what your income potential is going to be when you graduate and what that debt burden is going to be is critical."
Unfortunately, many students and parents have failed College Planning 101.
Less than a third of low-income parents said they knew how they would pay for their child's college education before they enrolled, according to a Sallie Mae study. Only 37 percent of middle-income families had a plan. Among high-income families, only slightly more than half said they had a plan to pay for college before their children enrolled.
Yet this critical lesson can significantly cut borrowing costs: As long as your total student debt at graduation is less than your annual income, you should be able to pay back your student loans in 10 years or less, Kantrowitz said.
Keeping that formula in mind when choosing a college, graduate school and course of study can help students significantly cut borrowing costs.
—By CNBC's Sharon Epperson. Follow her on Twitter @sharon_epperson.