Subway benefited hugely from Jared Fogle's weight loss story. Now the sandwich chain needs to figure out how to prevent him from overshadowing its future.
It's not clear how customers will react to Fogle pleading guilty to allegations that he paid for sex acts with minors and received child pornography, since it doesn't have anything to do with Subway's food or prices. But the association of the company's name with crimes that evoke such universal disgust come at a rough juncture for Subway.
Subway is facing intense competition and concerns that it's overgrown. The company's founder and CEO is fighting cancer. And at a time when attitudes about the definition of healthy are changing, Subway is trying to convince people about the quality of its food by removing artificial ingredients from its menu.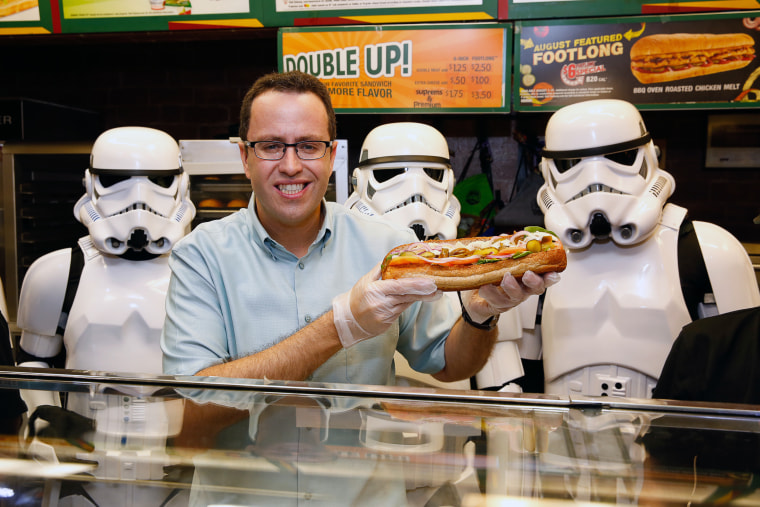 "For a while, when you see a Subway ad, you're going to think about that child pornography charge," said Allen Adamson of the brand consulting firm Landor Associates.
Jared Fogle to Plead Guilty to Child Porn Charges: Feds
Companies like having famous representatives because it's is a way to make people feel like that they could somehow be more like those individuals - which in the case of Fogle meant losing weight and being able to keep it off. But such relationships also can backfire when celebrities run into trouble.
The charges against Fogle also are tough because he wasn't just a one-time celebrity endorser; he is famous solely for dropping more than 200 pounds with his "Subway diet."
Subway leaned on Fogle's story for more than 15 years as it more than doubled its locations in the U.S. The pitchman appeared in Subway TV ad as recently as last month, on the day his home was raided by state and federal investigators, according to iSpot.tv, which measures national TV ads. That ad recapped how Fogle lost weight, and the latest chapter in his life as a family man with two children.
It was one of three Subway ads featuring Fogle up to that point in the year, out of a total of 40 different Subway ads, according to iSpot.tv.
Julie Carlton, a 28-year-old graduate student who was at a Subway in New York City Wednesday, said she doesn't plan to stop going to the chain because she doesn't think the company is to blame for Fogle's actions.
"There's a big difference between with what happened with Jared and what happened with Chick-fil-A."
She said she was much more upset with Chick-fil-A after the fried chicken chain's president publicly reaffirmed his support of what he called the "biblical definition of the family unit" that did not include same-sex marriage. The move provoked an outcry from gay rights supporters.
"There's a big difference between with what happed with Jared and what happened with Chick-fil-A," said Carlton, who noted that Subway cut ties with Fogle.
Still, the revelations about Fogle come at a bad time for Subway, which had already been struggling with sales.
Fast Food Franchise Owners Consider Suing N.Y. Over Minimum Wage
Subway is privately held and doesn't publicly report its financial results. But average annual sales at U.S. Subway locations fell 3 percent last year, according to industry tracker Technomic. That was the first decline since 2006.
The company is dealing with changing attitudes about food, with industry executives saying people are paying closer attention to things like ingredients, not just calories or fat. To keep pace, Subway said in June it would remove artificial ingredients from its food, following similar decisions by other chains.
Overextension might be part of the problem, too. Subway says it has about 27,000 locations in the U.S., which is nearly twice as many locations as McDonald's, the next biggest chain.
Don Sniegowski, editor of Blue Maumau, a site for franchisees, said it's difficult to predict how business might be affected by the Fogle scandal, but he thinks sales will be hurt slightly.
"You think of Subway, and you think of Jared chasing around little girls. It's going to mitigate people's decision to go there," he said.
It's not yet known how Subway will change course in its marketing, if it all.
The chain has already started trying to erase Fogle from its history. After Fogle's house was raided for unspecified reasons on July 7, the company scrubbed mentions of him from its website, including a dance game with Fogle's famous giant pants. It also asked franchisees to remove menu boards that bore his image, and a scene with Fogle filmed for "Sharknado 3" was never used.
After initially saying it had agreed with Fogle to suspend their relationship, the company said Tuesday it had "already ended our relationship with Jared." The company declined to provide further comment.