Mega retailer Target is pulling some of its merchandise that celebrates Pride month after threats to employees, the company said Tuesday.
"Since introducing this year's collection, we've experienced threats impacting our team members' sense of safety and wellbeing while at work," a Target spokesperson said in a statement.
"Given these volatile circumstances, we are making adjustments to our plans, including removing items that have been at the center of the most significant confrontational behavior," the spokesperson said.
The retailer's decision comes amid a wider national debate over civil rights for transgender people.
Target did not say which items were being removed or immediately provide more details about the threats.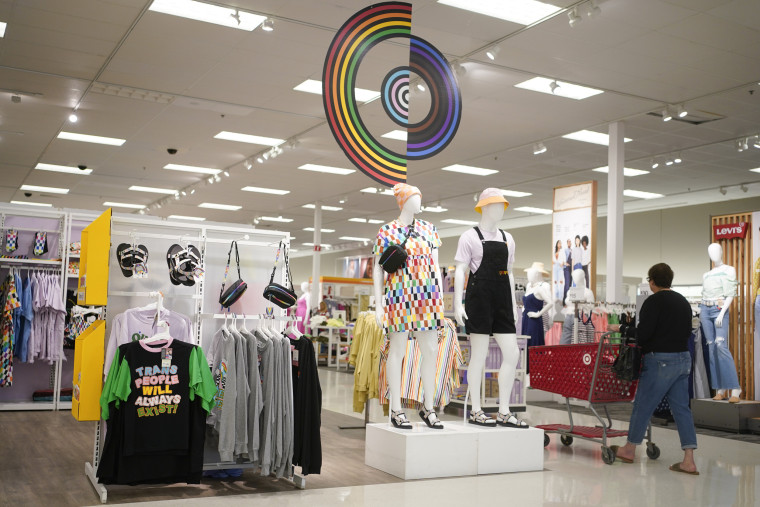 The collection includes "tuck-friendly" swimsuits that allow trans people who have not had gender-affirming operations to conceal their private parts, The Associated Press has previously reported.
Those swimsuits, which are available only in adult sizes, were used in false and misleading claims by critics online.
The Target spokesperson did not answer whether those bathing suits were among the products in question.
The retailer said that it has offered products to go along with Pride month for more than a decade. Pride Month is June, and celebrates lesbian, gay, bisexual, transgender and queer people and issues.
"Our focus now is on moving forward with our continuing commitment to the LGBTQIA+ community and standing with them as we celebrate Pride Month and throughout the year," the store spokesperson said Tuesday.
Some conservatives have made transgender issues a focus of attacks and criticism, and some state legislatures have passed legislation about bathrooms. There have also been laws or rules targeting medical care for the trans community.
Bud Light came under fire for its partnership with trans influencer Dylan Mulvaney this spring. Weeks after the online campaign, sales of Bud Light continue to plummet.
Some conservatives reacted angrily to the partnership and vowed to buy other brands. Anheuser-Busch's chief executive said that the brand "never intended to be part of a discussion that divides people."
Some gay bars in Chicago said they would boycott Bud Light after Anheuser-Busch distanced itself from Mulvaney.
Mulvaney is best known for her "Days of Girlhood" TikTok series and partnered with the Anheuser-Busch during the NCAA's March Madness basketball tournament.
On May 31, President Joe Biden commemorated Pride Month in a statement in which he criticized "an onslaught of dangerous anti-LGBTQI+ legislation" introduced in states that he said targeted transgender children and their parents.