AUSTIN, Texas — Bonnie Durkee zips her wheelchair around the corner of Peaceful and Goodness and glides along the smooth pavement on her way to the community fire pit. Brightly dressed in green, yellow, and red — and always with a wide grin — Durkee admires her new neighborhood in the setting Texas sun.
"I live on a cul-de-sac now. I live in 33.5 feet of linear bliss," she says, referring to her RV. She's even given her home a name: Fern.
Durkee lives in a new community of micro-homes and RVs on the outskirts of Austin, Texas called "Community First!" She is one of the first residents of this 27-acre village that will provide affordable housing for 250 chronically homeless people in Central Texas.
Just a few months ago, this military veteran and mother of three was living in the woods in a 9-by-6 foot pop-up tent.
"In January it was really cold. In August it was really hot," says Durkee. "It's really hard to keep your medication cold when it's 110 [degrees]."
Read More: 'Kasita' Is a High-Tech Tiny Home for the Minimalist Crowd
Durkee is diabetic and an amputee. She lost her right leg to gangrene — one in what might seem like a life of overwhelming losses.
But Bonnie doesn't see it that way.
"I am blessed, because I have a place that I can come home and go to bed at night. In a set of clean sheets," Durkee says.
It's all thanks to a Christian faith-based non-profit organization called Mobile Loaves & Fishes, and its CEO, Alan Graham. Graham says he was spiritually driven to help.
"We think the most visible wounds of our respective cities happen to be our homeless brothers and sisters who are stranded on our street corners," he says, watching the installation of new limestone paths between the newly-finished micro-homes.
"Housing will never solve homelessness, but community will," says Graham. To him, it's about more than building so-called "tiny homes," a real estate fad that's caught on in recent years.
"The despised, the outcast have so much to offer if we would allow ourselves the opportunity to go in and mine their gift," says Graham, with his slight Texas drawl.
Read More: 'Tiny Home' Architects Push the Envelope Around the World
Along with the affordable housing that Community First! provides, this enclave about 10 miles from downtown Austin has a chapel, kitchen garden, chicken coop, bee hives, workshop, art gallery, medical facility, and outdoor theater. When the communal restroom and shower facilities open in a few weeks, new residents will start to move into the property's micro-homes, joining a few residents like Durkee who already live on the property in RVs.
"You will have a key. And you'll be able to lock the door while you go to the restroom. And you'll be able to shower without having to worry, 'Are my shoes going to be there when I come out?'" said Durkee, who has spent years without these comforts.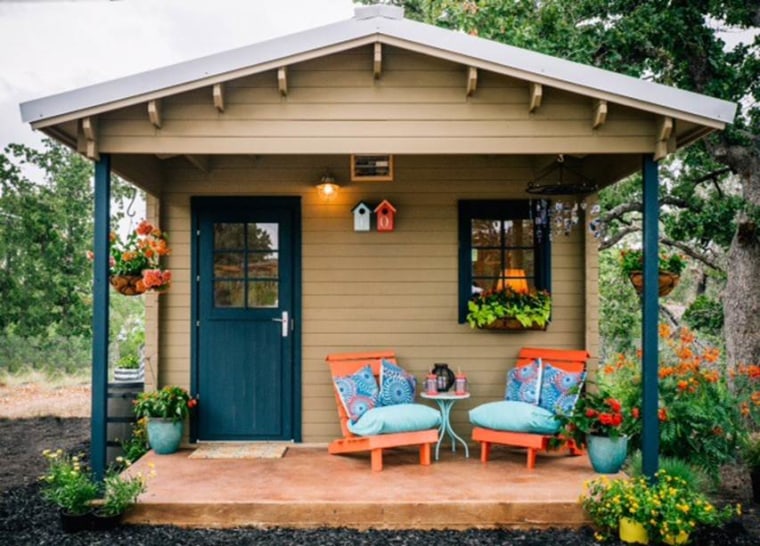 All residents are required to pay rent, but the most expensive tiny home in the village is just $375 per month. There are other requirements to live here, including proof of homelessness and a criminal background check. But having a record won't necessarily disqualify an applicant.
"It's about second and third chances," says Nancy Miller, a psychiatric nurse in an adult intensive care unit who now lives and offers care at Community First!
"My biggest concern is this is often a population that's misunderstood. They're seen by people that don't know them as dangerous," says Miller, picking carrots, sage, and a variety of lettuce from the community garden.
Read More: Tiny Houses: A Big Idea to End Homelessness
"They make mistakes just like we do. I do. We all make mistakes," Miller said. She hopes this new community will help break the cycle of homelessness.
Durkee doesn't have to worry about that anymore. "I have drawers, not shoeboxes," says Durkee. "I don't have to be a bag lady if I don't want to be!"
"I have neighbors. Not just people who live next door," she says. "I have the kind of neighbors that everyone would want."
Jason Hunter, a photojournalist with WISN in Milwaukee, contributed to this report. This story was originally reported for the NPPA Advanced Storytelling Workshop in San Marcos, Texas.