For many people trying to put their lives back together in the wake of California's catastrophic wildfires, the process of rebuilding can feel like a second hardship — one not inflicted by nature, but rather, by the insurance company they thought would protect them.
Among the more than 4,600 homes destroyed in the Tubbs fire in October 2017 was that of 72-year-old Narsi Samii. When fire exploded through his neighborhood in Santa Rosa, California, in the middle of the night, Samii and his family fled to a hotel and eventually a two-bedroom rental apartment.
From that rental unit, less than a mile from their burned-down home, he and his wife hoped to begin the painfully slow process of rebuilding their 5-bedroom, 3-bathroom custom house. They'd called it home since 1989; it's where they raised their two children and where Samii enjoyed cultivating his mature orchard and garden.
"I'm paying $3,500 a month for a property that doesn't exist," said Samii, who was evacuated again last week because of the Kincade fire. After an assortment of delays, the Samii family says they have not even been able to break ground on their rebuild.
A retired businessman, Samii relies on social security payments that don't come close to matching the cost of his combined rent and mortgage payment.
And then, on Oct. 7, things got much worse.
Until recently, Samii's insurance company, Nationwide, helped by covering the cost of his apartment and rental furniture every month. This was covered under his insurance policy's 24 months of "Additional Living Expenses," or ALE benefits. ALE benefits are funds that insurance companies must offer policyholders following a disaster to pay for items such as food, housing, furniture rental, and other costs.
But, with the two years up, there would be no more rent payments to DeDe's Rentals on Samii's behalf.
"I asked if they could leave it a couple days and they said, 'no,'" he told NBC News. "They literally took everything: the pots and pans I used to cook, the furniture I lived with for two years. There was no bed to sleep on," he recounted, referring to Nationwide.
On the Oct. 9 anniversary of the Tubbs fire that burned down his house, time had run out on his ALE benefits.
Yet again, Samii found himself without a home — this time, not because of a natural disaster, but because of what was written in his insurance policy. "I thought I was literally going to live in my car," he said.
In the aftermath of the catastrophic Tubbs fire, after thousands of families experienced rebuilding delays that were out of their control, California passed Senate Bill 894 in September 2018, requiring insurers to extend ALE benefits from two years to three.
But, the bill inspired by the North Bay fire victims is not retroactive. That means people such as Samii, a customer of Nationwide who paid for residential and business insurance for 20 years, are now on their own to pay for their extra living expenses, despite many of their original homes not being rebuilt yet.
In fact, two years on, not even one-quarter of homes around Santa Rosa have been rebuilt. Many Tubbs fire survivors have experienced significant delays with removing the rubble of a destroyed home, obtaining permits, hiring contractors, and eventually rebuilding.
Twenty-six insurance companies agreed to voluntarily extend the living benefits for survivors of the 2017 fires still rebuilding their homes — but not Nationwide, Allstate, or State Farm.
Twenty-six insurance companies agreed to voluntarily extend the living benefits for survivors of the 2017 fires still rebuilding their homes. But Nationwide was not one of them. Nationwide defended that decision in a statement to NBC News, writing in part, "After a thorough review of the Commissioner's notice on this topic and all applicable state laws, we have concluded that we are applying the appropriate coverage for each individual based on the insuring contract."
California's Deputy Insurance Commissioner Michael Soller says thousands of fire survivors in Sonoma County have seen their benefits terminated while they still have no home to return to. In an email, Soller wrote that Insurance Commissioner Ricardo Lara "appreciates the willingness of 26 companies to honor the spirit of the new law," adding, "With fires again burning in Sonoma County, insurance companies have an opportunity to stand with their policyholders."
Two insurance companies, two realities
In addition to Nationwide, two of the region's other large property insurance companies, Allstate and State Farm, also refused to extend benefits for victims of the 2017 fires.
"We have been helping our customers in the North Bay area to restore or rebuild their property resulting from the 2017 wildfires," Allstate told NBC News in a statement. "We will continue to comply with state law as we support our customers in their recovery."
Sisters Suzanne Carlin and Jennafer Carlin Rosset lived a mile apart in the Fountaingrove area of Santa Rosa. Like the Samii family, both lost their homes when the Tubbs fire came roaring through. Both barely escaped and both their homes were burned to the ground. But Carlin Rosset, a customer of Farmers Insurance, had her ALE benefits extended automatically to three years. Carlin and her parents, State Farm customers for 45 years, were not so lucky.
"It's infuriating. It's unbelievable, and it's so ironic," said Carlin Rosset, who was evacuated again last week because of the Kincade fire burning dangerously close to her nearly rebuilt home. "Like a good neighbor?" she quipped, referring to the State Farm jingle. "More like the worst neighbor you'd never want to know."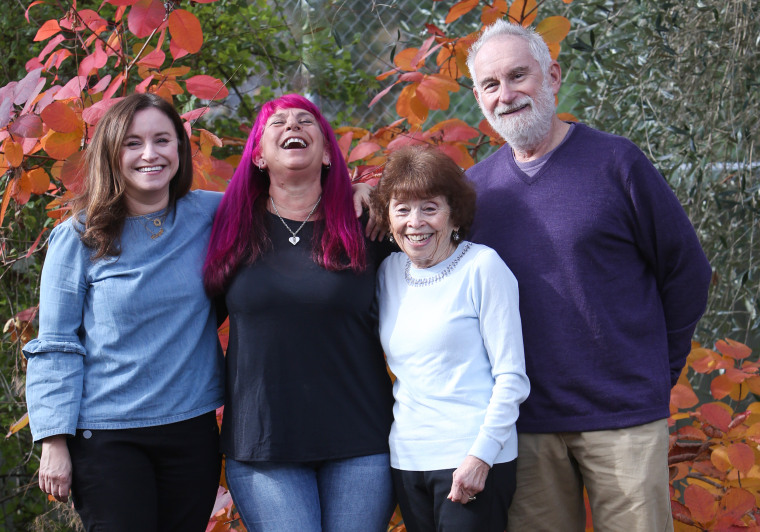 It's not just ALE benefits where the insurance companies differ. In addition to having her ALE benefits automatically extended, Carlin Rosset says Farmers also reimbursed them right away for 100 percent of their possessions in accordance with their policy. State Farm, her sister's insurer, sent five different insurance "adjusters" over the course of six months and didn't reimburse the Carlin family until Suzanne tweeted publicly at the company. Otherwise, she says, they might have never heard back.
The laborious process itself was hard on Suzanne and her parents — forcing them to recount their loss over and over again.
"It was so traumatic for my mom," said Suzanne Carlin. Her parents are 79 and 80.
"You're inviting strangers into your home and then telling them very personal details about your life so they can write it up," agreed Carlin Rosset. "It is very invasive. They give you these sheets of paper and you have to write down every medication you take. Every spice in your cupboard. How many tampons? What brand of lipstick? It's horrible."
"The [insurance companies] give you these sheets of paper and you have to write down every medication you take. Every spice in your cupboard. How many tampons. It's horrible."
The elderly Carlins are on a fixed income, and as of Oct. 9, the family is now on the hook for more than $5,000 in rent and utilities payment that ALE once covered, plus the cost of rental furniture because all theirs was lost in the fire. The family has attempted to appeal the decision with State Farm, but has been rebuked each time.
"We've had to take money from [my] dad's life insurance and now we're eating into retirement funds so we could rebuild. This is going to ruin retirement for my parents," said Carlin.
The experience is all too common — particularly among State Farm customers, the company that insured an outsized portion of people who lost their homes in the Tubbs fire and has paid out $1.9 billion for that alone, according to Rex Frazier, president of the Personal Insurance Federation of California.
State Farm refused to answer specific questions for this article, responding in a statement: "State Farm has made the difficult decision to not extend ALE benefits broadly. We are working with our customers one-on-one to determine their individual circumstances and provide assistance in their recovery process. Paying beyond the policy contract undermines an insurance company's ability to offer affordable insurance to all consumers."
With the huge amount of claims received for the North Bay Fires, Frazier said companies such as State Farm are "trying to figure out how to keep promises to existing customers and stay in business. They have a hard line to walk."
Frazier pointed to regulations by the state of California that prevent insurance companies from setting rates that include their actual costs of reinsurance or that take climate change models into account, relying instead on historical data. "It's not sustainable for them to spend $25 billion and not be able to charge based on their actual costs," Frazier said, referring to the amount insurers have paid out for wildfire claims for the 2017 and 2018 fires.
Some fear a looming "insurance crisis" in California where insurance companies would reduce their exposure to risk by dropping customers and cutting benefits.
Some fear a looming "insurance crisis" in California where insurance companies, faced with unprecedented wildfires, are actively trying to reduce their exposure to risk by dropping customers and cutting benefits where they can. Critics there say the industry should enact policies and methods that help homeowners improve their chances of surviving a fire, like offering discounts to homeowners who make changes to protect their property.
'Forgotten' by the companies paid to protect them
Another State Farm customer, Lisa Frazee, is a mom and teacher whose family barely escaped the Tubbs fire and lost her family's home in the Mark West area of Santa Rosa. She has appealed State Farm's denial to extend her ALE, but has been repeatedly told she doesn't qualify. Like many of her neighbors, she has received a version of a denial letter reading in part: "The 24 month time period expired on October 8, 2019. We are unable to extend past this date, as it satisfies the terms of the policy."
Along with many of her Mark West neighbors, Frazee has tried to appeal this decision, asking for an extension of benefits under California's Insurance Code Section 2051.5 (b)(1) which says that in a state of emergency, policyholders should be given extensions for "good cause."
State Farm denied this appeal, as well, writing that the "good cause" extensions do not apply to ALE benefits.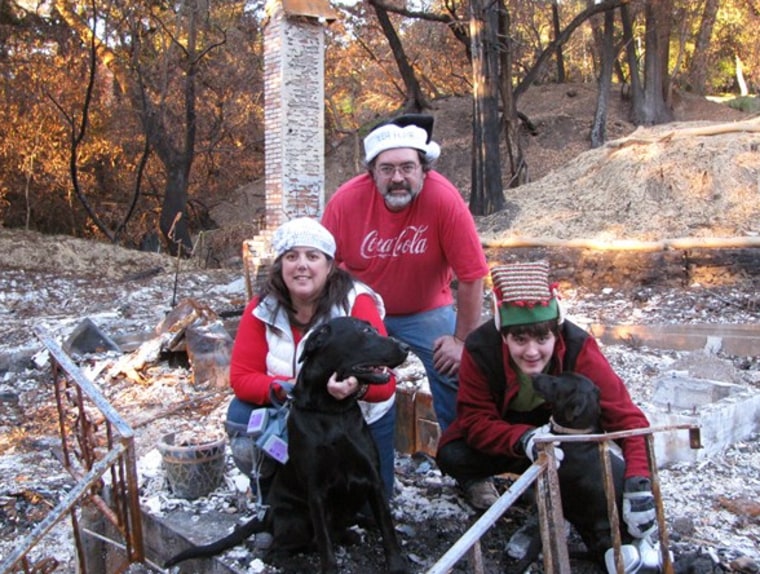 "These insurance companies are putting insane obstacles in people's way," said Kendall Jarvis, a Disaster Relief Attorney for Legal Aid of Sonoma County who has worked with many North Bay fire survivors. "They've interpreted a law in a way that is so disadvantageous to a group of people who have been through hell already — literally." Jarvis argued that insurers have a primary obligation, "a duty of good faith and fair dealing" rooted in contract law to reasonably protect the interests of their policyholders — one Jarvis says they are clearly disregarding.
In the meantime, people like Narsi Samii have lost the safety net they paid in to for years.
"I sent them lots and lots of money over the years, and now that I have a need, they've forgotten me," said Samii. "I'm on social security, 72 years old. How many others are like me?"
With another destructive fire currently licking at the boundaries where the Tubbs fire once burned, perhaps the more daunting question is, "How many others will there be?"