The craft beer boom has allowed hops growers in the Washington's Yakima Valley to expand in recent years and to fetch higher prices for their crops. But a worsening drought and unseasonably hot weather is causing pain for the region's agricultural sector and could result in shortages for some popular varieties of hops used in beer.
"We will have some fields that will probably see a little lower yield this year because of the combination of water stress and heat," said Ann George, executive director of the Washington Hop Commission. "We really won't know until harvest."
Each hops plant requires up to 3 gallons of water per day, and water restrictions that many farmers now face mean it will be a rough summer until harvest. Growers usually start harvesting aroma varieties the last week of August and pick the alpha varieties in late September and early October.
Most of the current crop is already locked up by contracts, but analysts say the drought will boost prices for anything on the spot market. Next year's hops crop is estimated to be roughly 85 percent sold at this point, and those brewers without forward contracts will likely pay higher prices, too.
The most expensive cities in America to drink beer
Michael Butler, chairman and CEO of Seattle-based Cascadia Capital, predicted that there could be a hops shortage starting in 2016. "Next year you won't have more land for hops," he said. "You have a shortage of water. You're going to have more demand from the craft breweries, and so you kind of pass the inflection point where the demand is greater for hops than the supply."
And that, in turn, will hit beer drinkers, Butler said: "The consumer will pay a higher price for beer. That is without question."
Washington state accounts for about 73 percent of the nation's hops acreage — and virtually all of the production takes place in the fertile Yakima Basin, according to the U.S. Department of Agriculture. The region, also known for its wine grapes, apples, cherries and blueberries, has several major irrigation districts under water restrictions.
"We have all 100 percent of the hops production in my district under a severe water restriction," said Roza Irrigation District Manager Scott Revell, who manages one of the leading irrigation districts in the Yakima region. He said the district turned off its normal water deliveries for much of May "to try to stretch the water supply out."
Blue Moon Brewing hops on the IPA bandwagon
The U.S. Drought Monitor, last updated on Thursday, showed 98.6 percent of Washington state in a "severe drought." The state has experienced hot and dry conditions and one of its worst mountain snowpacks on record. The lack of snowpack means there's not enough water to replenish reservoirs.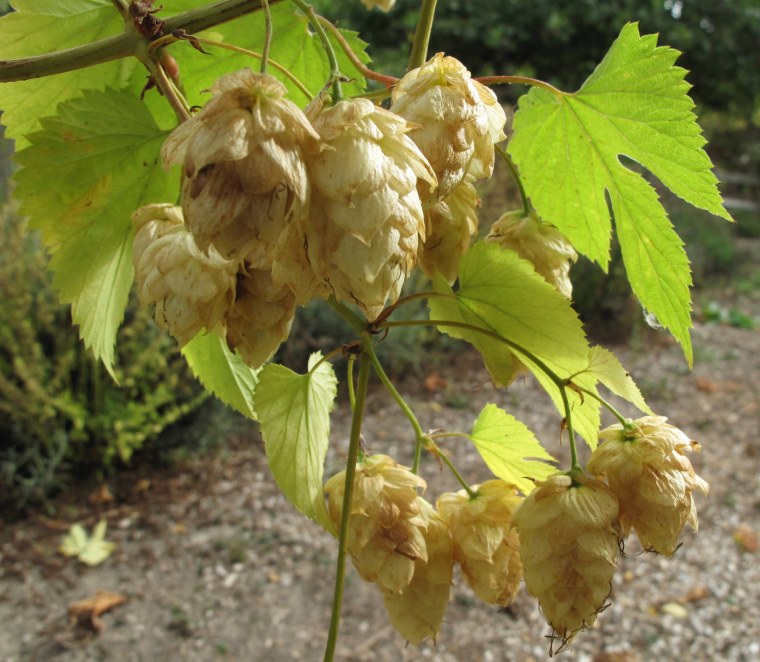 To cope with the water shortage, some hops growers are purchasing water or relying on emergency wells. Faced with water rationing, some farmers have taken hops yards out of production.
"Most growers in the Yakima Valley have incurred significant extra expenses trying to deal with the situation," said Eric Desmarais, a hops grower and owner of CLS Farms in Moxee, Washington. "Every grower is going to have crop loss. I am not saying it is catastrophic or disastrous, but there will be some crop loss associated with it."
One of Desmarais' relatives, also a hops grower, has a hops yard sitting idle. "He strung up lines and was going to grow, and then the water delivery issue cut so severe that he just cut the string down and laid the field idle."
Sierra Nevada's new spin on Oktoberfest
Most hops are fairly tolerant of a little less water and can handle the heat. That said, three varietals — Centennial, Simcoe and Amarillo — tend not to hold up as well in extreme conditions, according to Desmarais. He added that another variety, the Cascade, is in that same risk category "to a slightly lesser degree."
Meanwhile, the shortage of water is causing more interest in land with water rights. There are reports of California farmers and Chinese investors looking to purchase land with water rights in the Evergreen State.
"We had a case where a buyer backed out of a deal for farmland when he found out the district was going to withhold water," said Flo Sayre, head broker with Farmers National, a Pasco, Washington-based farm management and real estate sales company. She said the biggest interest among buyers is properties with "newer irrigation systems and uninterruptible water."