Donald Trump's presidency is bad for business — his own. Unless his business is getting presidential business.
Conflict of interest concerns over the mix of presidential politics and his personal businesses have followed Trump ever since he announced his candidacy after gliding down the escalator of his namesake tower. And it's been difficult for the public to get a clear view of the extent to which the two worlds have become blended. Even the former White House ethics director, who resigned in July, noted, "There's an appearance that the businesses are profiting from his occupying the presidency. And appearance matters as much as reality."
A larger picture of that reality is now emerging, thanks to data gleaned from government reports, potential business partners and, most recently, newly released financial data from the U.K. – which, unlike the U.S., mandates that most private companies must publicly release its annual financial reports.
While some of the Trump brands show signs of duress, a select few — where politics and business are most thickly stirred — are seeing their revenue soar.
Losses at home and abroad
Last week's release of 2016 financial reports for Trump's luxury golf courses in Scotland offer a rare, detailed look at the Trump operation's financial health. The iconic Turnberry resort, which he famously visited in the middle of the Brexit referendum, saw losses that doubled to $23 million in 2016 and revenue that fell by 16 percent, according to the documents.
Losses at Trump International Golf Links, north of Aberdeen, Scotland, also increased — by 28 percent to $18.4 million, the filings showed. Revenue fell by 12 percent.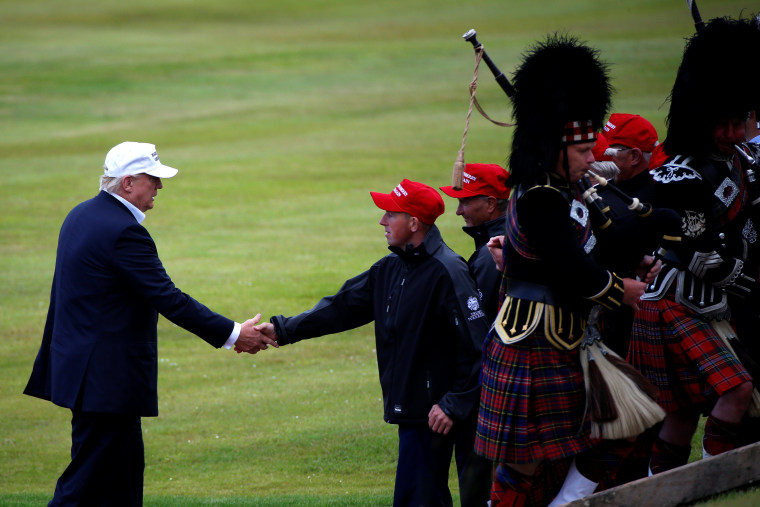 Back across the pond, Trump courses in blue states aren't faring well, either. His public golf course just outside Los Angeles has seen double-digit drops in revenue, with fewer golf rounds being played — and TV production booking has been drying up, according to The New York Times, which also reported that attendance is off at his courses in the Northeast. Both regions predominantly voted for Hillary Clinton.
In June, Trump Hotels touted two new budget-friendly hotel lines, Scion, targeting millennials, and American Idea, meant to appeal to patriotic customers in rural areas. The Trump Organization said at the time that it had 39 signed letters of intent for the Scion properties. And yet, besides one signed Scion hotel in Mississippi and three American Idea locations still under negotiation, the Trump Organization has largely declined to verify where the hotels will be or who the local partners are.
Related: President Trump Resigns From Businesses, Leaves Sons, CFO in Charge
Reporting by ProPublica and Forbes found signs of work on five other locations, all of them stalled.
In Dallas, a developer who had been promoting plans to launch a Scion property told the city in April that the deal was dead, The Dallas Morning News reported. A potential Austin expansion met headwinds when the city voted for a nonbinding resolution calling for a boycott of Trump hotels and products.
Patronage is off at the glitzy 391-room, five-star Trump SoHo in the Democratic stronghold of New York City, according to WNYC. Professional athletes have refused to stay there, employees were laid off and its signature sushi restaurant closed its doors. Big-name corporate events, a revenue mainstay for Trump properties, are booking elsewhere. Room rates have been slashed from $700 to $400.
Falling net worth
Trump's personal wealth fell $600 million on Forbes 2017 ranking of the 400 richest people in the world, dropping 92 spots to #248. The magazine cited a tough New York real estate market, a costly presidential campaign, and declining visitors at several of his golf properties.
Loss of 'prestige'
The retail side has suffered, as well. Ivanka Trump's fashion line was trying to expand into Japan, but the deal was canceled, her company said in a letter to the House Judiciary Committee, after it said it learned that the company's major shareholder was the state-owned Bank of Japan.
Macy's dropped Trump's signature ties in July 2015 after he made disparaging remarks about Mexicans in announcing his candidacy. Just a few years ago, he had been prominently featured in Macy's advertising — even though activists had been pressuring it for years to sever its relationship with Trump for what they described as chauvinistic and misogynistic behavior. In 2012, after an online petition called for Macy's to remove him from its ads, Trump told this reporter in a phone interview: "I do what's right. I don't have a plan."
Even before taking office, Trump's acrimonious presidential campaign had already started to shave the shine off his own brand. The number of luxury consumers who rated the Trump brand as "upper class" fell to 50 percent, according to the January 2016 results of an annual brand survey from BAV Consulting, a division of advertising giant Young & Rubicam. Those equating the Trump brand with prestige also saw a 40 percent decline.
But business is brisk in Trump country. At Trump National Golf Club in Mooresville, North Carolina — an area where many Nascar stars live and that voted heavily for Trump — the membership roster is swelling and private event bookings are on an upswing, The New York Times reported.
International connection
Trump properties being used for presidential business and by Washington political jockeys have also seen their revenues increase. Trump's 128-room Mar-a-Lago vacation resort in Florida has been a frequent location for him to decamp to and conduct presidential business, hosting state visits by Japanese Prime Minister Shinzo Abe and Chinese President Xi Jinping.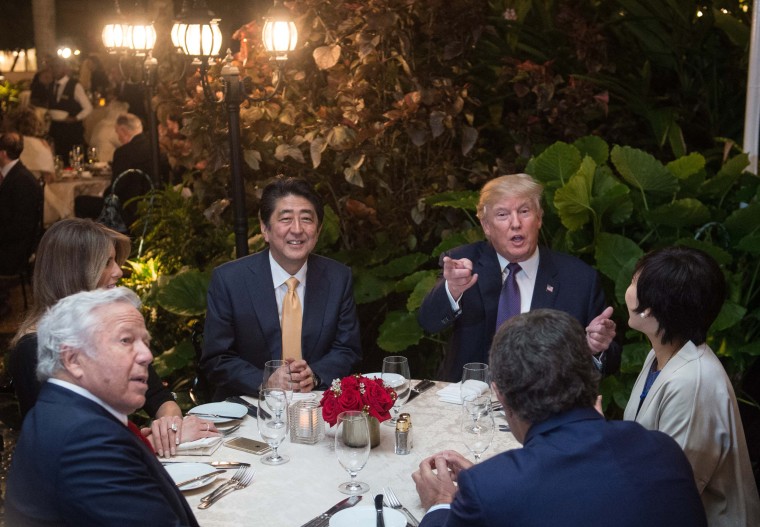 Revenues jumped in 2016 at Mar-a-Lago from $29.7 million to $37.3 million, according to Trump's financial disclosure forms. The private club doubled its membership fee after the inauguration, from $100,000 to $200,000 — although next year's figures will likely detail the impact of nearly two dozen charities that canceled gala events at the resort after Trump's controversial comments in the wake of the violent Charlottesville, Virginia, protests.
In addition, Trump's aircraft company, which was used throughout his presidential campaign to ferry the candidate between campaign stops, saw its revenue double from $3.7 million to $7.7 million, according to the same disclosure forms.
Related: Trump's Mar-a-Lago Travel Triggers Cost and Ethics Concerns
Trump's new hotel in Washington, D.C., turned a $2 million profit in four months, according to documents the government released this summer, well surpassing the company's projected $2 million loss. The Pennsylvania Avenue hotel has become the de facto power watering hole, serving up a signature cocktail of politics, business and access.
In September, Justice Neil Gorsuch, who was appointed to the Supreme Court by Trump, was the keynote speaker at an event at the hotel held by the Fund for American Studies, a nonprofit organization that promotes limited government and free markets. While the event didn't solicit donations, according to NPR, the hotel received the usual booking and catering fee.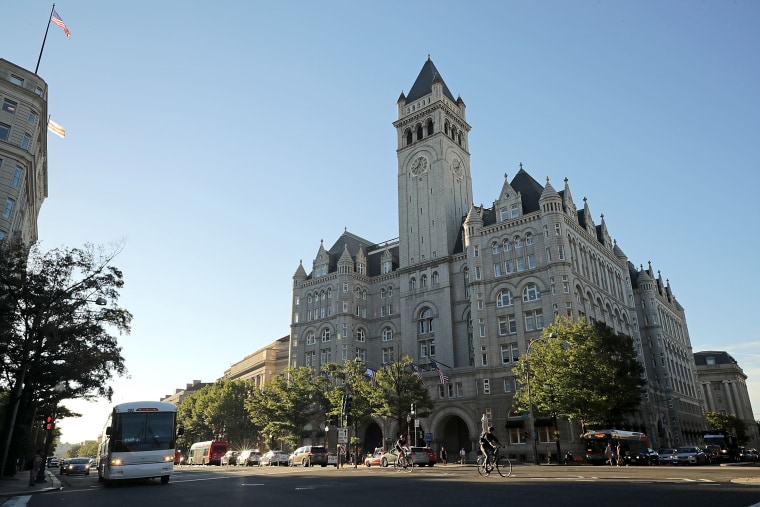 No ethical code of conduct governs the Supreme Court, so it broke no rules that a justice of the court, a separate branch of government holding in check the powers of the executive branch, gave a speech to a conservative group paying the commander in chief's hotel to host a luncheon.
Loyal clients
The Secret Service, which is sworn to protect the president and his family, has become a frequent customer of Trump businesses. In July, The Washington Post revealed that the State Department had spent over $15,000 at taxpayers' expense to book 19 rooms at the new Trump hotel in Vancouver, British Columbia, when members of the Trump family were headlining the grand opening of the tower in late February.
Related: Trump's Ethics Plan Fails to Satisfy Experts
Although Trump has sold off his stock holdings and has handed off direct control of his companies to his two older sons, Eric and Donald Jr., he maintains ownership through a private trust. But he is designated as the sole beneficiary and can withdraw his profits at any time, even while in office, as first reported by ProPublica.
That falls short of what the U.S. Office of Government Ethics advised to avoid conflicts of interest. It recommended that Trump sell or divest his assets into a blind trust, in which he wouldn't know what the holdings are or how they're managed.
Watchdogs have raised concerns that businesses like Trump's Washington hotel, patronized by foreign governments booking rooms and event spaces, could violate an anti-bribery provision in the Constitution known as the emoluments clause, which prohibits gifts to the president from foreign states. Advisers to the president have argued that the emoluments clause doesn't apply to business transactions like hotel room rentals.
It's not so much the letter of the law, but the optics, experts say. There is "an appearance that the businesses are profiting from his occupying the presidency," the outgoing head of the Office of Government Ethics, Walter M. Shaub Jr., said in July.
The Trump Organization didn't respond to a request for comment from NBC News.
CORRECTION (Oct. 16, 2017, 11:15 a.m.): An earlier version of this article misstated when Macy's dropped Donald Trump's signature ties. It was in July 2015, not last year.