From luxury golf courses, high-end home furnishings, extravagant hotels end hotels to his Trump Drinks Israel vodka and energy drinks to Israeli and Palestinian markets, Donald Trump stands to lose millions if his call to ban Muslims from entering the United States causes his Middle Eastern associates to pull their partnerships.
Already, one Dubai-based home decor retailer is freezing sales of its Trump Home products in more than 160 stores from Libya to Pakistan.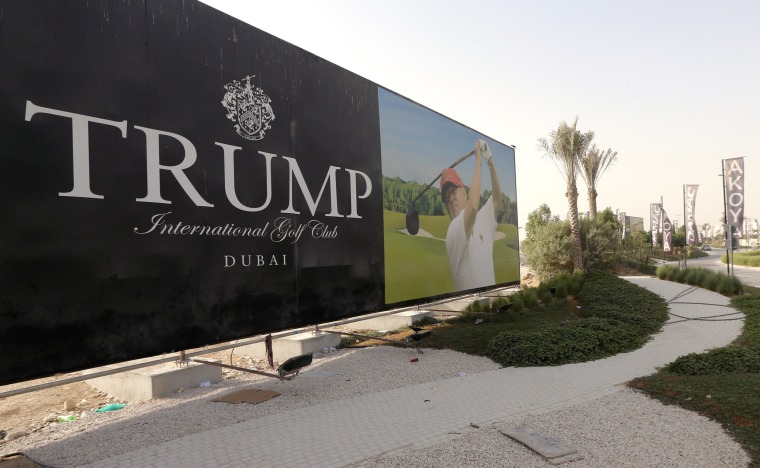 "In light of the recent statements made by the presidential candidate in the U.S. media, we have suspended sale of all products from the Trump Home décor range," said Landmark Group's Lifestyle CEO Sachin Mundhwa, in an e-mailed statement.
Despite Trump's demand "for a total and complete shutdown of Muslims entering the United States until our country's representatives can figure out what the hell is going on," one business partner is standing by his side: Dubai's DAMAC Properties.
The real estate group is building a new 42 million square foot development AKOYA, at the heart of which is a Trump International Golf Course. There are also several Trump PRVT residences being built surrounding the 18-hole facility.
"We would like to stress that our agreement is with the Trump Organisation as one of the premium golf course operators in the world and as such we would not comment further on Mr. Trump's personal or political agenda, nor comment on the internal American political debate scene," said DAMAC Properties senior vice president Niall McLoughlin, in an statement.
But there's no word yet from several of Trump's other business partners. In Abu Dhabi and Dubai, the Al Tayer Group opened two Trump Home by Dorya galleries this summer. The company did not respond to a request for a comment.
Trump's office building on Fifth Avenue also houses corporate offices for Qatar Airways, which brings Muslims and other travelers into JFK International Airport on a daily flight and announced plans to add a second flight in 2016. The Abu Dhabi Tourism and Culture Authority also leases space in that building, whose staff, according to their website, is focused on "attracting both culturally sensitive visitors and increased investment" to the capital of the United Arab Emirates.
The presidential candidate lent his name to the Trump International Hotel & Tower Baku in Azerbaijan, which brings him $2.5 million in management fees, according to his campaign's financial disclosure forms. He also disclosed royalties ranging from $1 million to $5 million for licensing his name to two Trump Towers in Istanbul.
Earlier this year, his daughter and company's executive vice president of development and acquisitions Ivanka Trump, told a Middle Eastern hotel trade publication that they're eyeing the area for more business opportunities.
"Dubai is a top priority city for us," Ivanka Trump told Hotelier Middle East. "We are looking at multiple opportunities in Abu Dhabi, in Qatar, in Saudi Arabia, so those are the four areas where we are seeing the most interest. We haven't made a final decision in any of the markets but we have many very compelling deals in each of them."
The Trump campaign did not respond to multiple requests for comment.