Turing Pharmaceuticals CEO Martin Shkreli was lambasted this week by medical groups, a presidential candidate and his own industry for raising the price of a 62-year-old drug by more than 5,000 percent.
He reversed course under pressure Tuesday night, but not before the national attention struck fear into the hearts of biotech investors over increased scrutiny of drug prices, sending stocks plummeting.
Turing may have been an egregious example, but it's not the only one raising eyebrows for skyrocketing price tags. Bernstein analyst Ronny Gal pointed out many companies ratchet up drug prices when the market presents an opportunity.
"They take drugs that have largely been underpriced before—or that's the way they'd call it," Gal said in a telephone interview. "They buy a drug that does not have good alternatives and they raise the price sky-high. And because it's very hard to say no to those patients; because there's no alternative, people cover this."
Gal pointed to three examples: Jazz Pharmaceuticals' drug Xyrem, Questcor's Acthar and Mylan's EpiPen.
Jazz Pharma's Xyrem
Jazz, an Ireland-domiciled company, acquired Xyrem in 2005 in its $122.6 million purchase of Orphan Medical. The drug was approved in 2002 for daytime sleepiness and sudden attacks of muscle weakness, or cataplexy, in people with the sleep disorder narcolepsy.
Drug-Gouging Debate Isn't CEO's First Controversy
The company reported revenue from Xyrem of $29 million in 2006, the first full year after its acquisition. Last year, Jazz posted Xyrem revenue of $778.6 million.
While the company said it's expanded the number of patients the drug treats, the cost also increased an average of 29 percent a year from 2011 to 2015, according to data distributed this week by Evercore ISI analyst Mark Schoenebaum.
Jazz didn't immediately comment.
Questcor's Acthar
H.P. Acthar Gel was initially approved in 1952, the year before Turing's Daraprim, the subject of this week's controversy. It treats infantile spasms and exacerbations of multiple sclerosis in adults, among other indications, and its price, as The New York Times reported in 2012, hopped from $1,650 to $23,000 a vial on a single day in 2007.
The increase attracted scrutiny, but not enough to stop Questcor from continuing to raise the price. Between February 2007 and June 2015, data from Bernstein show, the drug's cost rose by more than 19 times.
Biotech CEO Blasts Turing Over 5000% Price Hike
Why don't insurers fight back? Gal, the Bernstein analyst, said the company's developed a strategy to usher the drug through the reimbursement process.
"The way Acthar is sold is they basically go through an exception process," Gal said. "The doctor would use basically everything else before Acthar and then would use that when the patient ran out of other options. The company has a specialty person they hire that does as much of the paperwork for the doctor as they can, to work through the insurance company's exception process to get the drug approved."
Questcor was acquired by Mallinckrodt Pharmaceuticals last year for $5.6 billion.
Many Blame Pharmaceutical Companies for High Prices, Poll Finds
"Physicians carefully weigh therapy choices — some less expensive than Acthar, some more expensive — in determining the appropriate treatment for their patients," said Rhonda Sciarra, a spokeswoman for Mallinckrodt. "As a responsible drug company, Mallinckrodt offers patient assistance programs to facilitate appropriate access to the drug, and has donated several hundred million dollars' worth of Acthar to patients in need."
Mylan's EpiPen
EpiPen, used in emergency treatment for life-threatening allergic reactions, is sold by Netherlands-based drugmaker Mylan. The price, according to data from Evercore ISI, increased 27 percent a year, on average, from 2011 to 2015, to more than $300 each dose.
"It's very hard to tell parents you can no longer get EpiPen," Bernstein's Gal said of the price increase. "You try to do that as an insurer."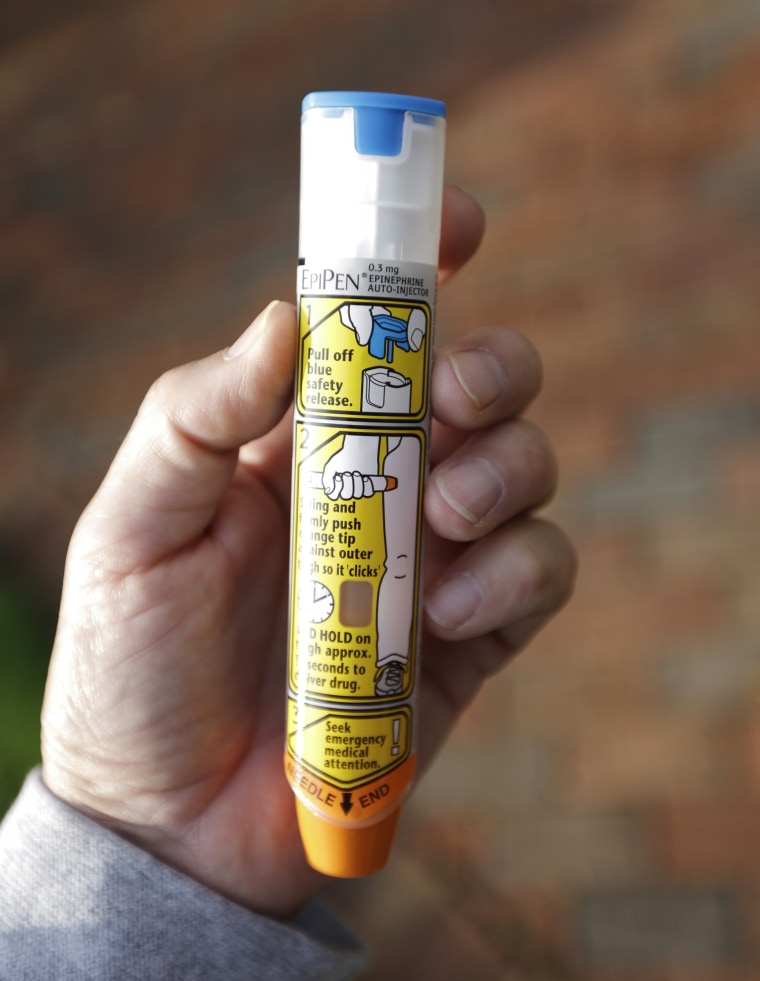 Prescriptions for EpiPen increased 9.5 percent, on average, each year from 2011 to 2014, according to data from IMS Health. Sales in that time, the data show, rose an average of 42 percent a year, to more than $1 billion.
Employers Shift More Health-Care Costs to Workers
Mylan spokeswoman Nina Devlin said those numbers were "higher than the actual numbers, but we don't disclose specifics related to pricing and sales."
"Mylan has worked tirelessly over the past years advocating for increased anaphylaxis awareness, preparedness and access to treatment," Devlin said. "As the leaders in this space, our efforts are aimed at benefiting those living with life-threatening allergies, and we take this leadership position seriously."
The number of EpiPen patients has increased by 67 percent over the past seven years, Mylan said.
"We believe that collective community efforts supporting education, awareness and access have contributed to this growth," she said.
The company added that it doesn't set the final retail cost of its products charged to patients, as this is often determined by the insurance coverage of the patient.
Even with the rising number of patients, EpiPen, whose brand has become synonymous with allergies, isn't on the list of the top-grossing drugs in the U.S. That list is reserved for medicines like Gilead's Sovaldi and Harvoni, for hepatitis C, Otsuka's Abilify, for depression, and AbbVie's Humira, for rheumatoid arthritis. Each brought in more than $7 billion in 2014 sales in the U.S. alone, IMS data show.
The focus on drug prices, though, is only likely to intensify as the presidential election heats up — another reason Turing's Shkreli has found himself an industry pariah.