A freelancer at the counterculture media giant Vice who was sexually assaulted while on assignment filed a lawsuit Friday claiming the company blamed her for the attack and pushed her out of her job.
It's the latest controversy for the hipster global content giant, and comes just a month after co-founder Shane Smith stepped down as CEO, and as the $5.7 billion company — supported by investors like Disney and 21st Century Fox — continues to reckon with reports of systemic sexual harassment and mistreatment of women.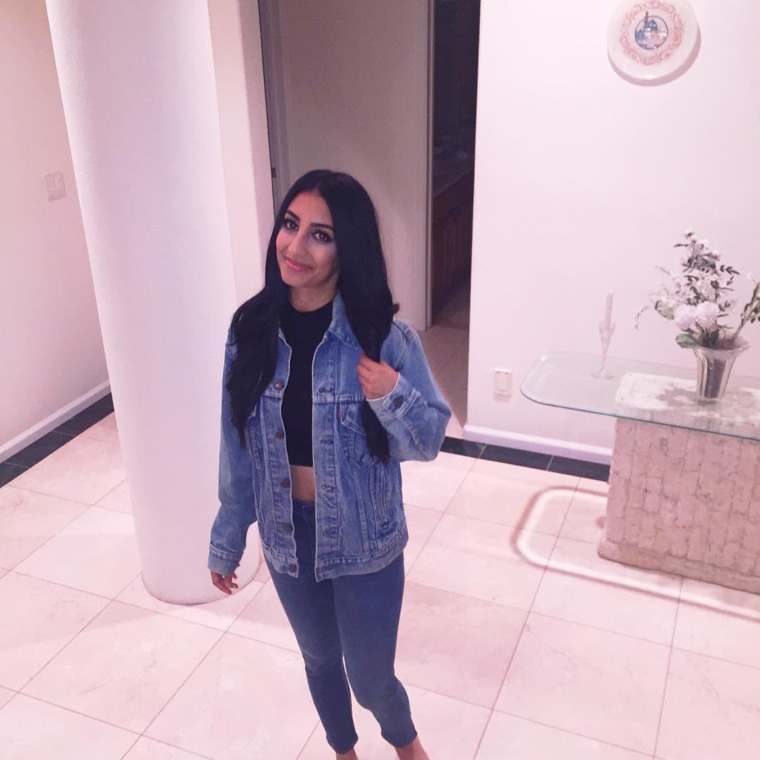 Three years ago, Saher Shakir, then a 28-year-old lawyer, decided she wanted be a journalist. Not long after she left her job at a Los Angeles law firm, she found an opportunity where many hungry, inexperienced journalists have landed: Vice Media.
Shakir joined a small team in the West Coast bureau making Vice World of Sports, a documentary series appearing on Viceland, the company's branded cable channel, that sought to tell the stories of people, their culture and politics, through a sports lens.
Shakir had no formal journalism training when she began freelancing as an associate producer for Viceland, but within a few months, she was living her dream — working on projects in the field, in Lebanon and then Algeria.
Then just as quickly, it all fell apart.
Sexually assaulted on assignment
In April 2016, as Shakir's team readied to film a soccer match in Algiers, Shakir says she was sexually assaulted by a crowd of men outside the stadium.
Vice's response to that incident is at the center of a lawsuit filed in Los Angeles County Superior Court. In the lawsuit, which seeks unspecified monetary damages for seven distinct claims including wrongful termination, whistleblower retaliation, and defamation, Shakir alleges her superiors at Vice World of Sports and the company's head of human resources blamed the attack on her and ultimately forced her out of her job.
NBC News, which had been independently investigating the Algiers incident when the lawsuit was filed, interviewed seven former Vice employees who worked with Shakir in 2016. Those employees — two of whom were present during the assault in Algiers — said Shakir returned to the U.S. shaken and fearful that speaking about the incident or asking the company for assistance in dealing with the trauma would threaten her job.
Shakir and her California attorney, Alyssa Schabloski, declined to comment on the lawsuit.
NBC News was unable to reach Vice for comment on the lawsuit.
In a statement provided to NBC News before the lawsuit was filed, a Vice Media spokesperson said: "Vice has always been committed to the security of our employees while they are in the field. In this instance, our risk assessment process determined prior to the shoot that Saher should not attend the soccer match. The team in the field made an unfortunate judgment call, and she attended. The assault that occurred was reprehensible, and the company covered the cost of counseling sessions. Saher worked on a freelance basis, and the end of her work with Vice was unrelated to this incident."
Shakir's lawsuit is the second to be filed in recent months against the company by a former employee. The first, which came in February, charged Vice with gender-based wage discrimination.
Both suits follow a swell of negative media reports from The Daily Beast and The New York Times that unraveled a long history of sexual harassment and misconduct allegations within the company as well as legal agreements and settlements meant to keep any incidents quiet.
In reaction to the New York Times investigation, which uncovered four settlements to female employees for sexual harassment and defamation, Smith and Vice's other co-founder, Suroosh Alvi, released a statement in which they acknowledged, "from the top down, we have failed as a company to create a safe and inclusive workplace where everyone, especially women, can feel respected and thrive."
They also announced sweeping company-wide changes including opening an investigation that resulted in the termination of several male employees and "discipline" of an unknown number of others and the forming of a Diversity and Inclusion Advisory Board, an all-women working group that includes the feminist writer and one-time Vice contributor Gloria Steinem; and hiring a new chief human resources officer after the previous director, Nancy Ashbrooke — who worked for almost a decade at Harvey Weinstein's Miramax Films — had been named in several aggrieved women's stories.
The company also got rid of its "Non-Traditional Workplace Agreement," a document that new hires were required to sign, agreeing they would not find Vice's workplace environment "offensive, indecent, violent or disturbing," which some argued discouraged the reporting of harassment.
In March, after The Wall Street Journal reported that Vice had missed its revenue target by more than $100 million, Smith stepped down as chief executive, taking the role of executive chairman, which he said would focus on "content and deals." Former A+E Networks CEO Nancy Dubuc replaced Smith.
Shakir and the Viceland crew were in Algeria in April 2016 to film a documentary on the Derby of Algiers, North Africa's largest and most rivalrous soccer match. A risk assessment compiled by Vice prior to the shoot determined the risk of "Civil Unrest" at the game was "Medium to High," according to the lawsuit.
Former employees and spokespeople for Vice offered conflicting accounts of both what Shakir was told and what she had agreed to about attending the event. Vice contends the risk assessment concluded that Shakir should not go. Shakir's complaint says she had "requested and obtained permission" not to attend the game, but "wanted to assist the team."
Maher Mezahi, who had been hired as a "fixer" to keep the Vice team safe in Algiers, told NBC News he spoke to Shakir and other Vice producers about the possible danger posed to a woman attending an Algiers soccer match. It wasn't illegal for women to go, but it was "culturally taboo," he said. If Shakir went, she'd most likely be one of the only women there. It wasn't unheard of for female journalists to attend, but it was risky, he said.
Any concern the Vice team may have had leading up to the soccer shoot was abated by their experience on the ground, three members of the crew told NBC News. They had already gone to the city's more dangerous neighborhoods to document each side's intensely loyal fans.
"People were so nice and so welcoming," Mezahi said. "There was honestly nothing that went wrong. Until match day."
According to the complaint and interviews with three members of the film crew, a group of men in the 25,000-strong crowd grabbed and groped Shakir outside the massive Stade du 5 Juillet soccer stadium, pulling at her clothing, screaming and chanting. Several men pulled down Shakir's jeans. When she at one point fell over, the mob descended on her.
Mezahi says the Vice team eventually forced its way out of the crowd to a clearing, where police officers came to their aid.
"We just kept pushing through, pushing through, pushing hands away, pushing people away," Mezahi said. "I think it was probably two minutes, but it felt like an hour."
'Shunned' and 'discriminated against'
While Shakir escaped major physical harm, the emotional toll from the attack lingered, according to her complaint. Three employees who worked with Shakir told NBC News she came back "traumatized" by the experience in Algiers.
Shakir was "shunned and discriminated against," when she returned to the U.S., according to the lawsuit. Her supervisor "began to act like she did not exist," hired another Viceland researcher, and Shakir's responsibilities were transferred to the new employee, the lawsuit claims. Shakir said her bosses "stopped giving her assignments and took away various projects" that had been originally assigned to her, according to the lawsuit.
A company source with knowledge of the situation acknowledged Shakir had been given less to do, and wasn't being sent out again into the field, but framed the decision to lighten her workload as being in her best interests. "It would be reckless to put someone who was sexually assaulted back in the field immediately," they told NBC News. "When she came back she was in a bad place, understandably."
Phoebe Barghouty, a former employee in the L.A. bureau at the time, described the policy for approving field work less charitably.
"The way they decided who got to go was popularity," Barghouty told NBC News, who left Vice during a round of layoffs in 2016 and has spoken publicly about the company's alleged culture of sexual harassment.
Additionally, the lawsuit claims that Shakir's reports to HR head Ashbrooke about how the assault was being handled were met with the suggestion that Shakir "should find a new job."
Soon after her complaints, the Vice-funded therapy Shakir had insisted upon was granted, but came with a "forced" and "involuntary leave of absence," according to the legal complaint. Shakir's email access was cut off and another human resources employee told her to pack her things and leave, the lawsuit states.
In an interview with NBC News, a former senior employee at the Los Angeles bureau who was familiar with management's position at the time told NBC News that Vice "blamed Saher and made clear that it was her fault" and that after she returned to Los Angeles, senior members of the team "were already laying the groundwork to get rid of her."
Ashbrooke is no longer employed by Vice and did not return requests by NBC News for comment.