Wal-Mart has decided that Middle East politics and Halloween don't necessarily mix, announcing that it has discontinued sales of an "Israeli soldier kids costume" and a "Sheik Fagin Nose" amid widespread criticism and calls on social media for a boycott of the chain.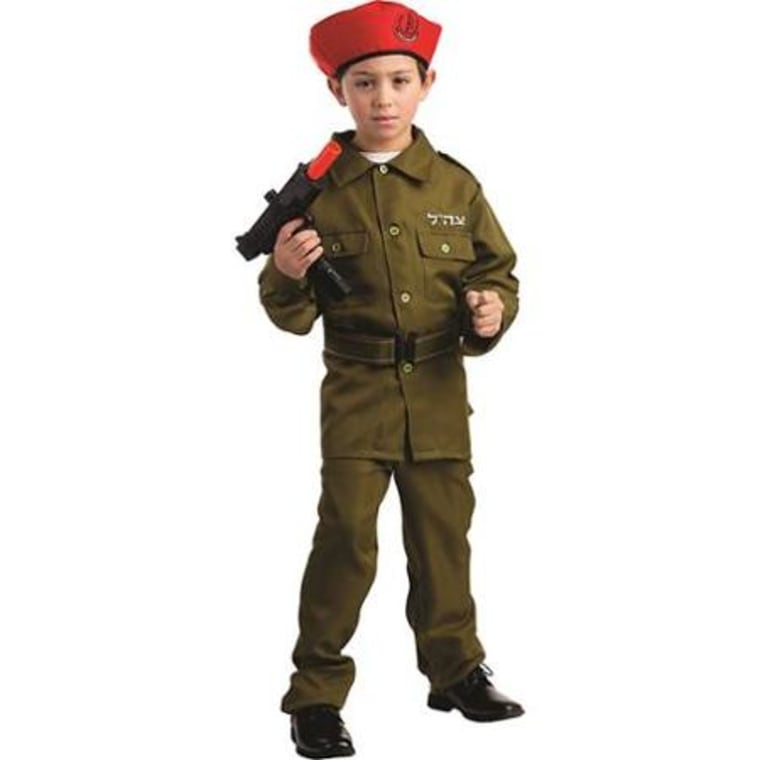 Retailing for around $28, the child's Israeli soldier costume features a red beret, belt, olive-green pants, and a matching jacket with Hebrew writing. The outfit is similar to that worn by members of the Israeli Defense Forces.
Critics, including anti-discrimination groups, said the sale of the costume amid a series of deadly attacks and clashes between Israelis and Palestinians was in extremely poor taste.
"Walmart is promoting occupation and the killing of innocent children this Halloween," tweeted author Max Blumenthal, along with a photo of a child receiving emergency medical care.
61 Awesome Costume Ideas It's Not Too Late to Steal
Welcoming Wal-Mart's decision to withdraw the costume, the American-Arab Anti-Discrimination Committee (AAADC) wrote on its Facebook page that "Such a symbol of fear, violence… should not be used for entertainment purposes."
Removal of the costume also drew notice from the other side of the political divide, with a commenter on the InfoWars website saying, "I would not let my kid dress up in an Israeli military costume but for another reason -- I don't want some racist nut job stabbing him or her."
Wal-Mart also agreed to remove the prosthetic "Sheik Fagin Nose," which the AAADC branded "offensive and racist," saying that it perpetuated "racist tropes that have long been used to demonize, otherize and alienate Arab communities throughout history."
Wal-Mart has recently found itself embroiled in several other controversies related to the Middle East.
TODAY's Gallery of Inappropriate Costumes for Kids
This summer it was forced to apologize after baking an ISIS-themed cake for a customer. In 2013, it withdrew a "turban-beard" costume after comments that it resembled Osama bin Laden and was branded "insulting" by America's Sikh community.
Halloween always comes with a litany of controversial costumes or displays -- like the ISIS-inspired theme used in this front yard in Butler, New Jersey – and this year is no different. Some universities have even issued guidelines to students warning against offensive costumes.
North Carolina State University recently emailed students a chart to help them determine offensiveness of costume choice, and Valdosta State University in Georgia sent out a list of costumes that might offend -- including "ghetto, hillbilly, Indian, Geisha, bindis, sombreros, anything involving blackface, redface, or yellowface, and costumes that make light of domestic violence, sexual assault, sex work, or matters concerning the LGBTQ community."
Campus response was probably best summed up in a Tweet from Typo Dynamofo that said the need for such advice "Puts the loco in loco parentis" – a Latin phrase meaning "in place of parents."
Some parents bemoan the demise of Halloween in general.
"It used to be a chance for kids to dress up as ghosts, goblins or ghouls and walk their neighborhoods gathering candy," says Loraine Reed, a former staff sergeant in the U.S. Army and mother of an 11-year-old son. "Now it's as political as every other holiday. Can I sue someone who dresses as an ISIS soldier? Is a kid in a cop costume in Ferguson going to get bullied?"