Wal-Mart has unveiled a secret weapon in its battle with giant online retailer Amazon: an army of Santas and other holiday attractions that it hopes will fill its stores with cheer and get registers ringing.
"I want customers to be in awe when they see what we have to offer as they walk into our stores," Wal-Mart Chief Operating Officer Judith McKenna said in a press release describing the "holiday retailtainment" that will greet shoppers, including Christmas carols, amped-up decorations and a photo-ready Santa Claus.
A Wal-Mart spokesperson told NBC News that Santa will set up shop in 3,600 Wal-Mart Supercenters on the weekends of Dec. 4-5 and 12-13, but will be "back in his workshop" in the North Pole for the busy shopping weekend immediately prior to Christmas. Food tastings, toy demonstrations, and other fun will continue in stores that weekend.
The retail giant is pulling out all the stops this season after a year that saw e-commerce megalith Amazon overtake Wal-Mart in stock market valuation. Some analysts say Amazon could surpass it as the top U.S. retailer in sales of non-grocery products as early as 2017.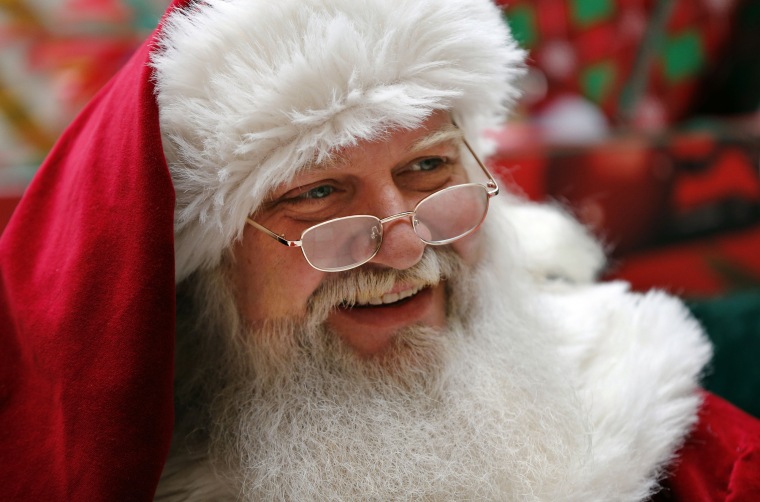 Will the jolly old elf and other attractions help the No. 1 retailer beat back its online competitor? It just might, said Hitha Herzog, chief research officer at H Squared Research.
"Wal-Mart is starting to feel the customer attrition to Amazon, which doesn't have the huge overheads that Wal-Mart does. And even though it's a gimmick, Santa always results in more foot traffic," she said. "Any time you give people a reason to come to the store other than, for example, to buy a television, it's always going to be a draw. When you have someone stay within the confines of your store for a longer time, the percentage of purchases can increase tenfold."
Related: Many Big Retailers Again Expected to Open Doors on Thanksgiving
Jason Long, CEO of Shift Marketing Group, concurred. "Recent research shows that 50 percent of parents with kids 13 and younger plan to visit a mall specifically to visit Santa Claus. That's a big number. Peeling off just a small percentage could drive a lot of footsteps into Wal-Mart stores."
Bob Phibbs, CEO of the Retail Doctor, a retail consultancy based in New York, said that in the age of social media, the move will gain attention even from those who don't venture near a Wal-Mart.
"Families will be sharing their photos on Facebook and saying that they saw Santa at Wal-Mart," he said. "It's a smart move. It talks to the human spirit of the holidays. You can't get a warm hug from an iPad."
But Long noted that Wal-Mart still faces challenges after it gets the customers in the door.
"Wal-Mart will need to continue with initiatives such as cleaner stores and higher quality employees while they continue to search for big ideas that can move the traffic needle even more," he said.