Senator Elizabeth Warren pulled no punches as the disgraced CEO of Wells Fargo was grilled on Capitol Hill Tuesday for his part in the bank's opening of millions of phony accounts without customers' permission.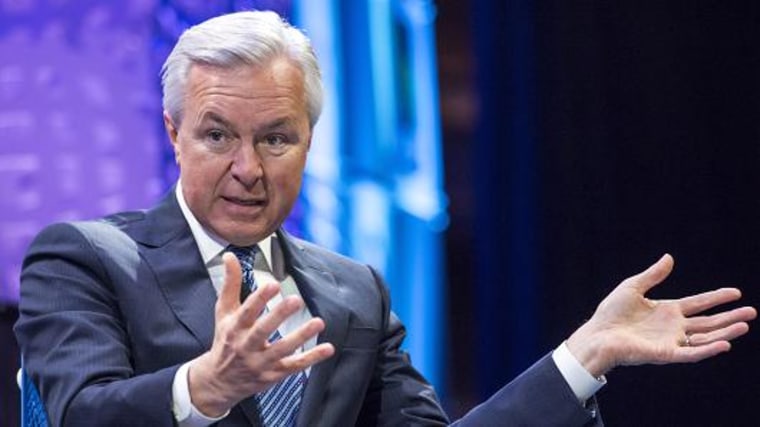 "You should resign," she bluntly told Wells Fargo CEO John Stumpf. "You should give back the money you took while this scam was going on and you should be criminally investigated by both the Department of Justice and the Securities and Exchange Commission," she said.
Others on the panel spoke of the "toxic culture" pervasive at Wells Fargo, and accused the bank of not acting fast enough to fix its illegal practices.
The sham accounting has so far cost the San Francisco-based bank a record $185 million in fines from California and federal regulators, who said the bank fraudulently opened millions of accounts over at least a five-year period in order to meet aggressive sales targets and maintain artificially high levels of its financial products.
The Senate hearing came amid news that some of the politicians questioning the CEO have received donations from the bank and from Stumpf himself. CNBC reported that Wells Fargo made donations to 20 of the 22 members of the Senate Committee on Banking, Housing, and Urban Affairs — including ranking Democrat Sherrod Brown and Republican Chairman Richard Shelby. Warren is one of the only panel members not to have accepted any contributions from the bank, nor from Stumpf personally.
The disgraced CEO offered a personal apology for his part in the sham accounts debacle. "I am deeply sorry that we failed to fulfill our responsibility to our customers, to our team members, and to the American public," he said.
Stumpf vowed that Wells Fargo has already begun to implement new internal procedures that will prevent the recurrence of such incidents, but repudiated any theory that the nation's largest bank was involved in endemic scheming, saying, "We never directed nor wanted our employees to provide products and services to customers they did not want or need."
Related: Wells Fargo CEO will Face Elizabeth Warren in Senate
"Wrongful sales practice behavior goes entirely against our values, ethics, and culture and runs counter to our business strategy of helping our customers succeed financially," noted Stumpf.
"That said, I accept full responsibility for all unethical sales practices in our retail banking business, and I am fully committed to doing everything possible to fix this issue, strengthen our culture, and take the necessary actions to restore our customers' trust."
"If one of your tellers took a handful of $20 bills out of the cash drawer, they'd probably be looking at criminal charges for theft," said Warren. "But you squeezed your employees to the breaking point so they could cheat customers and you could [...] put hundreds of millions of dollars in your pocket."