Wells Fargo CEO John Stumpf faced down a furious panel of lawmakers Thursday as the House Financial Services Committee grilled him on his bank's shady practices.
Representative Maxine Waters, the committee's ranking Democrat, told Stumpf that Wells Fargo's abuse of the public's trust was "some of the most egregious fraud we have seen since the foreclosure crisis," and compared it to mass identity theft.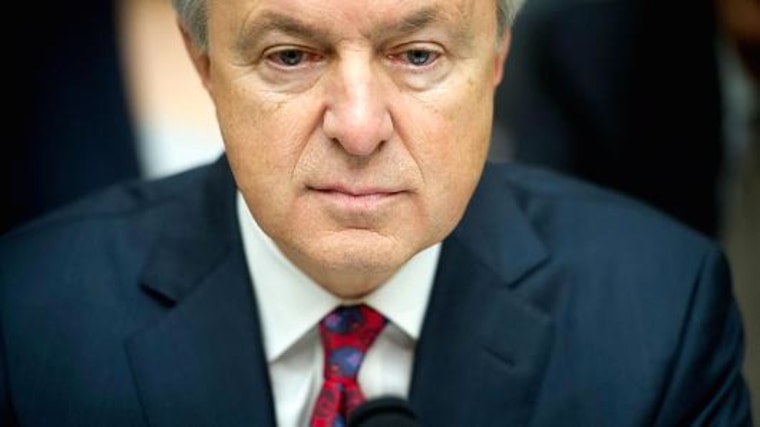 For his part, Stumpf offered up more apologies, and said the bank planned to halt the cross-selling practices as of October 1, instead of January 1, 2017, as originally announced.
"I want to apologize for violating the trust our customers have invested in Wells Fargo," said Stumpf. "And I want to apologize for not doing more sooner to address the causes of this unacceptable activity."
Congress was not appeased. Representative Mick Mulvaney told Stumpf, "The damage you have done to the market and your industry far exceeds the damage you have done to your business."
At one point, Representative Brad Sherman told Stumpf, "I don't think you should be alone in this joyous experience," and suggested that the heads of other big banks should join Stumpf on the Hill to explain whether they employed the same aggressive sales tactics.
"The American people need an assurance that this cross-selling mania that has affected Wells Fargo is not to be found at the other behemoth banks," said Sherman.
Representative Ed Perlmutter even took issue with the bank's terminology. "You don't sell grapefruit. Why are you calling these things stores? You're a bank."
Related: It's Not Just Wells Fargo: Disgraced Executives Who Got the Golden Axe
The scandal has cost Wells Fargo dearly: More than $20 billion has been wiped off its market value, California announced on Wednesday that it was suspending all state business with the bank for 12 months, the Labor Department said it would initiate a "top-to-bottom" review to be sure the bank hadn't violated wage laws by failing to pay overtime to sales reps forced to meet aggressive quotas, and the SEC is considering an investigation to determine if Wells Fargo misled investors.
In addition, a group of former employees have filed a $7.2 billion lawsuit against the bank, saying they were dismissed or demoted for whistle blowing.
Wells Fargo was hit with a record $185 million fine earlier this month for opening fee-generating accounts without customers' authorization in order to meet the high sales goals.
Wells Fargo's independent board of directors on Tuesday rescinded Stumpf's $41 million in stock awards and froze his salary until the investigation is complete.