A class-action lawsuit filed against Wells Fargo last week might be hamstrung at the starting line, legal experts say.
Customers who had bank or credit card accounts opened in their name without their knowledge face an uphill battle even getting a court to hear their case because of mandatory arbitration contract clauses that protect banks from class-action suits, consumer advocates say.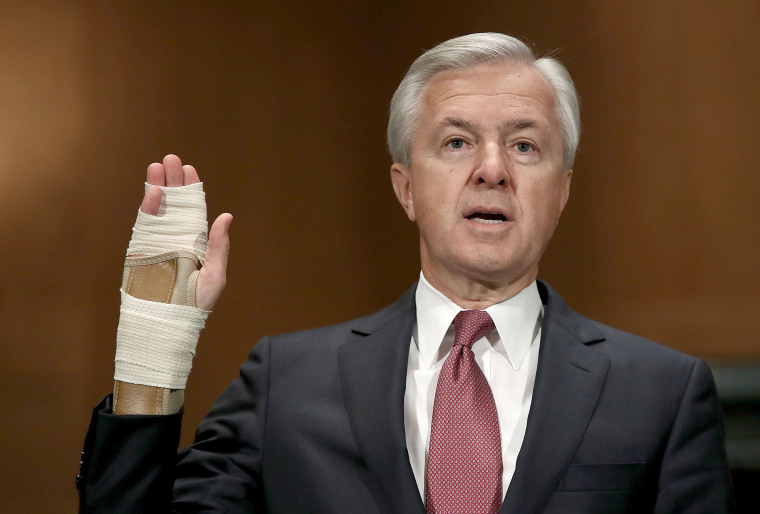 "It's going to be a serious obstacle," said David Seligman, an attorney and contributor to the National Consumer Law Center. "These clauses are hidden in boilerplate contracts," he said. "They often require you to bring disputes in to private arbitration, and almost always force you to bring them individually."
The Consumer Financial Protection Bureau, which spearheaded the regulatory action against the banking giant, has proposed rolling back the broad latitude that banks have granted themselves to settle disputes outside the legal system this way.
But that won't help these Wells Fargo customers.
"They're going to come up against that arbitration clause," said Amanda Werner, arbitration campaign manager for the Americans for Financial Reform and Public Citizen. "We see things like this all the time," she said.
Five years ago, a Supreme Court ruling said it was legal for companies to shield themselves from lawsuits by requiring that customers address grievances through a private arbitration system. Since then, consumers seeking redress from banks, even earlier cases against Wells Fargo in California, have been effectively stopped at the courthouse door.
Part of the problem, Werner said, is that banks — and Wells Fargo in particular — use far-reaching language in their arbitration clauses.
In other words, even if an account was opened fraudulently, a legal argument could be made that the arbitration clause on a customer's existing, legal account would be enough to grant immunity to the bank.
In other words, even if an account was opened fraudulently, a legal argument could be made that the arbitration clause on a customer's existing, legal account would be enough to grant immunity to the bank.
"There's no question that it's very difficult to overturn an arbitration clause, although the facts in this case are pretty damning," said Ed Mierzwinski, consumer program director for U.S. PIRG.
The arbitration issue has been on the agency's radar for some time. Last year, it submitted a report on arbitration to Congress that found such clauses are common in contracts for credit cards and checking accounts, covering roughly half of credit cards and nearly half of bank deposit accounts. The lion's share of those clauses were put in place by the biggest financial institutions, the CFPB noted.
In May, it submitted a proposed rule that would put the kibosh on mandatory arbitration clauses that prohibit class-action suits in financial-services contracts. The rule got nearly 52,000 responses during its public comment period, with consumer advocates and regular Americans supporting the rule, and business and banking interests weighing in with opposition.
At a Congressional hearing on Tuesday, CFPB director Richard Cordray was asked if the rule would have helped out customers, had it been in place already. "It will be very difficult to get any relief other than through a class action," he acknowledged. "And yet I believe an arbitration clause here would — might — might defeat a class action."
As Wells Fargo CEO Faces Senate Panel, Elizabeth Warren Calls for Criminal Charges
Consumer watchdogs say they hope the harsh spotlight being shone on the Wells Fargo case will spur the CFPB to action, or that the bank will voluntarily step out from behind the legal shield afforded by its arbitration policies. (Wells Fargo had no comment.)
Those advocates say it's not enough for Wells Fargo just to refund fees that were assessed on accounts opened without customer approval. Some of those people subsequently may have had to pay higher interest rates on mortgages or credit cards because the unauthorized accounts damaged their credit, a point Senators pressed Wells Fargo CEO John Stumpf about in the Tuesday hearing.
Without being able to pursue their case in a courtroom, "There's a lot of people who won't be made whole," Seligman said.
"This has been a longstanding challenge for consumers who want to recoup their losses," said Suzanne Martindale, a staff attorney at Consumers Union. "This is precisely why consumers deserve their right to a day in court."