The United Auto Workers are in the final hours of negotiations with the Big Three U.S. automakers — General Motors, Ford and Chrysler maker Stellantis — over a new labor contract for around 146,000 workers.
Talks have been rocky, and industry watchers are preparing for what is seen as a likely strike kicking off shortly after the current contract expires one minute before midnight Thursday.
Here's where the dispute between the union and the three automakers stands and what might come next.
How close are the parties to reaching a deal?
With less than 24 hours to go, the parties appear far apart. GM, Ford and Stellantis have all submitted counteroffers to the UAW, but the union hasn't indicated it's ready to accept any of them yet.
As is common in high-profile labor negotiations, the rhetoric has been heated. UAW President Shawn Fain earlier panned some automakers' offers and has emphasized that union workers stand ready to head to the picket lines, frequently reiterating a point he made in Detroit over Labor Day weekend: "Our intent is not to strike. Our intent is to get a fair agreement."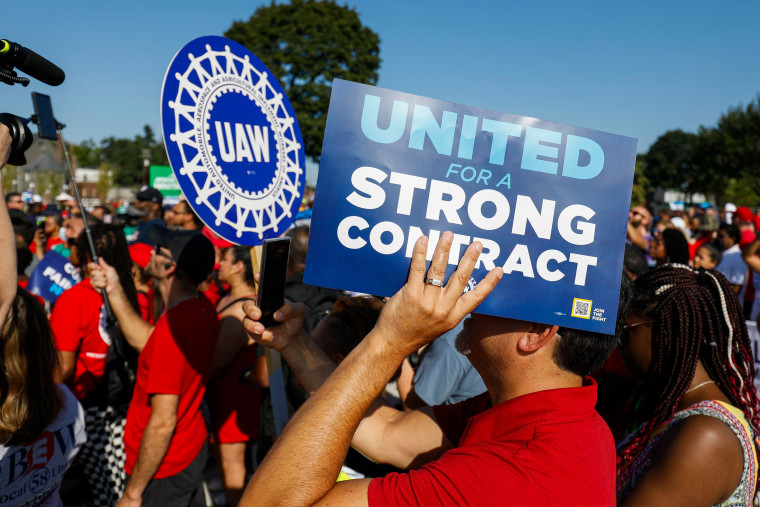 The union is negotiating with all three automakers simultaneously, in a break from previous rounds of contract talks. Leaders on both sides have publicly alleged that their counterparts across the table aren't talking talks seriously. The UAW earlier filed a complaint with the National Labor Relations Board accusing GM and Stellantis of failing to bargain in good faith and in a timely fashion.
The automakers have said they're negotiating in good faith and have pushed back against union demands they say are excessive — in some cases warning that big pay hikes could cut into investments needed to make the transition to electric vehicles.
What happens if there's no deal by Sept. 14?
The current UAW contracts expire at 11:59 p.m. on Thursday, and rank-and-file workers voted overwhelmingly late last month to authorize a strike in case handshake agreements with any of the companies aren't in place by then.
A strike could happen at any time from Friday morning onward. While up to 146,000 workers could wind up picketing simultaneously, the UAW has said it would initially plan to strike a targeted series of plants across the country, intending to "create confusion" to pressure the automakers. That has fueled expectations for a limited number of pickets as soon as this weekend, likely at all three car companies.
What are workers' top demands?
Fain has promoted the union's "ambitious" push for more generous wages and benefits.
The UAW is seeking a 40% wage hike over four years (amounting to 46% compounded), along with cost-of-living increases; beefed-up retirement benefits, including pensions on par with what autoworkers previously received; and full pay for a shortened 32-hour workweek, down from 40.
So far, the automakers' pay counteroffers have fallen well short of the UAW's 40% target. Stellantis proposed late last week to boost wages by 14.5%, which Fain rejected the same day as "deeply inadequate." The highest percentage increase publicly on offer is Ford's, at 20%, which the UAW said "barely makes up for minimal past raises combined with high inflation."
The UAW has pointed to Big Three executives' pay in demanding higher pay for workers. For example, GM chief Mary Barra's compensation grew by 32.5% from 2018 to 2022. During the same period, the median GM employee's pay grew by 2.8%, public filings show.
Ford appointed a new CEO in 2020, and the pay for that role jumped 18% from 2018 to 2022, when the median employee's pay rose 16.1%. Data for Stellantis is unavailable because the company was formed only in 2021 and is now headquartered in Amsterdam, where pay disclosure rules are different from those in the U.S.
How much would a strike cost car companies and workers?
The immediate impact would be halted production, if only at certain plaints initially. IHS analysts earlier estimated that for every week workers are on strike, GM's output would fall by 55,000 vehicles a week and Ford's by about 65,000 a week, though that forecast assumed a broader work stoppage than what the UAW recently said it's considering.
GM and Ford stand to lose $2.5 billion and $3 billion in revenue, respectively, for every week a widespread strike lasts, Goldman Sachs Equity Research previously estimated. By comparison, agreeing to a 40% wage bump for UAW members would cost GM $4 billion to $5 billion and Ford $5 billion to $6 billion over four years. Goldman didn't provide estimates for Stellantis.
The UAW has amassed $825 million in a strike fund that would pay eligible members $500 a week during a work stoppage, a sum that is expected to last for up to around 11 weeks but could be depleted sooner because of health care costs.
Would vehicle prices rise if UAW workers strike?
If fewer new cars are produced, inventory on dealer lots would dwindle, which could push prices higher.
Following the pandemic and a global supply chain crunch in materials and parts, U.S. new-vehicle inventory levels are still tighter this year than they were during the last round of bargaining, in 2019.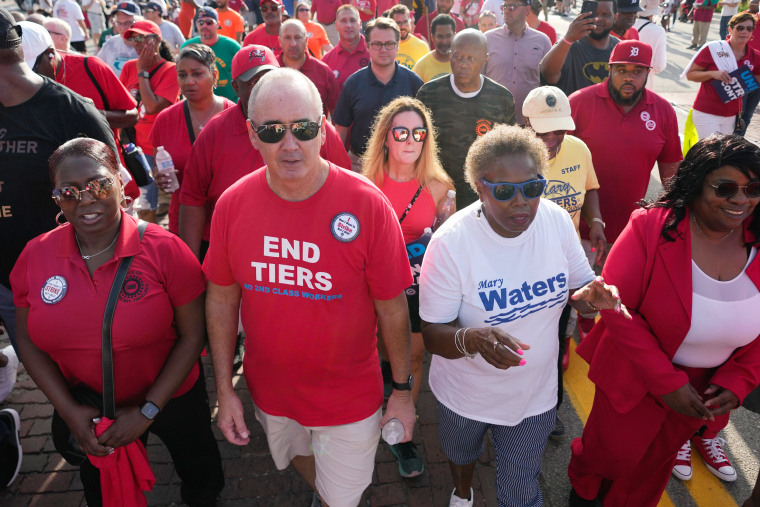 Cox Automotive estimated the supply of new vehicles at the end of July as enough to cover 56 days of sales — below the 60-day mark considered "normal" and the 66-day measure recorded in the lead-up to 2019 UAW negotiations.
The impact could be more muted for Ford and Stellantis brands like Jeep, Dodge, Chrysler and Ram, which Cox said had above-average levels of supply. But GM brands like Cadillac and Chevrolet have slightly below-average supplies.
When was the last time autoworkers went on strike?
In 2019, autoworkers at GM went on a 40-day strike that cost the company an estimated $3.6 billion that year. The work stoppage pushed Michigan's economy into a single-quarter recession.
Why aren't workers from other car companies threatening to strike?
GM, Ford and Stellantis are the only major automakers whose U.S. workers are unionized.
Foreign automakers such as Toyota, Honda, Volkswagen, Mercedes and Hyundai are among those operating nonunion plants in the U.S. — including outside of Michigan. In the electric vehicle space, newer entrants like Tesla, Rivian and VinFast also build in the U.S., similarly without union labor.