Turns out the Grateful Dead were never anti-corporate. In their 50-year-history, guitarist Bob Weir said in an interview with CNBC, they just never got the right offer.
Now they have. Three former members of the Dead — Weir, and drummers Mickey Hart and Billy Kreutzmann — have teamed up with rock star John Mayer, calling themselves Dead & Company. As part of a 21-show, 16-city tour, they have announced a free show at New York City's Madison Square Garden on Nov. 7, sponsored by American Express and designed to raise money for charity.
"It's not like we've drawn the line and said no corporate sponsorship or anything like that but nobody's come to us with something like this, with good ideas like this," Weir said. "There are now enough people high up enough in American Express who get what we're up to and want to try to spread that around a little bit. And they have the ability to do that."
American Express will give away 5,000 pairs of tickets in a unique sweepstakes. Entries are due by Thursday.The hope is that ticket winners will donate voluntarily to the Robin Hood Foundation, which directs its efforts at fighting poverty in New York City. The band described it as "pay it forward" concept. Fans at the show and those watching on a live stream will also be urged to give.
"Normally we don't have corporate sponsorship but this isn't 1967,'' said Hart. "This is 2015. …. It's a different environment and it's for the good. (Robin Hood) has boots on the ground. They're really helping people that are less fortunate."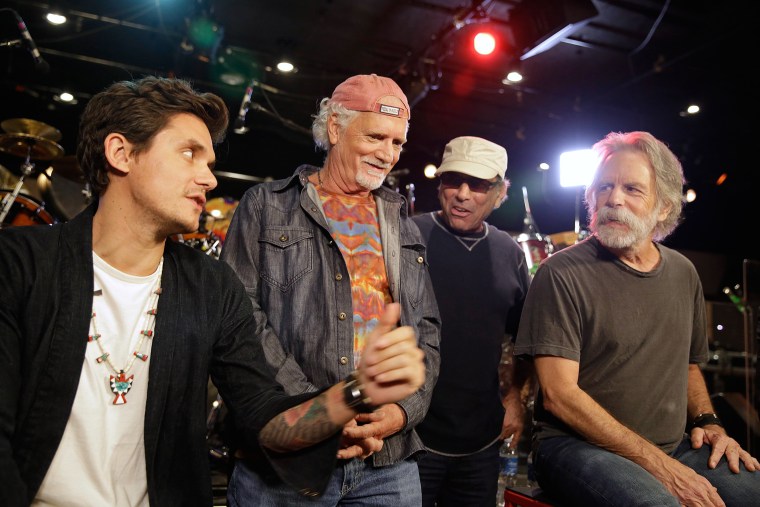 Kreutzmann pointed out that, unlike the free shows in the '60s, "We don't have to throw extension cords across the road to play. … We'd throw cords across when no cars were coming and then people would jump up in the trees and pull them up in the trees and then we'd have electricity. … But American Express, thank you, made it much easier."
The concerts are a reincarnation of the surviving members of the Dead, minus bassist Phil Lesh.
One of the more unique aspects of the current band is the inclusion of Mayer, who comes from a more established part of the music industry. Mayer told CNBC the collaboration with the Dead is motivating him creatively.
"It's a really great opportunity to step out of that sort of monological, soloist-artist thing. I wasn't getting bored of it but I was running out of new colors of paint to use sonically and idea-wise," Mayer said.
He added: "I actually get so much more out of it on a community level, group creative level, than I give up, which is very small because it's a real sort of nebulous democracy."
"It's more like collective anarchy than nebulous democracy." Hart interjected.
"I think mine is a little more P.C.," said Mayer.
Weir used the CNBC interview as an opportunity "to announce my candidacy for the highest office in the land," though he would not specify either the office or the land. He did provide one of the most detailed platforms of any existing candidate, saying, "A vote for Weir is a vote for nature in the streets" and promised to appoint Kreutzmann as "high priest."
Editor's note: In addition to his duties as CNBC's senior economics reporter, Steve Liesman is a guitarist who plays in a Grateful Dead cover band. He also hosted the pay-per-view broadcast of the band's three "Fare Thee Well" concerts in Chicago in July.