Forty years ago today, it was the mic drop heard around the wine world.
That pivotal moment on May 24, 1976, when a panel of esteemed French experts at an exclusive blind tasting wholeheartedly — and unwittingly — favored "unknown" Californian wines over their own old-growth Bordeaux and white Burgundies.
France losing to the Americans at wine was like America losing to France at monster truck racing, cowboy movies, and chicken and dumplings — all at the same time.
Outraged, France never fully accepted the verdict, while Napa Valley wines exploded onto the global market. Forty years later, has the playing field leveled for these two wine-producing giants? And has France started to play nice?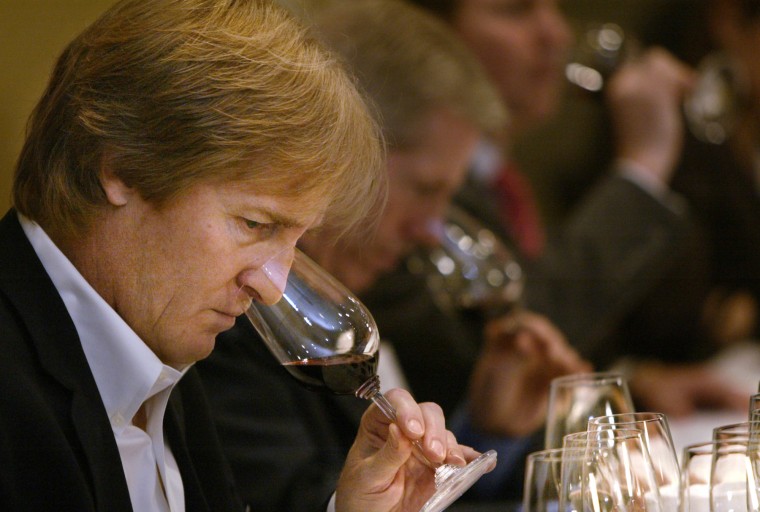 Before the Paris tasting, there were fewer than 350 wineries in California. That number has since rocketed to over 4,000, with more than a million acres dedicated to grape growth in California alone, according to the United States Department of Agriculture.
The industry — which employs over 50,000 people across America — has been on a steady upward path, with 2015 marking the 23rd consecutive year of growth. American wine exports brought in $1.5 billion last year, according to the Wine Institute, making America the world's fourth-largest producer of wine. (And America isn't just making wine, it is drinking it — leading the world in consumption, guzzling 13 percent of the world's vino.)
What became known as the Judgment of Paris started out as a whimsical wine tasting, a simple introduction to New World wines to celebrate America's bicentennial. Instead, Steven Spurrier's now infamous blind tasting turned the world of wine on its head, giving new meaning to the phrase "grapes of wrath."
Read More: Cheers! Millennials Drink Almost Half the Wine Bought in America
Spurrier — the British owner of a Paris wine shop — assembled nine of France's most revered wine experts for what was basically meant to be a fun time ranking 10 red wines and 10 white wines from France and California. The judges included le top du top — the sommelier of Paris's exclusive Tour d'Argent restaurant; the editor of La Revue du vin de France; the inspector general of the Institute of Appellations of Origin, and the president of the Union des Grand Crus de Bordeaux.
When the results were tallied, jaws dropped. Nascent Napa Valley wines had crushed the establishment in both categories, receiving top marks from all nine judges. The 1973 Chateau Montelena Chardonnay was voted the top white, and the 1973 Stag's Leap Wine Cellars Cabernet Sauvignon was voted top red.
The backlash was immediate. One furious judge demanded her ballot back (unsuccessfully) and never spoke to Spurrier again. Spurrier himself was banned from wine tastings for 12 months. The French press all but ignored the result, saying the results were "laughable" and "could not be taken seriously."
But for all the bravado and indignation on display at the time, the event undoubtedly gave complacent French vintners a kick in the derrière.
"The Judgement of Paris may have been that all-important loss that helps to galvanize a championship team," said Mark Gudgel, a wine blogger and writer for Food & Spirits magazine. "I think it may have helped French producers to refocus, and not take their superiority for granted," he told NBC News in an email.
A few years after the event, Baron Philippe de Rothschild joined forces with Napa's Robert Mondavi to create Opus One in a transatlantic truce, the first venture that joined Old World classics with New World production.
The Judgment of Paris naturally provided a gigantic (ego) boost for the American wine industry.
"America spent decades hung over from prohibition, drinking mostly cheap, sweet wine that came in jugs," said Gudgel. "I think [the news that] American wines had beaten French wines head to head, in France no less, struck a chord with many Americans, and helped to reignite our interest in the wine industry. There's no doubt there was some pride involved."
"What happened 40 years ago at the Judgment of Paris was a catalyst and a learning opportunity," agreed Heini Zachariassen, founder and CEO of the popular wine app Vivino, in an email to NBC News. "It certainly put California wine on the map, but it also led to opportunities for the global wine industry at large. The perception that the best wine only came from France had been challenged and more wines from around the globe were getting second looks."
"France's heritage in wine and French allure did not make the industry suffer from the judgment," French winemaker Matthieu Taunay told NBC news. "It was simply a moment of democratization in the wine world."
Today, Napa Valley wines are known all over the world, said Gudgel, as are Sonoma Valley wines, and even some "lower profile regions such as Lodi, Paso Robles, and Temecula. I really can't imagine how California could have done a better job of capitalizing on the results," said Gudgel.
Forty years later, the French continue to gloss over the inconvenient truths brought about by le jugement de Paris, having moved on to the next grand scandale — the mass influx of Chinese companies buying up great swathes of France's hallowed Bordeaux vineyards. In the past six years, the Chinese have been snapping up the region's grands châteaus and vignobles at the rate of one every month.
But, in a move that demonstrates how 1976 was a teachable moment, the Gauls aren't entirely thumbing their nose at the Grape Wall of China: Pernod Ricard recently bought a huge vineyard there, and Moët & Chandon optioned a central China subsidiary that produces sparkling wine. These measures are but one step short of an avowal that the future of wine lies on the global stage, not just on the terroirs of southwest France.
"Virtually every nation in the world makes wine," said Gudgel. "My home state of Nebraska had no commercial wineries in 1976 when the Judgment of Paris occurred. Today, Nebraska has 30-40 commercial wineries. Examples like this are ubiquitous, and I think they illustrate the expansion and global diversification that has taken place in the wine industry in the past forty years. I had a red wine from Rwanda the last time I was there. It was pretty good, actually."