A gaggle of high-profile executives including Apple CEO Tim Cook and media mogul Rupert Murdoch are expected to converge at the Sun Valley Lodge in Idaho this week for the year's most exclusive media conference, where they'll swap business intelligence with other corporate titans over flame-broiled hamburgers and chopped salads.
The week-long corporate mixer, punctuated by lectures from royalty, politicians and professional athletes, is organized by the investment bank Allen & Co. and is aimed at stoking future mergers and the advisory fees that go with them.
But long before the numbers show up on cocktail napkins, mega-deals involve a bit of corporate romance. Such deals involve armies of consultants and accountants poring through endless spreadsheets, but there's also a personal element to them.
John Josephson, a former managing director in the mergers and acquisitions department at Allen & Co., said that corporate romancing "is more about creating the circumstances that facilitate getting the merger done."
"You have to create the relationship," said Josephson, who is now chief executive of the music licensing company Sesac.
In the high-stakes world of corporate mega-mergers, the fate of billions of dollars can come down to something as simple as a nice piece of art and some knowledge of how people operate.
That's what helped Michael Ovitz, co-founder of the Hollywood talent firm Creative Artists Agency, seal one of his deals. Ovitz spent years developing a relationship with executives from Japan's Matsushita, an electronics company that would become Panasonic.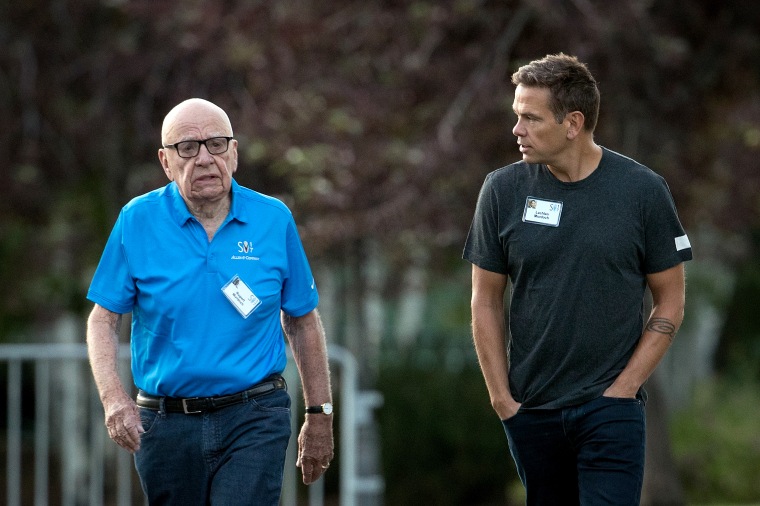 "I worked very hard to absorb the culture of people I was dealing with," Ovitz said, adding that he went to Japan once a month for two years before he did his first deal. "And before I went, I read everything I could get my hands on about Japanese culture so that I was aware of customs and daily life."
When it comes to getting chief executives to meet or to close a deal, any number of factors can come into play. But when it comes to the art of the deal, wooing is an essential ingredient — and that can mean anything from gifts to a little liquid encouragement.
While working on persuading Matsushita to buy the talent agency MCA, Ovitz said he gave one Matsushita executive a Robert Rauschenberg print of an image of the Statue of Liberty.
"He was blown away by that little piece of a culture made by a very important American artist," Ovitz said.
The effort paid off. Matsushita bought MCA for $6.5 billion in 1990 in a deal brokered by Ovitz.
"I never went to a meeting without a gift," he said.
Walk the walk
Sun Valley has produced some major deals, including Disney's acquisition of ABC/Capital Cities for $19 billion in 1995. Berkshire Hathaway CEO Warren Buffett told investors he was on his way to play a round of golf when he bumped into Michael Eisner, then chief executive of Disney.
"We chatted briefly — and the subject of a possible combination of Disney and Cap Cities came up," Buffett wrote in a letter to investors. The deal came together just a few weeks later and Buffett's Berkshire Hathaway, which was an investor in ABC, made millions.
Buffett wrote that he called the strategy ABWA — "acquisitions by walking around."
Amazon CEO Jeff Bezos bought The Washington Post in 2013 after getting to know Donald Graham, then the chairman and CEO of the newspaper's owner, at the Sun Valley conference.
This year, all eyes will be on the Murdoch family, who are currently enjoying a bidding war between Disney and Comcast for large parts of 21st Century Fox. The Murdochs have voting control of the company. Comcast owns NBCUniversal, the parent company of NBC News.
Disney CEO Bob Iger's initial bid for large parts of Fox came after he was invited by its executive chairman, Rupert Murdoch, to his vineyard. The two took a walk through the vines with a bottle of chardonnay, according to The Wall Street Journal.
A family thing
Gifts are one thing, but when families are selling businesses that have been built over decades, they want to make sure their priorities are taken care of.
Madison Square Garden CEO James Dolan said that around the time his family was considering selling the New York-area Cablevision, the controlling shareholder of Altice, Patrick Drahi, introduced himself by inviting Dolan and his father, Charles, on Drahi's 170-foot boat in Sicily.
"Most of the deal hinged on price, but not all of it," Dolan said.
In particular, James Dolan's brother Patrick wanted to make sure the local News 12 Networks would be maintained since he had helped build the operation.
Drahi offered some kind words about Cablevision — and agreed to keep News 12 alive.
"He told us about his company and how much he admired ours," Dolan said. "Before they purchased it, there was an arrangement that for five years they would maintain News 12. That gave my brother comfort."
Cablevision agreed to sell to Altice in 2015 for almost $10 billion. Patrick Dolan remains a senior network advisor at News 12 Networks.
Opening society doors
There are other ways of romancing potential corporate targets, namely opening them to new social circles.
One veteran dealmaker, who spoke on the condition of anonymity because his job is dependent on not being in the press, recalled that the billionaire Ted Forstmann wanted to buy the business jetmaker Gulfstream from Chrysler in 1990.
To get Gulfstream executives on board, Forstmann, who died in 2011, needed to show off his royal connections.
"When he set his sights on acquiring Gulfstream, he organized a big tent at Wimbledon and invited its executives to watch the matches with him and his good friend Princess Diana," the executive said.
A bottle of red
In her book "Fools Rush In," author Nina Munk showed that corporate wooing can also blind participants to the eventual realities of mergers.
The book details the circumstances of the AOL/Time Warner merger, now regarded as one of the worst of all time. AOL chief executive Steve Case flew to New York where he met Time Warner CEO Gerald Levin for dinner in a hotel room.
Levin had been skeptical of combining the companies, but the two hit it off, sharing high-minded ambitions to make the world a better place.
"As they uncorked a bottle of red wine, Levin felt a deep kinship with the young man seated across the table," Munk wrote of the meeting.
"By the end of the evening, they were of one mind," Munk wrote. "Together they could create the world's most powerful and respected internet-driven media-and-entertainment company. And they'd make the world a better place."
They didn't. AOL and Time Warner split up about eight years after merging.