In the wake of Consumer Financial Protection Bureau director Richard Cordray's surprising resignation announcement Wednesday, consumer watchdogs worried that the agency created in the wake of the financial crisis could see its mission undermined.
Despite speculation that he might leave the position vacant, President Donald Trump is rumored to be considering Office of Management and Budget Mick Mulvaney to serve as interim director of the agency.
Consumer advocates and Democratic lawmakers have been quick to criticize the choice, pointing to Mulvaney's stated wish to abolish the agency entirely. In a 2014 interview, Mulvaney said, "Some of us would like to get rid of" the CFPB.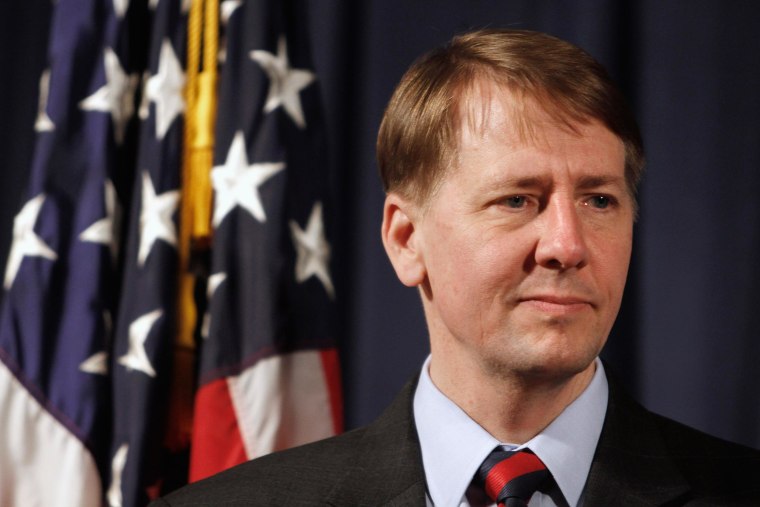 "It's incredibly important that the person in charge of the bureau believe in its mission of protecting consumers," Lauren Saunders, associate director at the National Consumer Law Center, told NBC News. "I'm worried about his statement that the CFPB should not exist," she said.
"A member of the GOP anarchy gang has no business running the agency," Massachusetts Senator Elizabeth Warren wrote on Twitter.
"The CFPB under Cordray achieved huge things for consumers in terms of the consumer protections it promulgated through rules and enforcement actions," said Rachel Weintraub, legislative director and general counsel at the Consumer Federation of America, while voicing concern that a pro-industry leader could erode Cordray's legacy.
A former Ohio attorney general before being appointed by President Obama to head the new agency in 2011, Cordray said he will depart at the end of this month rather than staying through the end of his term in 2018, possibly in preparation for a gubernatorial bid in his home state.
The financial services industry has voiced criticism of the Bureau since its inception and has urged for its single director to be replaced by a commission, a change consumer advocates say would weaken the agency's authority. Following Cordray's announcement that he would step down, some speculated that the Trump administration would nominate someone with close ties to, if not actively part of, the financial services industry, to replace him on a permanent basis.
"It has been a truly adversarial relationship," Mulvaney — who was a South Carolina Representative at the time — said of the CFPB's interactions with Congress in 2014, calling the Bureau, "a wonderful example of how a bureaucracy will function if it has no accountability to anybody." He is among the Republican lawmakers who have echoed the industry's push for a five-member commission to replace the director's position.
Mark Hamrick, senior economic analyst at Bankrate.com, said Cordray's permanent replacement is likely to be someone in the same mold. "I think it's likely the President nominates someone who is not as enthusiastic about the mission of the CFPB," he said, given the business-friendly tenor of the Trump administration and its predilection for regulatory rollbacks.
"It wouldn't surprise me if the administration picks someone essentially from the financial services industry because there's been sort of an established pattern where regulators are chosen from the industry they're supposed to be regulating in the first place," Hamrick said.
"You know whoever he picks is somebody that's going to be friendly to the financial services industry," said Ira Rheingold, executive director of the National Association of Consumer Advocates. "The question is, can we get somebody who at least respects the law?"
While the CFPB's existing structure and the rules it has implemented couldn't be unwound without Congressional action, consumer advocates expressed concern that an industry-friendly director would be less zealous about regulatory enforcement. Under Cordray's direction, the CFPB collected $12 billion that was redistributed to consumers, along with overseeing a database of consumer complaints and pushing for resolutions on consumers' behalf.
"I do think there's a risk, if not a likelihood, that the successor to Mr. Cordray will not be as aggressive or as focused," Hamrick said.
These kinds of activities, if they take place at all, might not be undertaken with the same rigor, watchdog groups warn. "They may not be as aggressive, they may not seek the damages Cordray's enforcement division has done," Rheingold said, adding that a willingness to overlook infractions could embolden companies to thwart the rules. "What we see from this administration is they don't care too much about the little guy."
Senator Warren was even more blunt. "This is a giant middle finger to consumers," she tweeted.