Tennis official Raymond Moore stepped down late Monday as director of the BNP Paribas Open tournament after kicking off a firestorm when he said female tennis pros "ride the coattails of the men." His remarks earned him public chastising from top players like Serena Williams and Billie Jean King, and industry observers largely agreed that Moore got it backwards: In recent years, female players have been the face of the sport.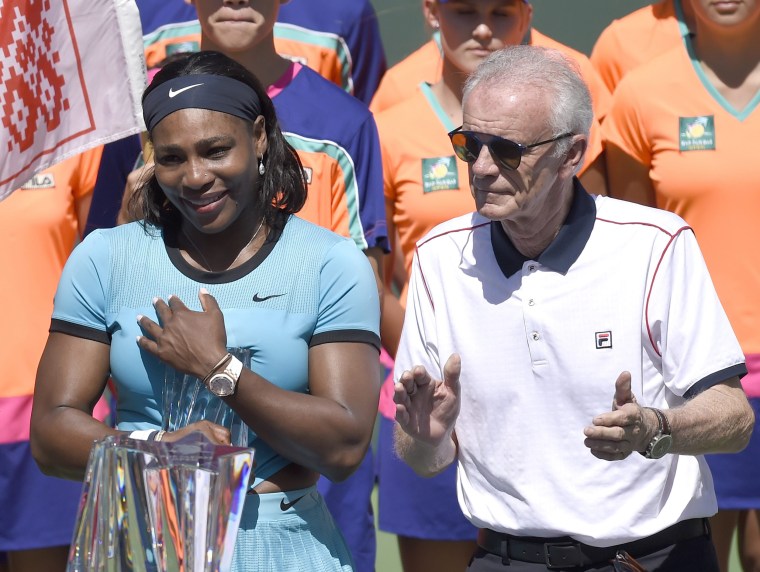 "The biggest stars in tennis for the past 20 years have been women," said Larry DeGaris, a professor of marketing at the University of Indianapolis. "[Pete] Sampras was a great player, but not a breakout star... not a crossover celebrity like the Williams sisters."
Women's tennis professionals have greater name recognition and popularity going for them — especially in the United States — than female athletes in other sports, but monetary recognition has been sometimes slower to follow.
In a 2009 University of Indianapolis online survey of more than 1,100 adults, popularity for women's tennis edged out that of men's among self-described fans, as well as among those who said they like or love the sport. Notably, men like men's tennis more than women, but both genders enjoy women's tennis.
According to data from Nielsen, 3.2 million viewers — 1.4 million of them women — watched the men's U.S. Open final last year. A total of 1.6 million viewers watched the women's final, including 719,000 women, although that was televised in midafternoon, while the men's final was during prime time. For all televised professional tennis events last year, the average number of viewers was 681,000, including 361,000 men and 320,000 women.
But on the cash side, things aren't always even even.
In Forbes magazine's 2015 roundup of the 50 highest-paid athletes, Roger Federer, the only tennis player in the top 10, earned a combined $67 million for playing and endorsements. He was followed by Novak Djokovic ($48 million) and Rafael Nadal ($32.5 million).
The only two women among the top 50 are both tennis players: Maria Sharapova and Serena Williams, both of whom earned less than $30 million each.
Tennis is an anomaly in that women competing in the sport's biggest tournaments, including the U.S. Open and Wimbledon, earn the same as their male counterparts. And when it comes to playing the game itself, top women can hold their own: Serena Williams, who earned $11.6 million on the game itself, beat all of her fellow tennis players on Forbes' top 50 except for Novak Djokovic. Even Roger Federer earned just $9 million playing, with $58 million coming from endorsements.
The sport's battle for gender parity has a couple things going for it: Star power and a running start. The singular nature of the game focuses attention on individual athletes as well as a long history, going back to Billie Jean King's 1973 "battle of the sexes," of female tennis pros fighting for equal footing.
"Most sports want to develop heroes, but you can't manufacture them," said Rick Burton, the Falk professor of sport management at Syracuse University. "Tennis is an individual sport, so it's not as hard," he said.
Last year, tickets to the U.S. Open women's final actually sold out before the men's did, thanks to the strength of Serena Williams' star power.
For female athletes, it can sometimes be a two-steps-forward-one-step-back fight, though. Men's tennis tickets still command higher prices, and when Street & Smith's SportsBusiness Journal compared IRS filings of the men's Association of Tennis Professionals World Tour and the Women's Tennis Association Tour, it found that revenue on the men's side was more than 50 percent higher than women's — roughly $107 million to $70 million — in 2014.
Where name recognition leads, though, some industry professionals are hopeful that it's only a matter of time before the financial remuneration catches up.
"North America represents about 40 percent of the world's entire sports market, economically," DeGaris said. When it comes to tennis, "In the past 20 years, it's really been the women's circuit that has driven the sport, primarily because of the U.S. market," he said.
According to IEG, a division of public relations giant WPP that performs sponsorship consulting and research, global sponsorship spending on tennis was projected to rise 4.4 percent in 2014 (the most recent data available), to a total of $739 million.
"There's been a history of female tennis stars that have been extremely popular," said Bob Dorfman, a sports marketing expert at Baker Street Advertising. "And they've done it on their own terms. They haven't done it because of the men."