The centerpiece of Donald Trump's immigration policy — construction of a huge wall along the southern U.S. border — has been hugely popular with his supporters.
But how does he plan to pay the estimated multi-billion-dollar cost to complete it?
After Mexican officials have said they won't pay a "single cent for such a stupid wall," Trump has come up with another plan. He has proposed seizing a piece of the $25 billion in remittances that flow to Mexico every year.
"It's an easy decision for Mexico: make a one-time payment of $5-10 billion to ensure that $24 billion continues to flow into their country year after year," according to the billionaire Republican candidate's website.
So, if Trump were elected, could he do it?
"The notion that we're going to track every Western Union bit of money that's being sent to Mexico, you know, good luck with that," President Obama told reporters at a press conference on Tuesday.
For many developing countries around the world, the cash that migrant workers send home represents a major source of economic support.
Read More from CNBC: Mexico Won't Pay a Cent for Trump's 'Stupid Wall'
Worldwide, a record 250 million migrants have left home for a better life this year, according to the World Bank. Those workers will send an estimated $601 billion to families back home, with developing countries receiving $441 billion, according to the bank.
The U.S. is biggest single source of those funds — with an estimated $56 billion outflow last year — followed by Saudi Arabia ($37 billion) and Russia ($33 billion). India took in the largest flow of remittances, with an estimated $72 billion last year, followed by China ($64 billion) and the Philippines ($30 billion), according to World Bank data.
Mexico took in some $25 billion last year through such personal remittances. While that sounds like a lot of money, it represents only a small fraction (about two percent) of Mexico's gross domestic product.
Estimating the amount of money transferred by individuals to Mexico every year is difficult because official data account only for funds sent through formal channels such as banks and money transfer services, according to the Migration Policy Institute, a research group.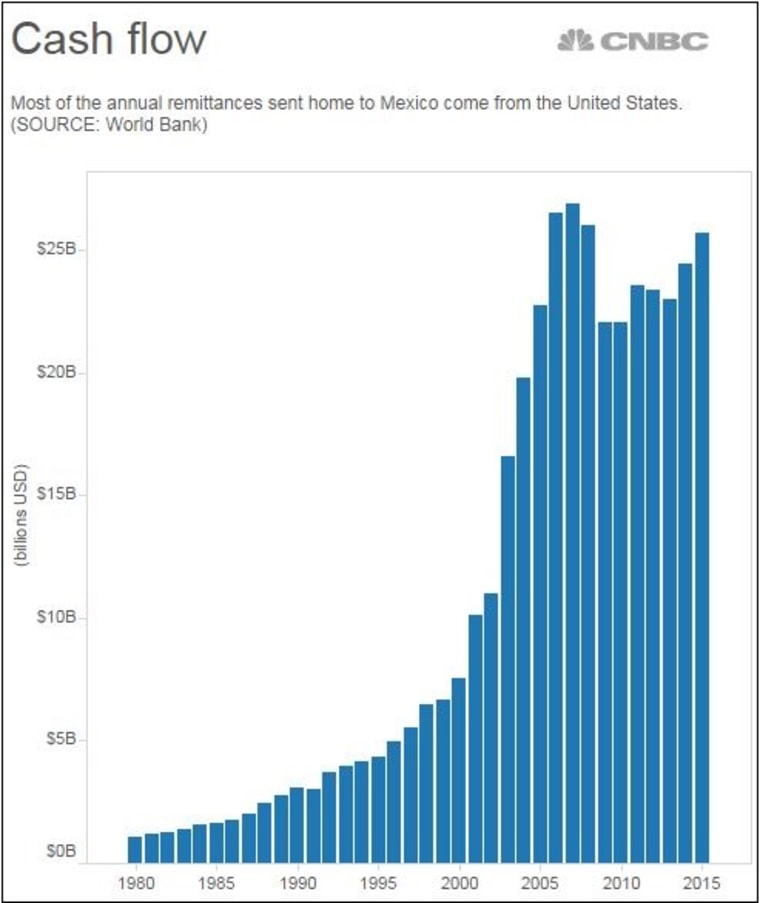 "Currently, no uniform and authoritative historical data on informal flows exist," the Migration Policy Institute said in a recent report. "Given the widespread use of informal remittance channels, the data should be regarded as underestimates of total flows."
Most of that money is coming from California, where more than a third of Mexican immigrants live, according to the MPI. About one in five live in Texas, and six percent live in Illinois.
For households in Mexico's poorest regions, the remittances from family members living in the U.S. represent a critical financial life line. Cutting off those remittances would hit households hardest that would least afford to lose that support.
Read More from CNBC: Trump Says He'll Block Money Transfers to Force Mexico to Pay for Wall
Under the Patriot Act, a government-issued identification is already required for routine money transfers in the United States. For high-dollar transactions additional documentation or identification can be required.
Financial institutions must know their customers and are required to routinely share information with the government to ensure that their banking services aren't being used to launder money or fund terrorism, Matt Chandler, a former deputy chief of staff at the Homeland Security Department, told the Associated Press.
"Not only would making procedures more onerous for day-to-day transactions do little to actually improve anti-money laundering or counter-terrorism financing compliance programs, but could harm those efforts by driving money movement away from routinely used secure channels to underground methods," Chandler told the AP.
While losing $10 billion in remittances would have a limited impact on Mexico's $1.3 trillion economy, the full price of Trump's immigration plan could be much higher.
In addition to constructing a wall, Trump has proposed large-scale deportation of all undocumented immigrants, not just Mexicans.
It's tough to estimate just how much that would cost — a lot depends on the specific details of any deportation plan. But some researchers have taken a run at the question.
In March, American Action Forum, a center-right policy institute led by former CBO director Douglas Holtz-Eakin, estimated it would take between $100 billion and $300 billion to arrest and remove "all undocumented immigrants residing in the country, a process that we estimate would take 20 years," the group said.
--- Reuters and the Associated Press contributed to this story.