Shares of Yahoo Inc. opened more than 5 percent higher on Wednesday after reports that the company could sell its core Internet business, which Chief Executive Marissa Mayer has failed to turn around after more than three years on the job.
Yahoo's board will weigh a sale of the business - which some analysts said could be worth in the neighborhood of $4 billion - at a board meeting starting later on Wednesday, a source familiar with the matter told Reuters on Tuesday.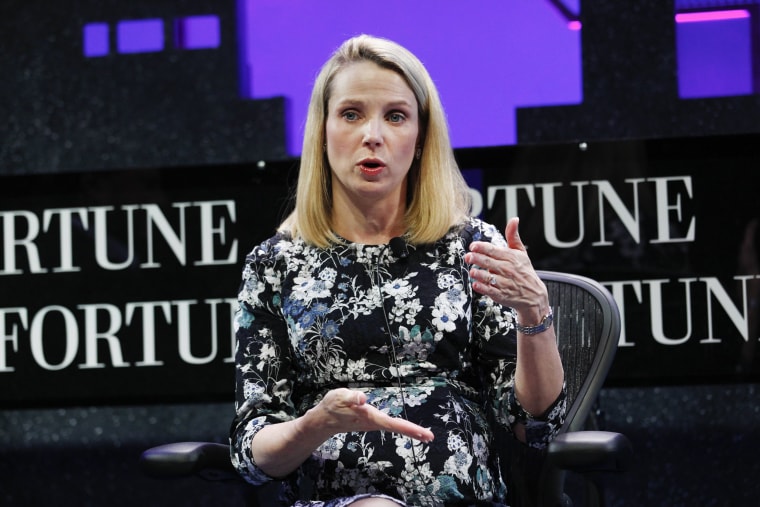 Analysts have put little value on the business, with almost all of Yahoo's market capitalization of about $34 billion ascribed to its stakes in Chinese e-commerce company Alibaba Holding Group Ltd and Yahoo Japan.
Cowen & Co analysts estimated that Yahoo's core search and display advertising business was worth $3.84 billion, while Pivotal Research Group valued it at just $1.9 billion.
"Realizing value is far from assured, however," Pivotal analyst Brian Wieser wrote in a note. "The big question is whether anyone would actually show up with a meaningful bid."
The Wall Street Journal, which first reported Tuesday that Yahoo might sell its Internet business, also said the board meeting would discuss how to proceed with the spinoff company's 15 stake in Alibaba, worth more than $20 billion.
Yahoo Strikes Search Deal With Google
But technology news website Re/code cited sources as saying the Yahoo board would focus on the Alibaba spinoff at its meeting, which ends on Friday.
"As the old saying kind of goes, reports of the impending demise of CEO Marissa Mayer at Yahoo are greatly exaggerated," Re/Code's Kara Swisher said.
"And so are rumors that the board of the Silicon Valley Internet giant is poised to sell off the entire core business."
Yahoo's Internet business, which includes services such as Yahoo Mail and its news and sports sites, has been struggling to boost revenue from ad sales in the face of stiff competition from Alphabet Inc.'s Google and Facebook.
Yahoo's shareholders could end up paying roughly $12 billion in taxes if the Internal Revenue Service deems the Alibaba transaction to be taxable after the spinoff. Yahoo has said it wants to proceed with the deal anyway, and close it this month.
Activist investor Starboard Value LP asked Yahoo in November to drop plans to spin off its stake in Alibaba due to the tax concerns, and urged the company to sell its core search and display advertising businesses instead.
Yahoo shares were up 5.6 percent at $35.61 in early trading.