A federal judge on Friday ordered Greek yogurt maker Chobani to stop airing ads that implied rival products were "unsafe or harmful" and contained chemicals used to kill bugs or keep swimming pools clean.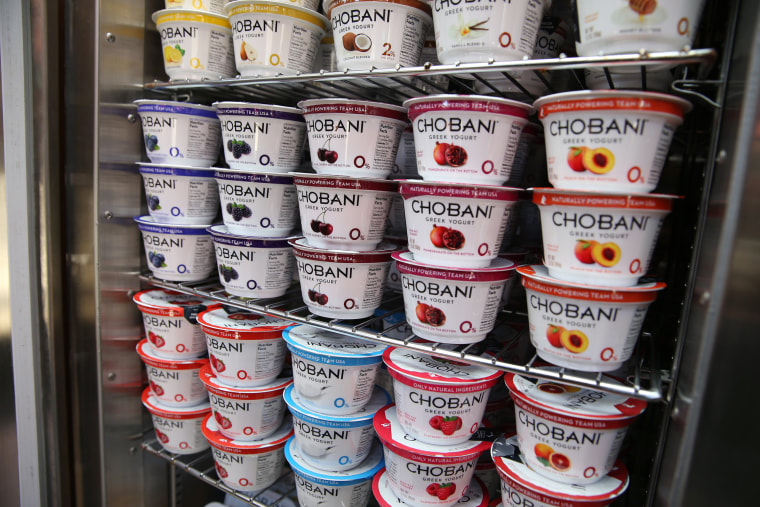 Judge David Hurd of the U.S. District Court for Northern New York ordered Chobani to halt the campaign, saying the ads were misleading.
The ruling came in response to separate lawsuits filed earlier this month by General Mills, which makes Yoplait Greek 100, and Dannon, which produces Light & Fit Greek yogurt.
In its lawsuit, General Mills challenged Chobani's TV, print and online ad campaign that showed a woman tossing a container of Yoplait into a garbage can after being told by an announcer that it contained ""Potassium sorbate. … That stuff is used to kill bugs."
Sniping Over Chobani Ads Criticizing Rivals Heads to Court
The foodmaker said the ads gave users the impression that Yoplait yogurt is not all natural since it is "laced with a pesticide" and "so dangerous and unfit to eat that consumers should discard it as garbage."
For its part, Dannon objected to the fact that the Chobani campaign led consumers to believe that Dannon Light & Fit contains chlorine in a formulation that is similar to what "might be used in swimming pools as a disinfectant."
In his ruling, Hurd noted that while potassium sorbate is present in Yoplait Greek 100 and is used "to mitigate insects" in a different formulation, the Chobani ad drew an improper comparison.
When used for food preparation, he wrote, manufacture of potassium sorbate "creates a 'nature identical' chemical, meaning it is chemically equivalent to the molecule as it is found in nature (and) is safe for human consumption and, when ingested, breaks down in the body into water and carbon dioxide."
He likewise ruling in favor of Dannon in finding that a form of chlorine is found naturally in sucralose, which is used in Dannon Light & Fit.
Campbell's Soup Breaks Food Industry Ranks, Backs National GMO Labeling
"Evidence reflects that sucralose is an unusually well-studied compound repeatedly determined to be safe for ordinary consumption," Hurd said, ordering Chobani cease to all advertising implying that Dannon products "are unhealthy because they contain chlorine and that Chobani products, including Chobani Simply 100 Greek, are healthy because they do not contain chlorine."
Michael J. Neuwirth, a Dannon spokesman, applauded the ruling.
"We are pleased with the court's decision granting a preliminary injunction to stop this misleading advertising, which is causing fear about safe ingredients, and we look forward to full and final resolution of this matter," he told NBC News.
General Mills also praised the ruling, telling NBC News via email that it "supports fair and vigorous competition between companies, but false advertising only misleads and harms consumers."
In a press release discussing the ruling, Peter McGuinness, Chobani's chief marketing and brand officer, said the company was disappointed. But he also suggested that Chobani's criticism of its rivals' products was good for consumers.
"We're committed to continuing the conversation and it's good to see big food companies like General Mills starting to remove artificial ingredients from some of their products, like their cereals," he wrote. "In the end, if we can give more people more information while helping other food companies make better food, everyone wins."