Labor experts worry that big-box retailers' plans this holiday season to stay open longer and have more cash registers going could come at the expense of workers.
Wal-Mart and Target are looking to get more shoppers in the door. Wal-Mart has said it will keep all of its cash registers open during peak shopping hours at more than 3,800 stores throughout the Thanksgiving to Christmas holiday season, while Target is keeping more than 900 stores open one to two hours later starting this month.
While retail industry observers say these big-box titans need to adapt to avoid losing business to online competitors, labor experts worry this could come at the expense of workers, especially if these kinds of tactics become the new norm.
Arne Kallenberg, a professor of sociology at the University of North Carolina at Chapel Hill, said the tactic would be good for business and good for consumers, but the likely impact on workers is a mixed bag. "I don't think it's going to be a net benefit for the worker," he said.
"Obviously, you have people who really need the money, and they'll appreciate that," said Dean Baker, co-director of the Center for Economic and Policy Research.
"We all realize that extra cash in the check is a bonus, especially around the holiday season," said Allison Livengood, who has worked in the jewelry department of a Wisconsin Wal-Mart for four years.
She said she is "one of the random lucky ones" to work full-time for the retailer, but even with that measure of security, her hours and income are likely to drop after the holiday rush.
"Come January, February and even into March, they're not going to have those hours," she said. "One week in January [last year], I was the only one scheduled in the jewelry department and I still only got 38 hours."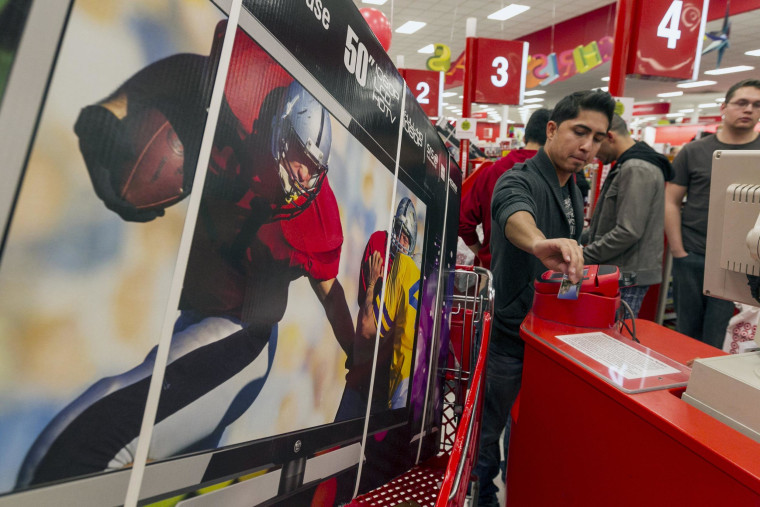 "In principle, longer hours are good… Even working odd hours can be good if it's the worker's choice," Baker said, but added that this hinges on whether or not a company gives employees enough notice of changes in their hours to let them make arrangements for things like child care.
"This ties into the whole issues of irregular schedules," Kallenberg said. "They're going to have to ask people to work at times that are inconvenient for them and their families."
Irregular schedules also make it hard for workers to keep on a budget or make major financial commitments. Aubretia Edick, a 14-year Wal-Mart veteran who is active in the union-backed group OUR Walmart, said she works anywhere from 20 to 33-1/2 hours a week. In addition to her regular days off of Monday and Tuesday, she said, "Lately, I've been getting a third day off as well."
"They're going to have to ask people to work at times that are inconvenient for them and their families."
These unexpected reductions in her hours made it hard to manage her finances, she said. "You're expecting so much per week and you don't get that."
Adding hours and cashiers won't be risk-free for the two chains, said Kelly Tackett, research director at Planet Retail. Both companies will incur increased labor costs, and they could suffer a hit to their reputations if there are glitches in execution.
"With Wal-Mart, it's actually a question of whether they'll be able to execute on that promise. Wal-Mart has been cutting back on staffing at its stores for a while now," Tackett said.
Employees are skeptical, too. "To see them have enough associates, enough cashiers, to pull this off — at our store, I find that very hard to believe," Livengood said.
"Once the holidays hit and they don't have enough people, they make people from other departments help out, and those areas aren't getting anything done... like stocking the shelves and getting the freight out," she said.
"There's very few associates on the floor as it is," Edick said.
Edick said the Massachusetts store she worked at didn't hire any seasonal workers last year, instead reassigning people to stock shelves or ring up customers as the need arose, which often left other work unfinished. She pointed out this can be frustrating for customers when they have a question and can't find an employee.
It also can be bad for business. "WMT acknowledged it cut in-store labor too much over the past few years, and is now adding employees hours in certain areas," Goldman Sachs analyst Matthew Fassler noted last week in a research note.
The issue of having too few workers available to perform tasks like stocking shelves is one Target also has wrestled with, Tackett said, especially in its troubled Canadian division.
Despite the business challenges, worker advocates worry that a bigger issue could be what happens if these tactics succeed. A ripple effect could occur that would ultimately make longer, more erratic hours the new norm, Baker warned. When you get big employers doing something like that … other employers could be forced to follow suit," he said. "They don't want to be in the position of losing business."