Millennials will surpass baby boomers as the largest pet-owning generation in about three years, according to Stifel Equity Research, and they'll make up almost half of the workforce by 2020. Now companies are looking to attract those younger employees by letting pets into the office.
A 2015 Society for Human Resource Management survey found 8 percent of American workplaces allow employees to bring their furry loved ones to work, and up from 5 percent in 2013. The same survey found 9 percent of companies such as Google offered pet health insurance to employees, which also marks an increase in recent years.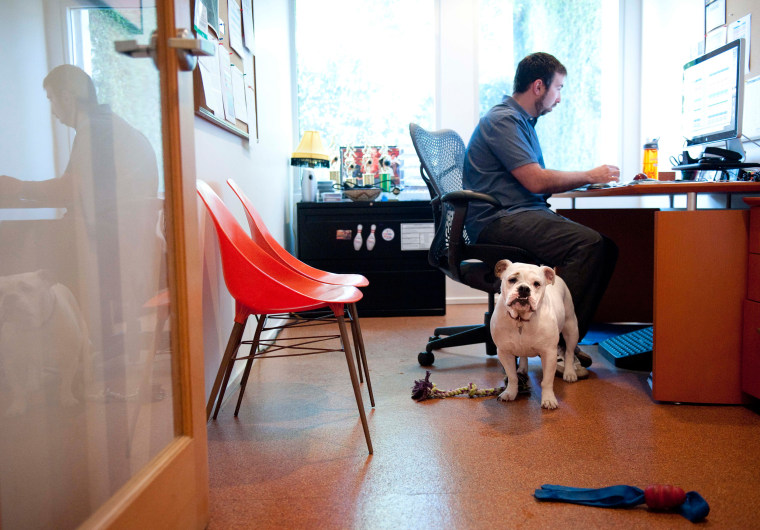 "Employers are starting to realize that having a millennial bring ... a pet to work, you wind up getting a more focused employee, you get someone more comfortable at the office and a person willing to work longer hours," said Bob Vetere, president and CEO of the American Pet Products Association, a trade group representing about 1,200 manufacturers of pet products.
Related: Are Millennials Doomed Financially?
According to Vetere, the millennial segment (18- to-34-year-olds) tends to look at their pets "as practice families or substitute families and seem to be more verbal in their wants and needs for their pet and for making sure their pet is well tended and well cared for."
At Autodesk, Lizzie Bennett was able to take her Welsh corgi named Jackson to work at the company's Lake Oswego, Oregon, facility when he needed her most. "He had some knee surgery and needed constant care and medication. They let me bring him in which was really convenient — and I didn't have to hire a pet sitter or have my parents or friends help me. It's just peace of mind for me."
In Denver, Boa Technology office manager Colleen Antonio brings one of her Labrador retrievers to work "just about every day. Usually it's wonderful because if I'm having a stressful day I can reach over and pet Emma or Mattie. When other people are coming in the office — especially when they're here for an interview which can be stressful for people — my dogs will turn around and welcome them. It sort of calms people down."
Other companies allowing pets at work include Amazon, Etsy, Google, Bissell, Clif Bar and Petco, just to name a few. Some companies have dog owner play groups and offer pooch play areas, pet gates in cubicles, and a few provide free pet training, pet walkers, off-site pet sitters as well as pet pampering services such as grooming and dog spas.
"We know about 30 percent of our dog population comes into the office on any given day," said Lara Hirschfield, who oversees Amazon's dog program and is facilities manager at the Seattle headquarters. "We're really focused on celebrating the dogs. When the Seahawks are playing, I certainly see the dogs in their blues and greens."
More than 2,000 dogs are brought in regularly to Amazon's main campus where about 25,000 employees work. The company also provides doggy treats at all of its reception desks and each of the nearly 30 buildings on the campus has spaces for pet exercise.
Related: People Really Do Dread Monday Mornings: Report
"We feel a responsibility to respect and invest in people's lives beyond their workstations," said Keely Wachs, a spokesperson for Clif Bar in Emeryville, California. "Millennials really connect with our purpose-driven approach and appreciate how we invest in their whole lives — whether it's having dogs in the office or paying our people to exercise and volunteer in their communities on company time."
Several executives from "dog friendly" companies said it's tough to get commercial real estate space in major cities, since many buildings have "no pets" policies. Petco — the big pet retailer — was one of those companies, and it searched for a couple years before it found a headquarters site.
About 650 people work at Petco's headquarters in the San Diego area, and on any given day up to 45 percent of the employees will have a dog or cat, or sometimes a habitat where they have fish, reptiles or a bird. "Having a pet stand next to you when you go to a meeting is such a huge icebreaker," said Petco Chief People Officer Charlie Piscitello. "It eliminates some of the natural human barriers and some discomforts that people have interacting with each other."
Related: NLCS Tickets at Highest Price Ever After Cubs Win
At Etsy, roughly 10 percent of the company's Brooklyn, New York, staff have dogs they occasionally bring into the office. The company's London and Dublin offices also allow pooches in the workplace, along with Etsy's facility in Hudson, New York.
"Millennials make up a lot of our workforce," said Sarah Starpoli, Etsy's manager of culture and engagement. "As the population has increased in our offices, the dogs have grown with us. People want it. People know about it when they come in and are hired."
She recalls a meeting where a dog was seen dragging a pizza across the room. "They will do something funny and make people laugh. It breaks up the day."